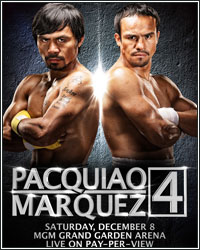 After Juan Manuel Marquez's one-punch knockout victory over Manny Pacquiao, we writers are left to pick up the pieces after a surprising ending to a sensational pay-per-view card. With that said, let the speculation about what's next for some of boxing's most popular fighters begin.

Coming into the weekend, I'll admit I was not happy about having to see a fourth fight between Pacquiao and Marquez. I felt there was no need to see a rematch in a series that was 2-0-1 in favor of Pacquiao, who was also the bigger draw. However, the promoting muscle of Top Rank forced this fight upon the boxing public, and most are now thankful we had the opportunity to witness such a classic ending.

Juan Manuel Marquez was obviously the big winner of the night. He avenged himself in a series that has haunted him, and now he sits in the driver's seat for the future. If he chooses to give Pacquiao a deserved rematch, he has every right to earn at least 50% of the purse. The other big winner of the night was Bob Arum. He has never wanted to make a Mayweather-Pacquiao fight, and now there won't be the demand necessary to pressure Top Rank into what would have been the fight of the century. For this, boxing fans lose. Arum has been able to keep Pacquiao fighting fellow Top Rank fighters. Pacquiao's past seven fights have been against fighters working with Top Rank, and it's a safe bet that Manny will finish his career fighting only Top Rank boxers. Rematches with Marquez and Bradley, combined with potential fights against guys like Brandon Rios, should keep him busy for the rest of his career.

While Pacquiao obviously suffered a serious setback in this loss, he looked good leading up to the knockout. It seemed as if he'd be the one to get the KO, so I don't think it's a "back to the drawing board" type of situation. If only Manny had learned a lesson by watching the Yuriorkis Gamboa fight; that being overly aggressive while trying to finish a dangerous opponent can come back to bite you. Speaking of Gamboa, I cannot wait until the day he steps in the ring with Adrien Broner. One person who has to be feeling some pressure is Freddie Roach. His top three fighters have all lost their last appearances, with Amir Khan even leaving his charge.

Floyd Mayweather will still have plenty of options to make good money, and he can enjoy undisputed standing once again as the pound-for-pound king. As fights with Robert Guerrero and Canelo Alvarez appear on the horizon, not to mention a pound-for-pound dream fight against Sergio Martinez, Floyd has plenty of options with good fighters not under the Top Rank banner.

While many are saying that the book of this legendary series is closed, I beg to differ. Pacquiao's legacy is tied to Marquez, and losing the fourth fight by knockout has to be redeemed by Manny in order to preserve some of that legacy. Nobody can take away his titles in eight weight classes, which makes him one of the best to ever compete in this sport, but the knockout loss to Marquez damages his standing among the greatest fighters of his era. Their names will be forever linked, so Manny will not want to give Marquez the last laugh in this series. Since Pacquiao has been gracious enough to give Marquez multiple rematches, it seems only fair that Pacquiao get one more crack at El Dinamita. A fifth fight would probably gross more money than any of the other fights, because now we know that each man is vulnerable to the other. Bob Arum has everything to gain by pitting them together one more time. It would be a dramatic final episode to one of boxing's all-time great rivalries.