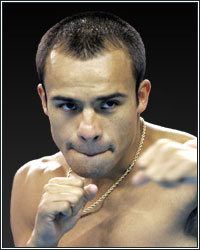 I remember watching Manny Pacquiao vs. Juan Manuel Marquez back in 2004. It was my first time seeing both fighters. I remember the first 3 knockdowns and thought, "Man, it's over." Pacquiao hit him with everything and the kitchen sink, but Marquez kept getting back up. In fact, not only did he keep getting back up, but when all was said and done, I thought he won the majority of the rounds. Unfortunately for Marquez, his effort fell short, resulting in an unfulfilling draw. Though both fighters would go their separate ways after the fight, I instantly became a fan of both and continued to follow their careers. While Pacquiao's career would quickly start to rise, Marquez would suffer a setback in a loss to Chris John.

It seemed like the two would never meet again, a sad thought considering that both men put on a great performance in their first fight that resulted in no clear cut winner. It would take 4 years before they would finally get a chance to meet again in 2008. After another close and competitive fight, there was finally a winner. This time, Pacquiao only dropped Marquez once during the fight, but it was enough for him to get the nod on the judges scorecards. Fans, however, were split on who actually won.

It seemed like Marquez would never get another shot after Pacquiao edged out the victory. Still considered one of the best fighters in the world, Marquez campaigned heavily for a rematch, but to no avail. Instead, he would turn his attention to undefeated pound-for-pound champion Floyd Mayweather, who was making his return to the ring in 2009 after roughly a 2-year hiatus. Unfortunately for Marquez, he lost a lopsided, non-competitive unanimous decision to Mayweather. After that, all hope seemed lost for a third fight between he and Pacquiao.

Marquez, however, would bounce back with 3 impressive victories in a row after losing to Mayweather. Now, Pacquiao was in need of a big-name opponent, so in 2011, the two would meet again. Marquez never hit the canvas the third time around, and was able to keep Pacquiao at bay and seemingly did enough this time to get the nod on the scorecards. The judges, however, disagreed and awarded the majority decision victory to Pacquiao. Outraged by the decision, Marquez hinted about retirement. Thankfully, he decided against that.

In life, it's rare when we get a second chance. It's even more rare to get a third. Marquez, however, kept on fighting and positioning himself to get that one more chance against Pacquiao. Even though he kept coming up short, each time, he was getting better and better with every fight. As luck would have it, Marquez was awarded a fourth shot at Pacquiao, a fight that most people thought would end in another close, controversial decision. Instead of leaving it up to the judges this time, Marquez made a statement in knocking Pacquiao out cold, bringing up memories of Pacquiao's one-punch knockout of Ricky Hatton. While both men suffered knockdowns in the fourth fight, they both also fought hard for as long as it lasted until, for the first time, there was actually a clear winner, Juan Manuel Marquez.

When the chips were down and it looked like he was never going to get the respect for his career that he deserves, Marquez could of quit. He could of gave up. Last year, he was talking about retiring after their third fight, but he chose not to. There's not too many people who would continue to lose and still keep coming back fighting in life. For Marquez, this victory was 8 years in the making. It didn't happen over night. He could have gave up after the second fight, but he kept on going, taking risky fights in between that would position himself for another crack at Pacquiao. Each time he came up short, but not this time.