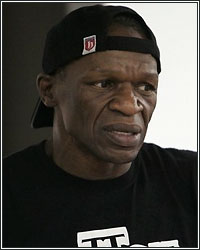 "I think that might be it for Pacquiao. You know Marquez kind of always had his number, but he put a stamp on it last Saturday night," stated world-class trainer Floyd Mayweather Sr., who shared his thoughts on Manny Pacquiao's KO loss to ring rival Juan Manuel Marquez. According to Big Floyd, the outcome of last Saturday's bout is a clear indication of what would've happened if Pacquiao would stepped into the ring to face his son, undefeated pound-for-pound champion Floyd Mayweather.

"Floyd would have either knocked Pacquiao out or boxed his eyes out. Either way he would have stopped him or embarrassed him. And that's not saying anything bad about Pacquiao, but the writing been on the wall with him and guys that can counter him," Mayweather Sr. explained, noting that it's not just Marquez, but it's his counter-punching style that Pacquiao has always had a problem with. In fact, Mayweather Sr. believes that the knockout was so devastating that Pacquiao will never be the same fighter he once was.

"I guess it's time for Freddie Roach to look for him another fighter because I'll be honest with you man I can't name a fighter that have come back from being put out like that and looked the same," he continued. "Roberto Duran was close to the same after Tommy Hearns knocked him out, but even he had to keep jumping weight and all that shit and on top of that there is only one Roberto Duran. I just don't see Pacquiao being the same after that and I think it may be over for him."
[ Follow Percy Crawford on Twitter @MrFighthype ]