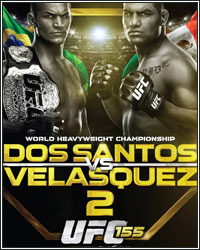 UFC 155 unfolds this Saturday as two behemoths square off for their second reckoning to see who will own the title of "The Baddest Man on the Planet"! Cain Velasquez, the once defeated and former UFC Heavyweight Champion, is a man laser focused on redemption from the only fighter in MMA to ever beat him…Junior "Cigano" Dos Santos, the same man that took his championship belt. Dos Santos vs. Velasquez II erupts from the MGM Grand Garden Arena in Las Vegas, Nevada and the New Year's fireworks just might come a little early. Let's take a closer look.

Junior "Cigano" Dos Santos (15-1) vs. Cain Velasquez (10-1)

It's May 26th 2012. The scene is UFC 146 and Bruce Buffer has just announced that Cain Velasquez is the winner of his bout against Antonio "Bigfoot" Silva, though there was no announcement needed. Velasquez, who has always been known for focus and determination, was surreal. Silva came out throwing a leg kick, but Velasquez caught it one-handed and took the big man down. He quickly mounted him, threw a brutal elbow that split open the forehead of Silva, and within seconds, the fight was stopped. Velasquez easily and efficiently dismantled one of the top heavyweights in the world, yet the expression on his face as Buffer declared him victorious was not that of joy or celebration. This was a man on one mission; a man who cared only about beating this night's opponent fast enough to get him back to where he rightfully believes he should be. This was and is a man totally possessed with regaining his championship. Other victories are hollow and mere stepping stones.

The question is was their first fight, in which Dos Santos easily dispatched Velasquez with a powerful overhand right to the temple, simply a fluke or is the current champion just that great? Both of these men have literally wrecked their way through the heavyweight division, having ended 22 of their combined wins with contrasting styles.

Velasquez, the All-American wrestler, has ended all but one of his fights with knockouts, yet still relies heavily on aggressive wrestling and unsurpassed cardio. Until the first fight with Dos Santos, he was widely believed to have the fastest hands in the division.

Dos Santos preaches and believes in his boxing. He unabashedly espouses to wanting to keep the fight standing and is purely confident in his timing and his power. Early on in his MMA/UFC career, that commitment to boxing only allowed him to be viewed as a one trick pony by many doubters. Over time though, he has garnered a black belt in Jiu Jitsu under the Nogueira brothers and his takedown defense has become part of his offense, wearing down and frustrating fighters and then using those small openings to rifle short power shots into his opponents when not expected. He's easily beaten excellent strikers like Mirko Cro Cop and Stephan Struve, powerful wrestlers like Shane Carwin, and has had his way with well-rounded and elite fighters like Frank Mir, Roy Nelson, and of course Velasquez. He can no longer be considered one dimensional. He's the champion, he's gotten there in dominating style, and his 2nd round knockout of Mir to defend his title cemented all doubters as to his worthiness.

All doubters save perhaps one. What will be the difference in the rematch? In a recent interview with Velasquez, he told me; "The first fight, I stayed back too long. I threw a couple of kicks, but that's it. I didn't really use my style of fighting. I wouldn't say I got caught. He threw the punch he wanted to throw and he got me. This time, my style of fighting is being aggressive and that's what I need to do." The question is does that style of fighting bode well for him or place him in harm's way?

The Pick: Velasquez will win this one in a 5-round war. He will need to use his offense against the cage and tie Junior up, as well as wear him out with repeated takedown attempts. Don't expect Junior to stay on the mat and this fight should go back and forth with Cain eventually taking control with his wrestling and endurance.

The X Factor: There is a ying and a yang here for Cain though. The longer the fight goes, the more chances there are for Junior to land one punch. With Dos Santos, that is simply all it takes. He's the most powerful puncher in the division with tremendous timing and technique.

Joe "J-Lau" Lauzon (22-7) vs. Jim Miller (21-4)

Jim Miller is a finisher. 15 of his 21 wins have not gone the distance (15 submissions and 3 KOs). Joe Lauzon is a finisher. All 22 of his wins have been stoppages (18 submission and 4 KOs). One can easily see why the UFC wanted this matchup of these two lightweights that are seemingly always a step away from a championship fight. Both of these guys keep coming up just a little short of title contention. J-Lau has won 3 of his last 5, but those 2 defeats were ugly, getting submitted by George Sotiropoulos at UFC 123 and then knocked out via head kick by Anthony Petis at UFC 144. He is on a one fight win streak having submitted Jamie Varner at UFC on Fox last August.

Miller's path is similar. After a 7 fight win streak, he lot a decision in August of 2011 to current UFC Lightweight Champion Benson Henderson, bounced back as the main event on UFC on FX to choke out Melvin Guillard, then with momentum apparently on his side, in another main event billing, he got choked out himself in a frustrating loss to Nate Diaz last May on at UFC on Fox. For both men, the parallels are too close to be fiction and have them on a collision course of validation to keep moving up the rankings in the most stacked weight class in the UFC. One thing's for sure…it won't go the distance.

The Pick: This will be tough, fast, and hard fought, but as time goes on, the strategy and quicker anticipation of Lauzon will result in a submission.

The X Factor: You would be hard pressed to find two fighters with better and quicker submission skills. One mistake by Lauzon or one good "Psyche" set up by Miller and its submission time for J-Lau.

And to round out the cards pugilistic prognostications:


Tim "The Barbarian" Boestch (16-4) beats Costas Philippou (11-2 1NC)
Yushin "Thunder" Okami (28-7) beats Alan "The Talent" Belcher( 17-5)
Chris "The Crippler" Leban (22-8) beats Derek Brunson (9-2)
And in a battle of veteran warriors
Melvin "The Young Assassin" Guilard (47-12-3 1NC) beats Jamie Varner (20-7-1 2NCs)
Thanks for reading and supporting. Have a powerful day!