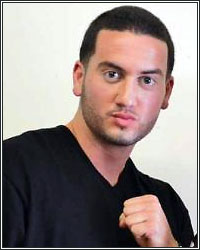 "It is my goal to keep Delvin active this year, 3 or 4 fights. It's tough because we always want the top guys, toughest guys, but it's tough to make a fight with a guy who fights once or twice a year. If we are successful against Tahdooahnippah, then Joe's matchmaker Ron Katz and I will see who is the toughest out there without a fight, and we'll try to make it happen," stated manager A.J. Galante, who talked about Delvin Rodriguez's upcoming February 15 return to the ring to face the undefeated George Tahdooahnippah. Check it out!

PC: How did the holidays treat you?

AJG: They came and went very fast. I'm blessed to have a great family to share them with.

PC: It's back to business for you and your fighter Delvin Rodriguez, who has a fight coming up in February against George Tahdooahnippah. Will this be televised on Friday Night Fights?

AJG: Yes, the fight will be the main event of the February 15th edition of ESPN Friday Night Fights. The card is going to be at Mohegan Sun.

PC: You have wanted to schedule something with Delvin in Connecticut. How did this come together and what type of turn out are you guys expecting?

AJG: Well, our promoter, Joe DeGuardia, and I have had discussions on putting together a card in me and Delvin's hometown of Danbury, Connecticut. It's been one of my goals to help bring professional boxing to Danbury and I know it's a dream of Delvin to fight here. There's still a strong possibility of it happening one day, but for now, we are happy to get back on television on ESPN, who's been so good to Delvin up to this point in his career. I know Delvin's ecstatic to fight again at Mohegan. He loves fighting there and he's always gotten a nice turn out from the state, especially Danbury. I'll be having a bus or two rented to transport people to the casino from Danbury and people here are really excited.

PC: Delvin hasn't fought since the loss in June to Austin Trout, which was his only fight last year. Has he been taking it easy or is he training pretty much year round right now?

AJG: He's definitely been training. That's one thing about Delvin is no matter how long the layoff, he's always in shape. Obviously we were all disappointed in the result of the Trout fight, but that in no way, shape or form was the reason for the long layoff. Joe DeGuardia and I were working for a few months on securing a long-term contract extension, because Delvin's promotional contract was due to expire a little over a year from the Trout fight. I didn't want any sort of contractual distractions going into this year, and Delvin is happy with Joe as his promoter, so we took our time and we were successful in signing a multi-year extension. Now that the outside business stuff is out of the way, we're excited to get back to the ring.

PC: When you watched the Trout fight, what did you take away from it and what did you tell Delvin afterwards?

AJG: Frankly, I saw two guys who couldn't seem to figure each other out. We knew going into the fight that, style-wise, it was going to be a complete 180 from our fights with Pawel Wolak. We were prepared, we had a great camp, great sparring, but it just wasn't Delvin's night. To me, to win a world title, you have to take it from the champion, and we didn't do that. At the same time, I didn't see an Austin Trout dominate Delvin like the scorecards read. He won the fight, but he didn't take it to Delvin like he just did to Miguel Cotto. I think that's basically the story of Delvin's career. Of his 6 losses, I don't think anybody can honestly say he's been dominated from bell to bell in any of them. Even his one knockout loss to Jesse Feliciano, he was winning the majority of the fight before he got caught. As far as what I said to him after the fight, I told him at the hotel that I was with him during the good times and I will be there with him during the tough times. I still believe in Delvin and know we can get back to a world title match.

PC: He's definitely not coming back with a soft touch. Tahdooahnippah is another undefeated fighter like Trout with 23 knockouts in 32 fights. How much do you know about him and why him rather than a softer touch for Delvin?

AJG: Well, you know from speaking with me that since I became Delvin's manager, my motto is always that we want the toughest fights out there. That's my attitude, that's Delvin's attitude, that's our promotion's attitude. One thing that is very important to us is that when people go and look at Delvin's career, they cannot really point out any soft matches or spoon-fed matches. Delvin is old school and having a zero next to his loss column isn't as important to him as having faced quality and tough competition year in and year out. As far as Tahdooahnippah goes, we don't know much about him other than he's undefeated and he's a knockout artist. I also know that he's a tough guy and he didn't hesitate to accept a fight with Delvin, where so many other guys have, so we have a lot of respect for him. He's the bigger man, middleweight, and we're fighting at a 157 catchweight for this match.

PC: Is the goal to get Delvin another title shot by the year's end?

AJG: Well, honestly, we're taking it one day, one match at a time. Right now, we have to get by Tahdooahnippah. Obviously we'd like to be in a position to get back to a title shot, but we know we're going to have to get back on the winning track first.

PC: Although his record is impressive, when I scroll down it, I don't see the caliber of opposition of a Delvin Rodriguez or the opposition Delvin has faced. Do you think that's what will be the difference in this fight, the fact that Delvin has been here before?

AJG: It's tough when you look at records. A lot of that can be skewed, depending on quality of opponents and all of that, but at the same time, I don't look at the betting lines and all that, because as far as I'm concerned, every fight is 50-50. I know that may sound cliché, but it's true. One punch can knock your block off. Look at what Marquez did a few weeks ago. One punch can change everything and upsets are always out there. A lot of people said the same thing about Trout leading up to the fight with Delvin, "Oh, he hasn't faced anybody," but a fight is a fight. Tahdooahnippah is a bit of an unknown, fights mostly in Oklahoma, but he has a lot of fights under his belt and experience and we're taking him very seriously.

PC: How many times are you looking to get him in the ring this year?

AJG: I've only been a manager for close to two years now, and I see how a lot of these boxers are moved and I really don't like it. Fighting once, twice a year isn't really something that I want to do. I understand how the game is, and protecting your ranking, waiting out big matches and all that, and we've done that, but it's going to be different this year. Joe DeGuardia and I have talked at length about staying active, and I think if done smartly, it is the way to go. I look at a guy like Leo Santa Cruz, and this guy seems to be fighting every other month, and I have a lot of respect for him. At the same time, you have to watch burning a guy out, but it is my goal to keep Delvin active this year, 3 or 4 fights. It's tough because we always want the top guys, toughest guys, but it's tough to make a fight with a guy who fights once or twice a year. If we are successful against Tahdooahnippah, then Joe's matchmaker Ron Katz and I will see who is the toughest out there without a fight, and we'll try to make it happen. However, there is going to be deadlines. My team, meaning Delvin, meaning our promotion, we're not going to sit here months on end waiting for somebody to make a decision. If we have to fight off-tv, we're prepared to.

PC: Looking ahead, what are your goals for Delvin in 2013 and what are your goals for yourself?

AJG: As far as Delvin goes, just get back on the winning track against quality opponents. We have a lot to prove. There is a lot of nay-sayers since the Trout fight and we definitely want to show people that Delvin is still here and we're going to be here. As far as my goals, Delvin is my only boxer that I manage right now and I am putting my full attention on him. I'd like to grow and pick up some young, up-and-coming guys if the situation is right. I'm trying to set up my own training camp here in Danbury, which can help me with that, but right now, I'm rolling with Delvin and we're going to get back to the top soon.

PC: I wish you guys the best on February 15th. Is there anything you want to say in closing before I let you go?

AJG: Just thank you always to FightHype.com, yourself Percy, and to all the fans out there. Follow me on twitter, @eliteboxing_ajg, and I should be getting some YouTube material up soon.
[ Follow Percy Crawford on Twitter @MrFighthype ]