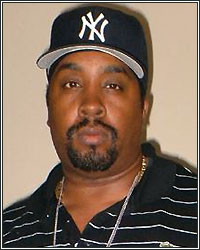 You may know him from the music industry as one half of the critically acclaimed Hip Hop duo Eric B. & Rakim, who were nominees for the 2012 Rock & Roll Hall of Fame, but Eric B. is an avid fan of boxing. He is President of the World Championship Boxing (WCB) Sanctioning body, which launched in 2012. Eric B. took time out of his busy schedule to speak to FightHype.com about the noise that he's making with the WCB for 2013. Here's what Eric B had to say.

JR: You've been involved in boxing not only as fan, but you also had some professional involvement in the sport for years now as a consultant or manager at one time with Riddick Bowe, Floyd Mayweather, and Oliver McCall. Now you have started the sanctioning body World Championship Boxing. How did this come about and why did you want to start another organization?

EB: I was sitting around and watching all the fighters and then watching them struggle. You got to go back to, let's try a place like Mexico. Anywhere between the featherweight and welterweight division, you have to have at least in Mexico alone 200 fighters who want to be champions in those divisions. Let's do basic math! There's not that many sanctioning bodies out there. With people, it's like, "Well, Eric, why another sanctioning body?" I say, "Why not?" As a fan, you should want to see championship style quality fighting. And when people say "Why another organization," I say, "You sound like a promoter." They respond, "Well, what do you mean?" I say back to them, "Because promoters don't want to pay people." If I take a $1,000 fighter and give him a U.S. belt, he's worth $10,000 a fight now. I take a fighter and give him my World title, he's getting 50-60 G's a fight and now he's worth $400,000. The problem here is that there are not enough sanctioning organizations to make these guys champions. Remember, Larry Holmes made the IBF belt because he said that he was sick of all the other organizations and was like, this is my belt as the Champ, y'all come get it. At the end of the day, these organizations make these fighters more money. The bigger profile the organization, the more money the fighter gets.

It's time to spread the wealth around. It's a lot of money to be made in boxing, and it's a lot of champions out there that we may never get a chance to see. Now you see a guy with a title belt, you pay them attention; now you're interested in him. There's been so many great guys I've ran across in a gym that will never get a shot at a top 3 because of the politics in boxing and because the networks are not going to put them on. It's time for new organizations. I tell people all the time that I can't afford to pull a stunt. I operate in the United States of America, I'm a black man in America, and I'm a rapper, so I got 3 targets on my back. My organization can't afford to mix and match things, because somebody will turn you in. That's why I have a ratings chairman and we have a Champions chairman, and I will and do not get involved. If somebody has a fighter, I'll give them my chairman's info and they can plead their case to them. I've watched the IBF get torn apart. I've watched all these promoters testify against the IBF. I know what the do's and don'ts are of boxing. I've got one foot on the oil can and the other on a banana peel.

JR: I'm pretty sure you know who they are, but there is already someone else actually using the name World Championship Boxing. It can be easy for some people to confuse the two. Do you foresee any legal issues by using that name or has that already been sorted out?

EB: Nah, HBO uses it in a broad sense talking about everything boxing. We're an actual sanctioning body. World Championship Boxing is a corporation and WCB is what it is.

JR: I know you actually knew the real 50 Cent. With guys like him transitioning into this sport, what has the response been like from your point of view?

EB: You know, it's pretty funny because of 50 Cent's profile. Since he announced it a couple of months ago that he was going to be a promoter, somebody said 50's doing it and now Eric's involved. I said, "Nah, I've been involved in boxing for almost 15 years." I just don't get in and tell people I'm doing this and that, because all of the clients I have, they're the stars, not me. I'm here to do business. I'm not here to jump in the camera to outshine the organization or the people who I'm serving as a manager or a consultant. And to answer your question, I think with 50 Cent, I think it's a great thing. I think that if he does the right thing and deals with the De La Hoya's and all the other guys, he'll be okay. I remember when Oscar De La Hoya was begging everybody saying he wanted to be a promoter and get on the other side. Now Oscar is the biggest promoter hands down.

JR: How do you think WCB is able to compete with the other boxing organizations? What do you think it will take and how long it will take for WCB to considered a top 10 organization with, what they say, other Alphabet Soup Belts out there?

EB: I think it's like a light switch and it depends on who's going to turn it on. You can have a fighter today say, "I'm tired of fighting for everybody else and I'm going to be like a Larry Holmes." I ask fighters all the time, "Why not make your own mark?" Fighters make the belt and the belt don't make the fighters and that's what people have to understand. A lot of guys are afraid and think if they get this belt, HBO is going to do this or that. All of that is the old guard and it's a new day. Other networks and outlets are around, like Telemundo and WealthTV, so it's not like HBO holds a monopoly like they once did. Remember Mike Tyson, a childhood friend of mine, went off there and made Showtime. Nobody watched Showtime for boxing until Tyson went over there. So it's going to take somebody with enough balls to say, "You know what? I'm my own man and this is what I'm going to do!" It's going to take guys saying, "I got to leave my own legacy and I'm going to dance to my own beat." Like I said, from a promoter standpoint, nobody thought or wanted Oscar De La Hoya to do it, but he made something of it. I know this business in my sleep and it's just going to take somebody at the right time to make it happen. I got some of the people from the IBF working with me.
[ Follow John Russell on Twitter @theJ_Russ3ll ]