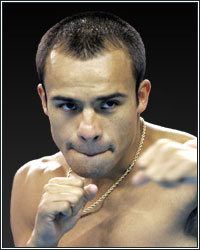 Boxing Scribe Vivek Wallace brings his Left-Hook Lounge mailbag to FightHype.com, answering questions for fans and giving his own unique perspective on all the latest current events in boxing. This week, check out his response to fans as they discuss whether or not Juan Manuel Marquez should wait for a 5th fight with Manny Pacquiao, who will score the first upset win in 2013, and much more.


---

Ricardo Q.: If you were guiding the career of Juan Manuel Marquez, who would his next opponent be? Or would you instruct him to walk away from the sport for good?

Vivek W.: If I were guiding the career of Juan Manuel Marquez, without a doubt I'd remind him that he has nothing left to prove in the sport and if there was ever a better time to walk away, now is that time. For years, only one obstacle stood in his way. That was the legend of Manny Pacquiao. As late great Michael Jackson (RIP) would say: "Too high to get over......too low to get under......stuck in the middle"....unable to solve this one riddle! After being jobbed a few times, on this most recent night, Marquez finally got it right! Why change this fairy-tale ending?

No matter where we look in the long line of sports, no one that decided to keep going after a fairy-tale ending saw anything remotely close in the aftermath. Actually, one could argue that practically all saw something far worst. Michael Jordan's patented game winning bucket over Byron Russell and the Utah Jazz was a thing of beauty. Remember how he looked years later in a Washington Wizards uniform? Roy Jone jr. looked amazing after going up to heavyweight and defeating Johnny Ruiz. He showed great heart pulling out a gutsy decision in the first Tarver encounter. Remember how he ended up after the second fight?

If u search hard enough I'm sure someone will find one example of a fairy-tale ending that was later reconvened with another decent ending. But you'll be hard pressed to find a fairy-tale ending with a second ending that paralleled the first. Nothing he can possibly do in the sport of Boxing can rival what he just accomplished. And when you're at the top, there's only one direction you can go in from there. I really don't see a reason to continue. There's nothing left to prove. No new ground to break. But there's much to lose. A Pacquiao stoppage - which isn't far fetched - allows Team Pacquiao to use the old "one bad night" theory with relative success.

A Pacquiao points victory - which is also possible - allows the same. There really is nothing for Marquez to gain in a rematch, short of a fatter bank account. I'd really give thought to ending his career if I were him. What takes a lifetime to build can take a split second (or ten in this case) to tear down. Rios and Bradley would be good fights. But what does he gain? Broner would be a helluva fight. But what does it change? Nothing in this sport could possibly be bigger than what he just pulled off. If I was him I'd do just that......PULL OFF! Stay tuned.

L. Kennedy (Washington, DC): What do you forecast to be the earliest shocker/upset in the first quarter of the year in the sport? Judah/Garcia? Golovkin/Rosado? Broner/Rees? Or another fight?

Vivek W.: When we look at Judah/Garcia, I think this is a fight that could go either way. Garcia is a solid puncher who knows how and when to place his shots, but there's an interesting element to him. I don't feel he does any one thing excellent. He's not the fastest. He's not the strongest. He's not the most fundamental. But the guy knows how to win. Judah, on the other hand is a seasoned veteran who's been on the big stage with the biggest names of his era. The interesting element to Judah is the fact that he's been through the peaks and valley's, and now, his maturity level has finally caught up to his talent, so the results produced could actually lead him to excel more than most believe he can at this stage of his career.

That's where the plot thickens for Danny Garcia. He has to be ready to overcome a cagey veteran who still has good speed, good substance, decent fundamentals, and the experience to place on top. This fight to me is a pick 'em fight. I think of all the fights, this is the least likely to produce an upset. Going in, I feel either man can win. But shifting gears to the Golovkin/Rosado fight, I think the odds of a "shocker" here are probably closer than any of the fights you listed. But realistically....should I? Rosado has proven that he has a huge heart, and a set of aspirations that loom just as large. That can be a deadly combination. I like his swag....I like his heart....and he seems to say all the right things.

Flip side is that he's never been on a stage this big and it can be a very suffocating place. Right now, I want to know if he's the "rose" or the "thorn". Roses are cosmetic and they're known to look great....but they later also wilt under pressure. The thorn is sharp and on point under any element. Personally, I think Triple "G" could have an easy night if the big stage gets the best of Rosado. That being said, this is the same stage where legends are born. What separates the pretenders from the contenders is getting it done on this very type of stage. One where the deck is stacked against an underdog, yet he finds a way to trump the odds! This could be his defining moment.

This is the probably gonna be the biggest shot at an "upset", because the Broner/Rees fight to me will be highly contested, yet very familiar results. Rees is probably the best on this level that the UK has to offer. But he's certainly not the best the sport has to offer. I think he'll make a good account for himself, but it's not like they'll be fighting across the pond where a few shaky handed officials can 'swipe' cards for the right money! Should be another day at the office for Broner. If you want to see an upset in this bunch, Rosado/GGG is the closest we get. Judah/Garcia is a toss up, and Broner/Rees is a what I'd call a good ole fashioned dust up!

Stephen P. (Roseville, CA): Who do you see winning a showdown between Austin Trout & Saul 'Canelo' Alvarez?

Vivek W.: Trout/Alvarez is a fight I hope we actually see come to fruition at some point. Both of these men are young, fresh, and very poised. In Alvarez, you have a man that the true Mexican base of the sport will tell you is well on his way to the top. Cross the border and oddly enough that tune changes a bit, as here in the U.S., many like what they see, but aren't quite as sold. In one breath you see a young stud, full of youth, energy, poise, and passion. And the kid can pop! He's definitely the vintage Mexican gladiator type. That being said, he's yet to truly be tested against someone who has pure skills on this level.

Josesito Lopez? Good, but smaller, and far from the elite level. Mosley? Good litmus test for a 'young gun', but not quite someone you can depend on to tell you if a young fighter is truly ready. The sad part here is that Trout has the weaker resume of the two, but he also holds the "ace", courtesy of a sound beat down of Miguel Cotto. No one on Alvarez's resume trumps that name or level of competition. And Trout did it in what can be viewed as Cotto's second home. When we look at things from this angle and consider the fact that Trout has campaigned as heavy as the super-middleweight range (earlier in his career), the reality is that he's a bigger guy, more length, more skill, and to top it off, he's a southpaw.

He's everything that one could expect to give 'Canelo' fits. Once the bell rings I think we'd have a helluva fight on our hands, but I think Trout's skill level and demonstrated ability to handle a dedicated body banger like Cotto - which Alvarez is - gives him a slight edge. I'd love to see this fight. Depending on who you listen to, it may be closer than one thinks. If Alvarez's quick departure from his ringside seat at the Trout/Cotto fight was any indication, it may be safe to say he doesn't want any part of this equation. Actions always have spoken louder than words. That act spoke very loud. Lets see if he changes his tune. We should find out real soon!

Vivek "Vito" Wallace can be reached live every Wednesday night on FightHypeRadio, also at vivekwallace@ymail.com, Twitter (@vivekwallace747), Instagram (ViveksView) and Facebook.