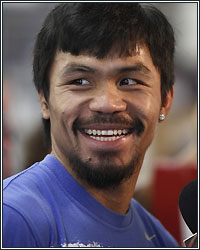 It's Monday. Welcome back for another edition of Observe and Fight, The Boxing Observer's compilation of observations and random thoughts from the week that was in boxing. Get caught up on some of the most recent events you may have missed out on, including Saul "Canelo" Alvarez's possible opponents for his ring return, Manny Pacquiao's comeback fight, a preview of the first major fight card of 2013, and much more. Without further ado, check out the latest observations from The Boxing Observer, David Kassel.



I guess it's set that Manny Pacquiao is coming back in April. I, for one, thought Pacquiao would wait until at least May or early June to return to the ring. I guess Bob Arum has a different plan in place even after Pacquiao got knocked out cold against Juan Manuel Marquez. It is becoming crystal clear every day that Pacquiao is nothing more than a puppet in the Top Rank stable. According to reports, Pacquiao is slated to return on April 20th, and Top Rank is looking to make the fight happen in Asia. Regardless of the opponent, and several have been rumored, Top Rank obviously sees the writing on the wall that Pacquiao only has a few big money fights left, and they are going to do everything they can to ensure they make that happen. Pacquiao's health is of little concern to anyone in the Top Rank offices. I hope Pacquiao is smart enough to walk away before any major health issues arise. Pacquiao hasn't exactly invested his money well, and when his career is over, most of those leeches he has in his camp will no longer be around. Pacquiao might need to make a call to fellow Filipino, Nonito Donaire, about the importance of being around only the people you trust.


Saul "Canelo" Alvarez's opponent on May 4th will be none other than...(fill in the blank). Golden Boy Promotions is stuck between a rock and a hard place with this decision. Canelo has expressed his desire to face the biggest and best challenges in the junior middleweight division. Currently, the biggest and best challenge for Canelo is the WBA champion, Austin Trout. In the last three years, Golden Boy Promotions has matched Canelo very carefully by putting him in the ring with fighters who were either smaller than he is or fighters who come forward and press the action, making themselves an easy target for Canelo to connect. Trout is neither of those. The plan was for Canelo to face Miguel Cotto, but Trout dominated Cotto back on December 1st in Cotto's backyard, which placed "No Doubt" Trout at the top of the conversation as a serious threat to Alvarez. Here's where the problem lies for Golden Boy Promotions. If Canelo gets in the ring with Trout, there is a serious chance he could lose, and if he loses, the super fight between Floyd Mayweather and Canelo diminishes for September 14th. On the flip side though, if Canelo wins, it will only create a more electric atmosphere because Canelo would have defeated the best junior middleweight in the world not named Floyd Mayweather. Another thing to consider is even if Canelo defeats Trout, he will only have 3 months to rest before he is back in the ring on Mexican Independence Day weekend to face the greatest fighter of this era. What if Canelo sustains an injury against Trout? It could happen, and Mayweather would have to find another opponent. Trout seems to be the frontrunner to face Canelo on May 4th, and Trout is aided by the fact that he is represented by Al Haymon, boxing's most influential manager. Haymon and Golden Boy have a very strong working relationship, and Golden Boy does not want to upset the apple cart because Haymon also represents Mayweather. However, other names being thrown around as opponents include Cotto and Alfredo Angulo. I'm not going to even consider Angulo as a legitimate candidate because if Golden Boy chooses Angulo to fight Canelo, they are clearly taking the safest route possible to ensure nothing happens to a September 14th showdown between Mayweather and Alvarez. Angulo wouldn't last 3 rounds against Alvarez. Cotto is still a major player in this decision because he is a big time fighter,who gave Floyd Mayweather everything he could handle during last year's Cinco de Mayo weekend. Also, Canelo vs. Cotto would continue the long-standing Mexico vs. Puerto Rico rivalry. Even though Cotto lost to Trout, he is still the bigger name, and he would bring in more pay-per-view dollars than Trout because of Cotto's large Puerto Rican fan base. Cotto is also the much safer choice for Canelo to fight. If you'd remember, it was 3 years ago, on Cinco de Mayo weekend that Shane Mosley lost to Floyd Mayweather. 2 years later, he was facing Canelo Alvarez as the co-feature to the Mayweather vs. Cotto main event. That could be Cotto's task this Cinco de Mayo weekend. 2 other wildcards to consider are IBF champion Cornelius Bundrage (who is now promoted by Golden Boy) and WBO champion Zaurbek Baysangurov. Both men defend their world titles on February 23rd in separate bouts, but neither man is considered by Golden Boy Promotions as a serious threat to Alvarez. If either looks great in his bout, either man would allow Canelo a "safe" option to unify the world titles ("safe" is in quotes because I believe both men can hurt Alvarez). As you can see, Golden Boy has a lot of things to consider when choosing Saul Alvarez's opponent for May 4th. In the end, I believe Austin Trout is being used as a pawn to try and lower the asking price of Miguel Cotto. My hope is to see Alvarez vs. Trout as the co-feature to Floyd Mayweather on May 4th, with the winner facing Mayweather for junior middleweight supremacy on September 14th, but I believe Saul Alvarez will face Migue Cotto, setting up a safe, yet legitimate path to a September showdown with Floyd Mayweather.


Orlando Salido vs. Mikey Garcia will be a great fight! Don't worry about how this fight starts out because it will be fought at Garcia's pace. Garcia is very methodical and will be able to control the action early on, however, Salido will find a way to break through Garcia's guard and test the young, undefeated challenger's will and heart in the middle rounds. If the fight goes into the later rounds, expect to see a war. Salido will not stop coming forward, and Garcia has never been in with a fighter that has Salido's courage. Garcia is by far the superior boxer, and I believe he has far greater power, but Salido will make Garcia very uncomfortable in the ring. If Garcia is able to fend off the Salido attack and stay true to himself, he will stop Orlando Salido and win the featherweight title. Should that happen, Garcia immediately catapults himself into the Top 20 pound-for-pound rankings. I believe Garcia has the skills to be there. Now, it's time for him to prove it.


I'd be shocked if Gabriel Rosado lasts more than 8 rounds against Gennady Golovkin. This is not a knock on Rosado either. Rosado wants to prove he can handle a legitimate middleweight, and he doesn't want to take any shortcuts by accepting a catch-weight fight, but he should have tried to gain every advantage he could against a guy who has been known to seriously hurt cruiserweights in sparring sessions. Golovkin is a heavyweight puncher in a middleweight's body. The fight will be all-action, and Rosado will put forth a valiant performance which in no way will deter a bright future ahead of him, but this fight will look an awful lot like what Canelo Alvarez did to Josesito Lopez. Golovkin's power will be too much for the very game Rosado.


Rocky Martinez vs. Juan Carlos Burgos could steal the show. The opening bout of the HBO televised triple-header is one fans truly shouldn't want to miss. The junior lightweight division is one of the weakest in boxing, but this fight is a classic example of the saying, "styles make fights." Martinez is never dull with his all-action style, and Burgos fits right in with Martinez in the ring. This should be a fight fan's dream.


In case you were unaware, "NBC Sports Network Fight Night" series returns on Saturday as well. Gabriel Campillo, who should be the IBF light heavyweight champion, returns for the first time since he was horrendously robbed against Tavoris Cloud back in February. Campillo, who was knocked down twice in the 1st round against Cloud but came back to dominate almost every round thereafter, needs a big performance against the undefeated Sergey Kovalev if he wants any chance of earning another world title shot. Campillo is a very tall southpaw who presents problems for anyone in boxing, and he presents a high-risk, low-reward scenario for any opponent. He split fights with WBA champion Beibut Shumenov, and a trilogy fight could be a possibility, but the hard luck Campillo has to look great on Saturday night to even be considered for an opportunity.


How can anyone not love Teddy Atlas' brutal honesty? In case you missed Atlas' comments on "Friday Night Fight" this past week, during a conversation with studio host Todd Grisham about about the controversial outcome of the Rances Barthelemy and Arash Usmanee fight, Atlas was quoted as saying that the Association of Boxing Commissions (ABC) needs to "get off their fat backsides, alright, and let them actually do something. They're called the Association of Boxing Commissions. That sounds important. Well, I don't see you doing anything important...have a panel in place where you rate these judges...and you have the ability to put sanctions against these judges." Atlas went on to say the networks need to step up and not broadcast fights in states where controversial scoring continues to take place. As much as I agree with Atlas, I feel the only way that boxing is going to get cleaned up is if the government steps in. It can't just be the United States government either. Questionable judging and scoring takes place all over the world. I wish I could say that there was an easy fix, but I don't see anything changing in the sport of boxing anytime soon.


Has former junior featherweight champion Rico Ramos completely given up on his quest to become a world champion again? Ramos, who was once a rising prospect and contender, has fought very uninspired over the past two years, including his unbelievably feeble performance in his only world title defense against Guillermo Rigondeaux. Friday night against Ronny Rios, Ramos fought as if he was almost resigned to the fact he was going to lose. Ramos may go down in history as one fighter with immense talent who didn't live up to the expectations. If that's the case, Ramos has nobody to blame except himself.


Is it just me or does welterweight fighter Julio "The Kidd" Diaz look an awful lot like Sergio Martinez? Not so much in fighting style, but when I turned on "Solo Boxeo Tecate" on Saturday night, I thought I was watching old fight footage of "Maravilla." Check it out for yourself.


Each week, I feature an email from a fan on Observe and Fight. This week's email comes to us from James J. regarding the return of Floyd Mayweather...


"David have you heard who Floyd fighting next I mean seriously? Will Floyd fight May 4, and Sept 15, this year? Can you, David, confirm who Floyd will be fighting and the dates?"


James, while I cannot "confirm" anything because I am not a part of the discussions going on, rumors are that Floyd is almost for sure going to fight Robert Guerrero on May 4th (unless something crazy happens in the meantime). Then, Floyd is slated to fight Canelo on September14th, but that all depends on what happens for both guys along the way.

That's all I've got for this week. Email any questions or comments to
dkassel@fighthype.com
and I will answer them throughout the week. Your email may be featured in the next "Observe and Fight." Follow me on Twitter @BoxingObserver, and be sure to "Like" The Boxing Observer on Facebook.
[ Follow David Kassel on Twitter @BoxingObserver ]