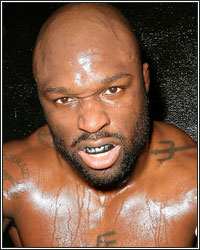 "He's a tough dude, mane, from Poland. He likes the kimura and arm locks. He's tough...he's solid, but I'm looking to pick him apart...I'm ready to go. And 2013 is my time to shine, dog, and I'm ready to do it," stated Bellator light heavyweight King Mo Lawal, who talked about his highly-anticipated return to the cage and much more. Check it out!

PC: Your fight is less than 2 weeks away. How do you feel, Mo?

KM: I feel good, mane; out here in Vegas straightening my techniques out and making sure my technique is on point, but that's about it.

PC: How has Vegas been treating you?

KM: It's going good, man. I been working with Roy [Nelson], Jeff Mayweather, and Kenny "Bad Ass" Johnson, and sparring with Andrew Tabiti and Michael Hunter Jr., so it's been going good, mane. I enjoy it, man. I enjoy being in the gym every day and seeing guys like Zachary Cooper, AKA Kevin Hart Jr., put that work in. Everybody there at the Mayweather Gym cool, man. Ishe Smith, they all cool, man.

PC: I have been getting a lot of questions about the Kimbo Slice comments you made and your interest in boxing him. What's the deal with that?

KM: As far as the whole Kimbo thing, he started in MMA and he is boxing right now, and I got a boxing clause in my contract that when I win the tournament and defend the title a few times, I wouldn't mind fighting Kimbo. I have been working with Jeff at the Mayweather Gym and challenging myself there, so I want to keep moving forward and see if I can get that NABO or USBA belt, or at least contend for it. I know I ain't no world-champion caliber, but if I can at least contend for a regional title, I'm cool with that.

PC: You have been saying that for a long time now.

KM: Yeah, that's a dream, dog, you know what I'm saying, because that's the first belt I ever seen defended on TV, so that's my goal is to win that belt.

PC: Another question I have been getting a lot about you is, when can we expect to see you back on TNA Impact again?

KM: Right now, we are working on an appearance, but I want to do matches in March after I'm done with the tournament.

PC: You haven't been in a tournament format since your wrestling days. How is it to be back in the tournament and fighting monthly pretty much?

KM: Man...it's all good, man. In MMA, everything is kind of like a tournament. You lose, you start over again, so it's not that big of a deal to me. I'm just gonna fight and stay healthy.

PC: Strikeforce's last show did almost record low numbers and the card wasn't as heavily promoted as the last event. Being that that's where you won your first world title, did you have any emotions at how it all ended?

KM: Nah, I didn't have any emotions, but shout out to Scott Coker and my boy Stephen Espinoza, because they are good people. I hope another MMA organization will take Strikeforce's place. I really think Invicta and Legacy Fighting Championship would be good fits to take their place.

PC: You recently commentated for Invicta. They were attempting to do their first internet pay-per-view, but of course encountered some problems. Shannon Knapp, being the standup person she is, made it free and offered refunds. Were you shocked at the level of support, because a lot of people stated they didn't want their money back and requested no refund?

KM: Yeah man. That's what happens when you get a good president and you have a good team and you have god matchmaking. They put on good and entertaining fights and they are easy to work with. When things happened, I think the fans wanted to give back because the fans have been entertained for the last 4 Invictas. I didn't expect for it to be that overwhelming as far as the response, but all of the fans came up big and showed their support.

PC: Przemyslaw Mysiala is your first Bellator opponent. What do you know about him?

KM: He's a tough dude, mane, from Poland. He likes the kimura and arm locks. He's tough...he's solid, but I'm looking to pick him apart.

PC: Being out for as long as you have and going through everything that you did last year, how does it feel to be only a week or so away from your return?

KM: It feels great, man. I'm ready to go. And 2013 is my time to shine, dog, and I'm ready to do it.

PC: Obviously you have been working on a lot of things in Vegas and even had a trip to Holland to train. What can fans expect to see from you; some new things or much of the same?

KM: Knockouts! That's all I'm trying to do. I know MMA features submissions, but I like knockouts, you know what I'm saying?

PC: Definitely. Have you talked to Bellator at all about your entrances, because they usually don't give elaborate entrances? Is that something you are in talks with them about?

KM: I'm going to find out about the entrances this week when I meet with Bjorn and those guys at the card in Irvine.

PC: I know you typically don't like to get into other fighters' business, but I gotta ask your take on the Eddie Alvarez and Bellator situation.

KM: You know what? My take on it is this, they are going to court, so let the court handle it because everybody think they know the deal and know what's going on, but nobody has seen the contracts but Eddie Alvarez, his management, and Bellator and Zuffa, so everybody can speculate and say I heard this and that, but they ain't heard nothing until they read the contract.

PC: Babalu is also in the tourney and there is a possibility you would have to fight him. I know you are really cool with him. Any hesitance fighting him or is it just business for you?

KM: If he's in the tournament, it's just business, but if it's like a "set up a fight with him" thing, it would be different because I like Babalu. He's a real good guy, man, and he's helped me out a lot in my career. But since he's in the tournament, I gotta fight whoever is in the tournament.

PC: Give me some closing thoughts, Mo!

KM: Y'all hit me up on Twitter @KingMoFH and keep tuning in on FightHype because they be given out the gold interviews, you know what I'm saying, and none of that fake shit. They come with that realness. And if y'all out in Vegas, come by the Mayweather Gym man and watch some of that training because them boys at the gym be getting it in.
[ Follow Percy Crawford on Twitter @MrFighthype ]