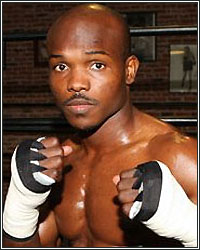 It's Monday. Welcome back for another edition of Observe and Fight, The Boxing Observer's compilation of observations and random thoughts from the week that was in boxing. Get caught up on some of the most recent events you may have missed out on, including a dominant win by Gennady Golovkin, the arrival of Mikey Garcia, Kelly Pavlik's retirement from boxing, Timothy Bradley's next potential opponent, and much more. Without further ado, check out the latest observations from The Boxing Observer, David Kassel.



GGG delivered an AAA performance Saturday night. I know some people are going to say that Gabriel Rosado exposed weaknesses in Gennady Golovkin's arsenal. So what?! Every fighter has weaknesses. Golovkin was sick as a dog and still dominated a very game Rosado. For those of you who think there is a middleweight in the world better than GGG, I've got news for you...there isn't! Not even Sergio Martinez would be able to withstand the punishment that Golovkin would give to him. It's very unfortunate because we won't be seeing Martinez getting in the ring with GGG anytime soon, and I don't blame Martinez one bit. Martinez has a big money fight in his home country of Argentina in April, and then has a guaranteed HUGE payday in a rematch with Julio Cesar Chavez Jr. in the fall. Golovkin may have to transition up to super middleweight (168 lbs) to get any truly meaningful fights. After Saturday night, no junior middleweight, or middleweight, is going to be chomping at the bit to get a piece of him. I would personally love to see Golovkin in a war with Carl Froch. Talk about a fight fan's dream!


Big ups to Gabriel Rosado for a spirited performance. Rosado had a bit too much fighting spirit (it must be the Philadelphia roots) for his own good. He shouldn't drop in any of the world rankings at junior middleweight because of the loss, and I hope he gets a meaningful title shot at junior middleweight soon. My only fear is that the beating he took on Saturday night is going to leave long-term effects on his health. That was one hellacious show of heart, but it might cost him in the long run.


Timothy Bradley vs. Yuriorkis Gamboa, are you kidding me? I know Gamboa is an all-action fighter, but making the jump from featherweight/junior lightweight to lightweight is one thing. Going from 130lbs to 147lbs is another beast entirely. When Bob Arum stated that Bradley was going to fight Lamont Peterson (before Bradley put the kibosh on that one), Arum tried to sell Peterson as a top welterweight. Peterson has never fought above 144 lbs. How in the hell is Arum going to get people to believe that Gamboa is a serious threat to dethrone Bradley? Gamboa was seriously hurt against Michael Farenas. Let's put him in there against one of the 10 best fighters in the world? Great move! And what does this move say about Gamboa's promoter, 50 Cent? I'm guessing anyone who even considered signing with 50 a few months ago is going back and thanking their lucky starts they didn't commit career suicide. What a joke!


Mikey Garcia has finally arrived on the big stage. After Saturday night's dominant win over Orlando Salido, I'm putting Garcia in my Top 20 pound-for-pound list. This kid has all the tools to be one of the best in the business, and he has been brought along at the perfect pace. Robert Garcia knows his brother is a diamond in the rough and Bob Arum will be making sure to take care of one of his most prized possessions for years to come. I expect Garcia's next test to come against another world champion. Billy Dib anyone?


Orlando Salido had no business whining that he was "getting to" Garcia. Dude, we all saw the fight. You weren't going to win. Take the loss like a true champion and try to come back stronger. End of story.


In what world does Rocky Martinez still deserve to be champion? Maybe I need to go back and watch his fight against Juan Carlos Burgos again, but let's be serious. Burgos should be the world champion, and Martinez lost the fight. Any questions???


Sergey Kovalev vs. Nathan Cleverly NEEDS to happen next. I was moderately impressed with Cleverly back in November against an overmatched foe, but I was ultra impressed by Kovalev's dominant knockout win over former light heavyweight titlist Gabriel Campillo Saturday night. I came into the fight thinking Campillo needed a big performance, but I didn't consider the option of, "what if Kovalev shines?" That's exactly what happened, and while Kovalev may have issues dealing with a slick fighter, Cleverly is anything but that. A Cleverly vs. Kovalev fight will be fought in the middle of the ring; just where it ought to be.


Nonito Donaire is slated to fight Guillermo Rigondeaux in April. I'll believe that one when I see the two finally get in the same ring. Call me crazy, but I have serious doubts that fight happens in April.


What a weekend of action-packed fights we have coming up! None of the fights this weekend scream "Must See TV," but they are worthy of watching because we are more than likely going to get our fair share of knockout of the year candidates. Lucas Matthysse vs. Mike Dallas Jr. should be over within 6 rounds. Selcuk Aydin vs. Jesus Soto Karass has fight of the year written all over it, and I don't think judges even need to be present at ringside for that one because it's not going 12. ESPN Friday Night Fights has a wonderful main event between Sergiy Dzinziruk and Brian Vera. ShoBox features the slow rising, yet talented prospect, Demetrius Andrade, in a tough test against Freddy Hernandez. Not a bad lineup at all.


Shane Mosley is going to get beaten up by Paulie Malignaggi. Mosley doesn't have it anymore. He is going to have to kill himself to make the welterweight limit against Malignaggi in April, and he doesn't have the reflexes he used to. Mosley will be tentative as Malignaggi dances around the ring before, hopefully, someone in Mosley's corner, or the referee, stops the fight. I only wonder if Mosley saved his money well because I hate to see a guy who has accomplished so much tarnish his career by continuing to take beatings. Look at Roy Jones Jr. I would like to think Jones' legacy will be remembering him from the 90's, but the longer he fights, the harder that becomes. Hang 'em up, Shane. For your own safety.


On that note, congratulations to Kelly Pavlik on a wonderful career. Forget the out of the ring issues that were well publicized, Pavlik deserves to be remembered just as much for his rise to the top of the boxing world when he became one of the most unlikely middleweight champions of all time. I truly believe that Pavlik, unless Mosley, will stay retired and won't allow the temptation of money to draw him back to the ring. I still remember where I was at when Pavlik knocked out Jermain Taylor in 2007 to become the middleweight champion of the world. That is one of my fondest boxing memories and that is how I hope to remember Kelly Pavlik's career. I'm very glad Andre Ward was injured because Pavlik stood no chance and could have suffered life threatening injuries had that fight taken place. Thank you so much for the memories, Kelly!


Each week, I feature an email from a fan on Observe and Fight. This week's email comes to us from Deric T. regarding the possibility of a Canelo Alvarez vs. Miguel Cotto clash in May...


"Dave, I was reading that someone who seen Miguel at a convention in Las Vegas asked him when was the next time he was fighting. Miguel said in May!!!!!!!!!!!!!"


Deric, as I mentioned last week in O&F, I believe Cotto will be the guy to face Canelo. He's the safest pick out there (besides Alfredo Angulo) to ensure Canelo is able to recover in enough time to face Mayweather in September. In my opinion, Golden Boy is using Austin Trout as nothing more than bait to hold over Cotto's head. In the end, Cotto is going to take the payday, Golden Boy is going to earn a few more million in PPV buys, and Canelo is going to add another Hall of Fame name to his resume.

That's all I've got for this week. Email any questions or comments to
dkassel@fighthype.com
and I will answer them throughout the week. Your email may be featured in the next "Observe and Fight." Follow me on Twitter @BoxingObserver, and be sure to "Like" The Boxing Observer on Facebook.
[ Follow David Kassel on Twitter @BoxingObserver ]