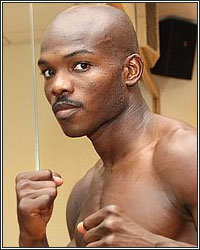 Boxing Scribe Vivek Wallace brings his Left-Hook Lounge mailbag to FightHype.com, answering questions for fans and giving his own unique perspective on all the latest current events in boxing. This week, check out his response to fans as they discuss Gennady Golovkin, Gabriel Rosado, Timothy Bradley, Roy Jones Jr., and much more.


---

Jeff G. (Reseda, CA): There's been a lot of speculation about what happens next with Timothy Bradley. What are your thoughts about his career, post Pacquiao victory? And where you think he should go from here?

Vivek W.: My thoughts on the career of Timothy Bradley post-Pacquiao reflect my thoughts of Timothy Bradley pre-Pacquiao. A very good fighter. A ton of heart. And unfortunately, still a ton of questions attached, as well. Bradley has never been viewed as a primadonna when the term surfaces around the sport, but let me be the first to openly tie the two together. And that's coming from a Bradley fan. There are many things to love about Bradley, but what he's doing now provides equal footing for support on things not to like about him. When the Amir Khan fight was on the table earlier in his career, he sidestepped it for monetary reasons.

In hindsight it looked like a good scenario, because he escaped possible defeat and later landed in the ring with Pacquiao. He got the purse he wanted, escaped a few risks he didn't want, and the rest was history. He faced Devon Alexander, looked not-so-great in doing it, and although he defeated Peterson and a few other names, one could argue with solid success that the best names in his division remain apart from his resume. Personally, I think Bradley is letting much of his youth waste away while he can build a true legacy for himself and make money at the same time. When we look at the thick level of competition between 140-147lbs, there are a ton of fights to be made.

Basically, Bradley has tasted good money and now realizes the level of risk in other fights he could take is far too strong to jeopardize, forcing him to sit on ice until the money fights are exhausted. The trouble with this notion is that he faced Pacquaio once. He probably isn't on the shortlist for a second shot. That being said, Mayweather is an even longer shot, because of the whole Top Rank/GBP feud as well. So the big money fights have very weak odds. So what does he do? Pull a David Haye and sit on ice rather than demonstrate why he (in his words) is "a top dawg" in the sport? Just doesn't make since!

At 140, he and Rios on the west coast would be a solid fight. He and Khan at '47 on the west coast would be a solid fight. Andre Berto, Victor Ortiz, the Garcia/Judah winner, and beyond. There are a ton of fights he can take with a ton of money he can make. This is what makes me a bit unhappy with Timmy. Mayweather had developed a strong resume before cruising, and even then, he took risks. They were calculated, but they were risks. What we see Bradley doing is calculated.....but he's calculating dollars for fights that may never happen....not risk for fights that should......which ultimately bridges the gap, taking him from where he is to where he wants to be. It's sad to see a talent this solid go to waste. He needs to get busy. Right now, his biggest win was a fight most felt he lost. It's time to hit the gym, for Tim. Anything less fails the test.

Irfan M. (London, England): In their prime Roy Jones Jr./Steve Collins would have developed strong interest, but this fight is about 15 years late. Considering the whole transatlantic USA vs UK equation and all other subplots, do you think this is somehow a good fight for Boxing?

Vivek W.: Without doubt, once upon a time this fight would have been very much marveled and appreciated. Unfortunately, this fight now sits in that proverbial "drawer" next to Mayweather/Pacquiao, Lewis/Bowe, Ali/Tyson, and a ton of others we would have liked to see yet never saw. The fact that they're willing to make it happen now is admirable, but without doubt, there's a 'circus' element to it as well. These men are both closing in on 50 at a rapid pace, and medically, one has to wonder what we'll actually see if the bell does ring to commence the action. Collins retired in '97. If he retired in '97, one could argue he should have retired prior to that. Which means he's even further past his prime than most would argue Jones is.

I think the whole USA vs UK equation does build an element of hype, but if such a hype does exist, I'd be the first to say it's almost exclusively across the pond. As here in the U.S., the market for this fight is two-fold: Slim and None! If I'm gonna push to see a UK vs USA showdown featuring someone who hung up the gloves, it'll be a Calzaghe vs Ward showdown. Or something along those lines. Few loved Jones more than I did in his prime. And few could appreciate the talent of Collins the way I do. That being said, this fight absolutely pushes the limits of medical risk in the sport. Collins probably hasn't run a mile since he retired. I wouldn't sanction this fight for more than 6 rounds if at all. If I'm on watch, that's the only way it gets done. Period.

Joseph Q. (Brooklyn, NYC): I thought Gennady Golovkin proved why he is arguably the best 160lb'er in the world last Saturday night. What did you think of his performance and who would you like to see him face next?

Vivek W.: Before I get to Golovkin, I think it's only proper to tip my hat to the man across from him last Saturday night who clearly came to play ball. Rosado used the stage he was given to make a name for himself. He didn't get the nod, but what he did get was the respect of fight fans around the globe who watched him leave it all in the ring when the final bell rang. Much respect to Rosado. Regarding the performance of Golovkin, like anything else in the world, it comes with one head and one tail. There was definitely two sides to his performance. What I admired was the fact that he's the most precise, slow fighter I've ever seen. All caps, underlined, and highlighted!

The guy is very slow, and Rosado isn't the fastest so that says something. But the fact that he understands the art of timing so well that he could be that slow and still land precision shot after precision shot is very compelling. His power was impressive, but his slow precision was far more. Regarding who he faces next, there's a ton of fights he could explore. Within 6lbs there's Saul 'Canelo' Alvarez, there's Austin Trout, there's Lara. At 160, there's 'Kid Chocolate', and then there's the fight I fancy above them all....which is Sergio Martinez. Martinez is much faster, yet Golovkin cuts off the ring better than almost anyone I can think of in the sport today. He's powerful. He has decent stamina.

I think this is the fight both men need to let us know their true worth. A litmus test at best. I don't think there's a better fight out there for either guy. Stylistically, or any other way. I want to see how Martinez deals with his power and ability to cut off the ring. I want to see how Golovkin, being a relatively slow fighter, handles Martinez's speed, power, and spirit. It's a fight the sport needs. And it's one with enough talent involved to convert the non-hardcore fans to the hardcore faithful ledger. I hope it can happen. And I don't see why it can't! As most know, rarely do we get what we want in this sport. GBP and Top Rank aren't part of this equation. Maybe this is the exception. Stay tuned.

Vivek "Vito" Wallace can be reached every Wednesday night on FightHypeRadio. Also at vivekwallace@ymail.com, Twitter (@vivekwallace747), & Instagram (viveksview), & Facebook.