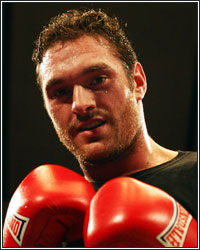 Boxing is truly the cruelest sport. Only the most talented athletes can make it as a competitor internationally, let alone as an elite superstar. In 2013, many of this generation's top rising stars will be put into some tight positions in stiff challenges. Without further ado, here are a few of the men who I think will "sink" in a loss soon.

Tyson Fury (20-0-0 14 KO's) - Gradually climbing into the Heavyweight division's elite, this Brit has been stunned, staggered, and even knocked down by regional contenders on multiple occasions as of recent; just clinging to victory in hearty performances. But the bottom line is he quite frankly cannot eat a flush shot. Calling out everybody and their grandmother, I would expect whether it is local rival David Price or perhaps a Klitschko brother, he will fall to the hands of defeat eventually.

Mike Lee (11-0-0 6 KO's) - I have a lot of respect for Mike Lee. He's a tough potential white-caller Notre Dame finance graduate who quite frankly could be doing much better in his life than the Sweet Science. He has a passion though and he is sticking to it. Sadly, even in the hands of Ronnie Shields, lingering flaws, such as a leaky defense, may keep him out of top contention, which I expect him to do late into another active year.

Jose Benavidez (17-0-0 13 KO's) - Despite being a really sound boxer with solid power and a deep arsenal, this Wild Card trained prospect is open to wide shots. For example, Pavel Miranda had him on queer street in the final round of their 2012 bout. If he keeps working, he can have a great career. Call me crazy, but I think he is in for a scare soon. But this is the least likely on the list.

Dustin Dirks (26-0-0 19 KO's) - A cut-prone, beatable up-and-comer in Dustin Dirks has struggled a bit in crawling past soft touches. Highly-renown in his homeland of Germany, compounding a 26-0 record, he is likely to step in against a world-class opponent soon. His patterns are timeable and he struggles under heavy pressure. Not to disregard his own set of skills, I view the popular Dirks as "beatable" for a while now.

Jessie Vargas (21-0-0 8 KO's) - Nothing bad about Vargas. Decent timing, precision, can go the distance, chin usually holds up. The problem is nothing is that spectacular. He has some physical power; enough to budge a hungry opponent from the pocket, but not enough for a determined opponent to flood through and shove him off his pedestal. View his fight with contender Josesito Lopez. It tells you all you must know.

Johnathan Gonzalez (16-0-1 13 KO's) - This heavy-handed Puerto Rican-American has proven in recent contests his vulnerabilities. Fringe contender Billy Lyell outhustled and nearly defeated him earlier last year, but got a close nod snatched from him. A faded Sergiy Dzinziruk's sharp jab made him struggle to plot his shots.

Daquan Arnett (10-0-0 6 KO's) - Golden Boy Promotions is pushing their young prodigy on us. At only ten fights, he has already fought on Shobox twice. And in both performances, we saw Daquan showcase the harsh, rough style in his arsenal.

Logan McGuinness (19-0-1 9 KO's) - Local fans in Canada are really hyping up this Hennessy Sports fighter. The problem is while his publicity is widespread, he simply isn't consistent enough with his workrate. He is a fundamentally sound fighter, but no matter what, as with the previously mentioned Jessie Vargas, he is very "average".

(Dis)Honorable mentions - Yudel Johnson, Seth Mitchell, Chris Eubank Jr, Liam Walsh, Frank Buglioni.

Give us yours in the comments section.