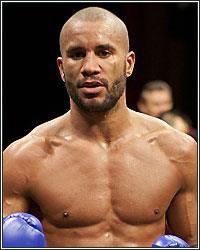 "I wouldn't call him technical. Maybe I'll change my mind after the fight, but I won't say that he's technical as the first criteria. What he has is that he's very powerful. He often does the same thing, but he does it so well that it works...It's going to be a good fight. I don't do trash talking, so I'll just tell you that it's going to be a good fight," stated former 2-time world Muay Thai Champion Gregory "Cheetah" Choplin, who returns to the ring this today, January 24th. He can be seen live in the main event at Lion Fight 8 at the Hard Rock Hotel and Casino in Las Vegas, Nevada and on AXS TV as he takes on Yodsanklai Fairtex. With a record of 54-9 and on a 4-fight win streak he just may be poised to regain another world championship. Having recently relocated from France to Miami, just days before his fight, I sat down with him to talk about how he's still improving after 13 years as a pro, his upcoming fight, and why he still competes in one of the most brutal combat sports in the world.

SWD: Thanks for taking the time to speak with us right before your fight. How's your weight and how's your health?

GC: Good right now. I'm 170 pounds and I'm supposed to fight at 163 pounds, but I have 1 pound to play with and I'm going to take it. I know for me this is the limit. I've been fighting at 160 pounds for 2 years and I never felt 100%. I just went that low because I had good offers and interesting people to fight, but I never really felt my best there.

SWD: This will be your second straight fight in Vegas and you've fought all over the world, in Europe, Thailand, and many other places where Muay Thai is a more popular sport than it is here. Do you feel like Vegas fans have a better appreciation for it and that showcasing it there will help the sport grow more here?

GC: I cannot really compare Vegas to the rest of the U.S. I think they just love the show. I think we would have a lot of people from MMA, fans of MMA, supporting Muay Thai if they knew what it was all about. I know for me and a lot of people that I speak to, when there's a UFC fight, it's more interesting when it's more about striking than when it goes to the ground.

I feel like it could be better than MMA, but Muay Thai means that it's not from America. Even though mixed martial arts are from all over, Americans feel like it's their sport. There have been many American champions and that's why Americans feel like they're the best. If it is Muay Thai, then Americans are not the best. They are far away from having the best fighters. It's not a part of the American culture.

SWD: Muay Thai fighters seem to have much more respect for each other than MMA fighters or boxers. It seems as though you don't hear as much trash talk. Why do you think that is?

GC: To me, that's why I learned Muay Thai. It starts with your trainers, the little guy walking in the gym, and your opponent. Muay Thai is more traditional. The spirit is more traditional and when you are trash talking in other fighting sports, it is to sell the fight. It's for business. In Muay Thai, even though it's how we make our living, it's still not the first purpose of why we fight, so we're not used to it. I understand trash talking, so I don't judge it, but it's not appreciated in Muay Thai.

SWD: Let's go back to 2011. You had 2 losses in a row and since then, you've come back with 4 straight wins. After those 2 losses, what, if anything, did you do different?

GC: At first, I tried to stop fighting at 160 pounds. The 2 losses in a row were when I took 2 big fights with 3 weeks in between them. To me, it felt like I was able to do it, but it would have been smarter to take just one of those fights. It was a mistake.

SWD: You're now training out of KnockOut Zone Miami and your head trainer is former S. American and Argentinean Champion Diego De Vera. Is that a permanent thing for now, and why train there?

GC: Yeah. The main reason is that I feel good. When I come to train, I don't have any bad energy. My gym in France is a good gym and I found at Knockout Zone what I had in France. You have to feel comfortable in a gym because you spend a lot of time here. I'm training a new way and I love to train.

SWD: When you say a new way to train, what do you mean?

GC: Can you keep a secret?

SWD: Sure if you don't want me to publish it?

GC: (Laughing) No, I'm playing with you.

SWD: Duh. You got me.

GC: I love to learn. My head trainer Diego has created a new way for me to train.

SWD: You mean more total body conditioning and emphasis on strength and conditioning?

GC: Yes, Diego organizes my whole week and he focuses on conditioning. Then I have Angel Fernandez for my boxing and Remy Bonnell and Lucky Walton for Muay Thai.

SWD: How much sparring have you been doing for this fight?

GC: I do way less sparring than I used to. I used to spar a lot in France, but here I don't spar that much. I think, and maybe I'm wrong, but I think I have to focus on technique more than spar. So I spar once a week here and work with my students. The more you spar, the more you get injured.

SWD: Does that effect your timing at all and is there a downside to not taking punches and kicks so that you're not as used to them.

GC: I am used to them, so I don't need to feel the punches and kicks. I just focus on technique. The difference between the fight and the gym is just the speed, so if the move is done the right way in the gym, then you just do it with more power and speed in the fight. You're right about timing, but you can work pads and work timing by having whoever's holding the pads kick you and throw punches at you. I'm good with sparring once a week.

SWD: Your opponent is Yodsanklai Fairtex . He's 180-71-4 and he's been nicknamed "The Boxing Computer" because he's so technical. You, as well, are a very relaxed and technical fighter. What kind of fight do you expect and how much do you know about him?

GC: First off, I wouldn't call him technical. Maybe I'll change my mind after the fight, but I won't say that he's technical as the first criteria. What he has is that he's very powerful. He often does the same thing, but he does it so well that it works.

I just think that everyone has weakness. My goal is to find his weakness and I have ideas of what those are. The way I fight, I try and take it less serious than other people. I try and take it as a game. I try and play like chase, you know what I mean? Hit him before he hits me. Make him do some things so that he opens a gate so I can get in.

SWD: How hard is it to get to that level of comfort? One of the things that you talk about is reacting within the fight and just going with the flow of the fight. With most fighters, trying to stay relaxed and not be tight is one of the biggest challenges because there's a guy that has the skill to hurt you across the ring and that's what he's going to try and do. How do you stay that relaxed?

GC: I'm just going to say it's my trainers. I was lucky to have good trainers from the beginning. They never let me fight crazy. I was always supposed to control myself, control my body, and do the right move and to kind of play. To me, that's what has always been my vision of Muay Thai.

SWD: How do you take a hard kick, a knee, a punch, and block that out and use that against your opponent?

GC: You have to be strong in your head. When I get in the ring, I'm motivated. There are 5 rounds and after that, I can rest. If you knock me out, you knock me out. I'm human, but what does not knock me out will make me more focused. It's true sometimes you get hurt, but you just have to deal with it. The good thing with Muay Thai is that you have 8 weapons, so if one of them doesn't work, then you have 7 other weapons and you just need to know which ones will work.

SWD: You're a 2-time world champion. With 4 wins in a row under your belt, and assuming you win this one it will make it 5, how many more fights before you get another title fight?

GC: My manager is negotiating a title shot.

SWD: So assuming you win this one, then there's most likely a title shot?

GC: Yes

SWD: I've heard you say that you just want the best competition to motivate you. Is there any motivation in wanting rematches with Yohan Lidon, who you've fought 3 time and won twice, but lost the last one, or against Dmitry Shakuta, who you fought twice? Or do you even think about wanting to fight a specific fighter?

GC: I try not to hold any grudge or have vengeance. I try not to think about it. If tomorrow I have to fight Yohan again, then I'll fight him, but I don't try to think about one fighter because if I do, then it's going to change my spirit.

SWD: You're good friends with UFC heavyweight Fighter Cheick Congo. I'm assuming you've sparred with him. What's that like considering his size and physical strength?

GC: It's actually very interesting. I used to love to spar with him and he tries to be careful not to hurt you, but even if you block perfectly with your gloves, you still feel it. So when I go to fight with guys my weight, I don't even feel the punches sometimes.

SWD: (Laughing) That's messed up. Some guy is blasting you with the best stuff he has and in your head, your saying to yourself, "That's not as hard as Cheick Congo hits."

GC: (Laughing) Yeah. That's funny sometimes.

SWD: In addition to your 2 world titles, you've also been the French National Muay Thai and IKF Champion. With all that you've accomplished and going into your 13th year as a pro, what keeps you motivated to continue in one of the most brutal sports in the world?

GC: The first reason is that I love it. I just love what I do. It's been 13 years. I feel like when I don't have a date for a fight, then I don't feel good. I feel like some time, it will be time to stop, but I don't know how. I'm so used to it and I can't think of what else I would want to do. The second thing is that I still am improving and I feel like I'm getting better. Maybe I'm wrong. Maybe the Greg of 10 years ago can beat the Greg of today, but I don't feel like that. But the best motivation is to love what you do. It's not work for me. Even on my day off, I can't wait to get back to the gym and I never feel like, "Oh..I have to go to work."

SWD: Any predictions for the fight?

GC: It's going to be a good fight. I don't do trash talking, so I'll just tell you that it's going to be a good fight.

SWD: Is there anything else that you would like to share with our FightHype readers?

GC: First, I want to thank you. I want to thank my trainers here in Miami and my family.

SWD: Thanks Gregory.