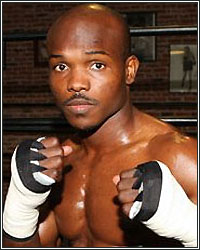 The Arizona based "Desert Storm" Timothy Bradley has been stuck in a 8-month hiatus ever since his disputed June 2012 split decision victory over Manny "Pac-Man" Pacquiao. Rumors of a rematch with Pacquiao or perhaps 140-pound champion Lamont Peterson have loomed ever since, but with little success in such, Bradley is now eager to get on track against Russian banger Ruslan Provodnikov. The fight will take center stage in an HBO televised doubleheader on March 16th from the Home Depot Center in Carson, California.

The event was recently announced by Bradley's promoter Top Rank Boxing, who have eagerly been awaiting the return of their rising young champion. Along with that, it was also revealed that an evenly matched battle of undefeated fighters will take place between Mexican-American Jessie Vargas and Nigeria born, Australia living Wale Omotoso will open up the highly anticipated televised bill.

Provodnikov is an astringent challenge for the rusty Bradley. He cuts easily and is weak on the defensive end, but his style of swarming and eventually overwhelming his opponents means you need to be on your toes if you expect to come out on top against him, which Bradley is expected to do if he comes prepared for the raw warrior.

Vargas-Omotoso, a 10-round throwdown between rising Top Rank contenders, is a very good fight between determined young guns. Many viewers of the Sweet Science believe fighters fight the way they have lived. Whether that theory is true or not, Wale Omotoso certainly fights like he lived. His parents died when he was young, and he had a rough life as a youth on the steets of Lagos, Nigeria. He brutalizes his opponents with his axe of a right hand all the same. Vargas is a solid boxer, with all-around skills, and many are hyped on this kid.

Top Mexican olympian and recent Top Rank signee Oscar Valdez will also hope to continue his knockout spree on the card against an opponent to be named. HBO will show highlights as with most major undercard bouts.

Tickets go on sale soon along with undercard announcements and other details.