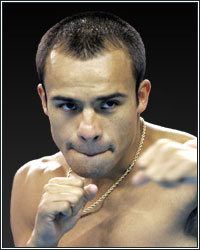 Boxing Scribe Vivek Wallace brings his Left-Hook Lounge mailbag to FightHype.com, answering questions for fans and giving his own unique perspective on all the latest current events in boxing. This week, check out his response to fans as they discuss whether or not Juan Manuel Marquez is truly ready to move on from Manny Pacquiao, the delay in Mayweather announcing his next opponent, and much more.


---
Jesus U. (Tyler, TX): Marquez has stated that he no longer feels a need to face Pacquaio in a 5th fight. Do you think this is negotiation tactics on his behalf? Or do you think he legitimately wants to move on?
Vivek W.: I said from day one that I felt Marquez should simply walk and move on. I'm happy he decided to do it. The reality behind this move is that it could very well be born out of negotiating tactics, but we saw someone do this before for the same purpose, and in the end, end up doing just that (moving on) because it was simply the best move to make. That person was Floyd Mayweather. Few seem to remember Mayweather being in this very same spot after the De la Hoya victory. Going into their fight, Mayweather conceded everything from weight, to ring size, to gloves, and beyond. He entered the rings on the strength of his raw fundamental ability and that alone. He walked out with the victory.
Under ideal circumstances, one would have thought it would have given him all the chips. Unfortunately, it didn't. By way of victory and concession of all other request it would have only been normal for him to gain the upper-hand, by way of larger purse, more neutral request, etc. Just as he was forced to walk away from an opponent who refused to make any concessions, such will be the case with Marquez in the Pacquiao scenario, as Arum, Roach, and Pacquiao each have made it very clear that despite the loss, he is still (in their mind) the draw. I personally have reservations toward that angle. You were not only defeated, but soundly defeated. Some would question whether or not you should have won before.
Now, with all of the questionable calls, and one definitive victory that happened to be claimed by the opponent, you still can't find the kindness in your heart to give more neutral terms? Yet it isn't all about the money? I'm sorry...but there's no way in hell I allow Marquez to subject himself to that if I'm anywhere near his camp. There has to be some type of monetary benefit to offset the risk involved. I think it's an easy call to make. I said it before and I'll say it again: Marquez has proven all he has to prove with Pacquiao. His legacy is secure. His family is (financially) secure. From here on out, it's his world. Pacquaio is one of the best of my time....but if he can't concede that, it's he who has the problem. Marquez has earned this the hard way. Pacquaio will have to try to take his dignity back in the same fashion. Deal or no deal? (That's the operative question).
Carl N. (Brooklyn, NYC): What happened to Floyd Mayweather's announcement during the Super Bowl? Has there been a change of plans or opponent that we aren't aware of?
Vivek W.: The only....and I do mean ONLY certainty here is that there will be no cancellation. The date has been reserved....the venue has been reserved....and Floyd Mayweather has given his word. Make no mistake: barring any unseen circumstances, Floyd 'Money' Mayweather will enter the ring after yet another long hiatus on the evening of May 4th in Las Vegas's MGM Grand. As referenced on my FaceBook page, a few weeks ago I was tipped off by two independent sources that Saul Alvarez wouldn't come to terms without a "guarantee" that he would get Mayweather, win, lose, or draw against Trout (or whomever a possible replacement could be - if necessary).
As of today, I'm still being led down the same trail by the same sources, although the plot has seemed to thicken. There are no confirmations but one of those sources who's word I absolutely trust has mentioned the possibility of a "new player" in the Mayweather sweepstakes if Alvarez doesn't get his head out of the wrong place real soon. I'm not a "breaking news" kinda guy and would rather let those who are dissect the potential drama as it unfolds. That being said, I'll say this first: A Mayweather fight is the biggest fight the sport can make right now. The "big dance" is only 3 months away. So, already, Golden Boy and the respective fighters are cutting into time that should have been allocated for promotional touring.
There's a lot that goes into these mega-fights, and right now, the entire show is on pause until a few select parties come to terms. What I do know is this: Floyd Mayweather is apparently (as one source told me) "feeling the itch again......and ready to roll". We know what happens when the surgeon is ready. It's time to operate. Right now, lets just say, from all accounts I'm hearing, the "surgeon" is "ready to operate". He has a building, and he has a date circled on the calendar to perform in that building. Unfortunately, the plot is much thicker. Want to know how bizarre this really is? There's only one thing holding this show up. It's two-fold and deals with money. But (this time) it's not 'Money'. Go figure. Stay tuned.
Virgil R. (Camp LeJeune, NC): It looks like Donaire vs Rigondeaux is still stalled at the negotiating table. Is there any reason to think Mares could get the nod?
Vivek W.: No. That's the short answer to this equation. Absolutely not! I don't see any way possible that Abner Mares lands in the ring any time soon to face Nonito Donaire. I've said all along that I didn't think team Donaire and Top Rank wanted that fight. Initially, there were discussions about drug testing. Then it evolved to promotional rights and proper distribution. From there it went to contractual questions, and the drama just kept unfolding. Sound familiar? When it was time for Pacquaio to square off against Mayweather we saw that very same Top Rank 'carousel' go round and round until a neutral party brought it to a screeching halt!
I always felt Rigondeaux would be a decent challenge, yet still the best shot at victory between he and Mares because of the fact that he's vertically challenged and has a low punch output which would give him virtually no shot at winning on the cards in a close contest. I was quite skeptical about this fight being made, and after feeding the public a few soundbytes and headlines, seems that this fight won't happen either. To be honest, I think there's good leverage in the Top Rank argument about having to settle this dispute prior to a showdown. I just think that puts Arum in a spot where he has to act on a matter that he may not be in a rush to address, let alone resolve. If that's the case, Rigondeaux is facing a losing battle outside the ring for sure.
If Rigondeaux sticks to his guns about this legal battle, fight fans will see yet another 2013 super fight flatline. I just don't see a way that this will happen the way he seems to want it to. The only time Top Rank rushed to court was when the Defendants name was "Mayweather" and the Plantiff's name was "Pacquiao". I'm hard pressed to point out any other sceario where Top Rank rushed to a courtroom to address a legal matter. This case will be no different. Hate to bear bad news, but if Rigondeaux doesn't drop this legal demand, fight fans will need to prepare themselves to see Donaire face someone else they probably don't care to see him face. Again! Just the latest from the 'sad-but-true chronicles'. Stay tuned.
Vivek "Vito" Wallace can be reached every Wednesday night at FightHypeRadio. Also at Twitter (@vivekwallace747), Instagram (viveksview), and FaceBook.