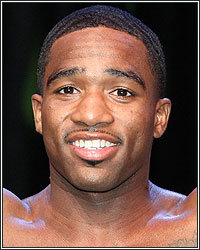 It's Monday. Welcome back for another edition of Observe and Fight, The Boxing Observer's compilation of observations and random thoughts from the week that was in boxing. Get caught up on some of the most recent events you may have missed out on including more Floyd Mayweather drama, Saul Alvarez vs. Austin Trout, analysis on Adrien Broner's performance, and much more. Without further ado, check out the latest observations from The Boxing Observer, David Kassel.



Adrien Broner is "The Problem," and very few may have the solution. I'm going to say what Broner has been telling everyone for awhile now. Broner is no Floyd Mayweather. Broner has a similar skill set to Mayweather with his speed and defensive style, but that may be where the similarities end for now. At 23 years old, Broner is showing the offensive repertoire that Mayweather did not let fans see on a regular basis until recently. While Mayweather had power at 23 years old, his hands, which had a tendency to break, would not allow him to show off that power in every outing. Not the case with Broner. Broner stands in the pocket and comes forward with seemingly no regard if an opponent touches him up a bit. Broner seems to enjoy feeling his opponent's power, and subsequently showing off that he is about to destroy his opponent's spirit with real power and speed. Broner truly is trying to put on a show, in and out of the ring, which is something Mayweather was not concerened with at age 23. Should Broner land the winner of the Ricky Burns vs. Miguel Vasquez fight in March (and let's hope Burns wins because Vasquez is promoted by Zanfer Promotions, who has a close working relationship with Top Rank Promotions. Golden Boy Promotions, who promotes Broner, and Top Rank Promotions do not engage in business with one another), he will easily clean out the division by cruising to a knockout victory over either man. Anyone hoping to see Mayweather vs. Broner in the future better not hold your breath. As evidenced by Broner's comments this week when he said after Mayweather retires, he will take over boxing, it doesn't seem likely that Broner wants to do anything to take that "0" away from the Floyd Mayweather loss column. I don't think we'll be seeing Mayweather vs. Broner unless the fans truly demand it, and even then, don't count your chickens until they hatch. If Broner doesn't get the Burns/Vasquez winner, he should move up to 140-lbs., and hopefully he can land a fight with Lucas Matthysse. How about Broner vs. Matthysse fight fans? What do you think about that one?


Why is Floyd Mayweather delaying the announcement of his fight with Robert Guerrero? It's the worst kept secret in boxing at this point. The curveball Mayweather tried to throw when he announced a deal was close with Devon Alexander was a nice play, but when everyone, including Alexander and Richard Schaefer, have publicly said Alexander is not a candidate, why does the drama have to continue? Devon Alexander has stated, "My obligation is to fight Kell Brook, and that's what I'm going to do." Richard Schaefer has says he has had no conversations about Mayweather vs. Alexander, and his priority regarding Alexander is to reschedule the date for the Kell Brook fight. Even writer David Mayo (who has been covering Floyd Mayweather's career since Mayweather was in diapers) posted the following message on his Facebook page Friday, "A most interesting 45-minute conversation this evening with Floyd Mayweather Sr., who resumes training his son for the May 4 Robert Guerrero fight after 13 years out of his corner (and yes, as I've said all along, it's Guerrero, though still not announced)." What else do people need to hear to believe Robert Guerrero is the guy? At this point, it's one of two options...Robert Guerrero is the opponent, or Floyd Mayweather will not be fighting on May 4th. Which one do you think it is? Of course Mayweather is going to fight, but isn't it ironic that it was Floyd who said that it takes 6 months to properly build up a pay-per-view fight? I guess that theory just went out the window. Enough with the drama. Floyd, do us all a favor and announce the damn fight already so we can pay our $70 and make you a crap load of money. Please and thank you.


Does it really matter at this point that Floyd Mayweather Sr. will be training his son for the May 4th fight? I don't think it matters whether Floyd Sr., or brother Roger, trains Floyd Jr. for the fight. Fact is, Floyd Jr. doesn't really need to listen to either guy once he's in the ring. There's a reason Floyd Jr. is the best in the world, and it's not because of Floyd Sr. or Roger. Nobody works harder, and nobody has the same skill set. I could probably train Floyd Mayweather for his May 4th bout and he would still win. Mayweather might be the only fighter in boxing who doesn't need a trainer. That's saying something about his dominance if you ask me.


Congratulations to Saul Alvarez and Austin Trout for stepping up to the plate and acknowledging their fight is a done deal for May 4th. Canelo wanted the fight. Trout wanted the fight. Golden Boy clearly tried to find another opponent for Canelo than the more dangerous Trout because they were afraid of losing out on a mega-fight between Mayweather and Canelo in September. Instead of allowing Golden Boy to pull a last minute negotiation for the services of Alfredo Angulo or James Kirkland, Alvarez decided to go public with the news that both he and Trout have signed for the fight, thus removing any chance for Golden Boy to dodge Trout. This is a great example of two young world champions in their prime who epitomize what boxing is all about. These two are fighters who want to fight the best in the world every time instead of dodging fighters who may not be the best match-up stylistically. Young fighters around the world should use Canelo and Trout as an example of what to do to build a loyal fan base. If all fighters carried their professional careers as these two champions do, maybe boxing wouldn't be in such a poor state.


Sakio Bika is a much improved fighter with new trainer Kevin Cunningham in his corner. At age 33, it may be too late for Cunningham to give Bika an entire makeover, but the changes in Bika's reckless style were on full display Saturday night against Nikola Sjecloka. Bika, who still allows himself to engage with his opponent, probably a little too much for Cunningham's liking, is not going to be a serious challenge to Andre Ward, but you can make the case that, in their first fight, Bika gave Ward his toughest fight to date. Ward is the best super middleweight in the world, and has clearly separated himself from the pack, but with Bika's improving skills under Cunningham, should he face Ward again, he may be able to show a new wrinkle in his arsenal to expose a few more flaws which opponents have failed to do. unless Ward decides to take a fight against someone he knows he can beat coming off of shoulder surgery, I don't see the likelihood of a rematch between Bika and Ward, but maybe Bika can travel overseas to face the winner of Carl Froch vs. Mikkel Kessler, earn himself a major payday, and possibly pull off a colossal upset to shake up the 168-lb. division.


No disrespect to Freddie Roach, but he really shouldn't do much talking about Ruslan Provodnikov's chances against Timothy Bradley. Roach says that Provodnikov will knock off Bradley. He should say that, but he needs to be humbly confident instead of outlandishly cocky. Roach has not had a good run lately, and is no longer considered the best trainer in the world. A win by Provodnikov will not change that. Roach is a great trainer, but he is not a great spokesperson. Freddie needs to train and let his fighters do the talking.


Speaking of Timothy Bradley, he wants to fight 3 times in 2013. Yeah right. Good luck! Bradley has only fought 3 times in the last 3 years. No way he fights 3 times this year. At the rate Bradley is going, he'd be lucky to get a rematch with Manny Pacquiao, or at the very least, land a fight with Juan Manuel Marquez. Bradley may deserve to be compensated appropriately based on what he has accomplished in his career, but the reality is that he is not an in-demand fighter. Hardcore fight fans want to watch Bradley fight, but casual sports fans don't have any idea who he is, and that's even after he beat Pacquiao. When was the last time you saw Timothy Bradley with an endorsement deal? Bradley has overestimated his worth in the past and may need to think about building his brand outside the ring to assist in his financial future in the ring later on.


How impressive was Delvin Rodriguez Friday night? Rodriguez proved why it's important not to pad a fighter's record with cream puffs as George Tahdooahnippah's handlers had done before Friday. In Tahdooahnippah's previous 33 fights, he had only faced 14 fighters with winning records. He had only fought outside of Oklahoma twice. To step up and face a former world title challenger, like Rodriguez, spelled disaster, and that's exactly what happened. Rodriguez proved why he is a Top 15 junior middleweight, and why Tahdooahnippah will never be more than a club fighter.


The best fight this weekend takes place on Friday night. Great job, once again, by ESPN Programming to land the world title bout between Lamont Peterson and Kendall Holt on Friday Night Fights. This is an HBO or Showtime worthy fight, and fight fans everywhere should be excited about the possibilities this fight brings. The winner will be in line for a major world title unification bout in what is arguably the most talented division in boxing, junior welterweight. Excellent use of resources by Doug Loughery and company.


Saturday night's fights are nothing to scoff at either. Cornelius Bundrage defending his title against Ishe Smith on Showtime should be a hard fought, well contested battle. Heavyweight Vyacheslav Glazkov gets his opportunity to introduce himself to the American public on NBC Sports Network, and heavyweight David Price gets his chance at his biggest win against former world title challenger Tony Thompson. Not a lot of big names, but some excellent fights coming up this weekend.


If Francois Botha really wants to settle all the issues that took place against Sonny Bill Williams, he should just retire. I never thought in a million years I would ever see Botha's name in the news as much as I have this past week. First, Botha claimed the fight was only supposed to be 10 rounds, not 12. Next, Botha tested positive for two banned substances after the fight. Now, Botha is claiming he was offered $150,000 to take a dive in the fight. How the hell is a fight featuring Francios Botha worth him taking a dive for $150,000? He wouldn't make $25,000 to fight in the United States. If I were a boxing promoter, I would go into a country such as South Africa or Russia and offer a 40-something, over the hill fighter $250,000 to fight. Apparently, fight fans in those two areas will pay top dollar to sellout arenas and watch a shell of what some fighters used to be. Ask WBA cruiserweight champion, Denis Lebedev, how lucrative fighting over the hill guys in Russia can be. In 2011, he fought Roy Jones Jr. and James Toney. Enough said.


Are we finally going to see Tomasz Adamek fight Andrew Golota in Poland? What other big offer could Adamek be talking about to fight in Poland? Why else would Adamek turn down an IBF eliminator fight with a world title bout on the line?


Each week, I feature an email from a fan on Observe and Fight. This week's email comes to us from Deric T. regarding my comment about why fighters in America aren't built up as well as European fighters...


It's because promoters don't do the proper job of building them up. The cardinal rule is if you got a nasty new prospect build him up at home. Don't have him fight in a different time zone. His manager should have the boxer be a face of volunteers and doing community service within his hometown and surrounding cities to build a grass roots following. It can be done. Andre Ward and Devon Alexander are good examples of that. So is Adrien Broner. Even Lamont Peterson and Seth Mitchell and anything Philadelphia produces would do well but you see Latin American fighters get that treatment. Where does Mares fight...local, Leo Santa Cruz, Local...Shoot Nonito Donaire should have fought majority of his fights in 2 places..San Fran and the Philippines. He should be built up waaay more. Gamboa and Rigondeaux should be fighting purely in Miami. Also, people don't take into account that overseas you fight for a country. The whole country supports you. Here, each state is like a country within its own. So start heavy in the home state and the rest will grow. To be on the world stage, I'd actually advocate a British fight...Its a shame more people know Tim Bradley in England than they do here prior to the Manny fight...due to the scrap with Junior "quitter" Witter (no more Hitter)...lol. Point to the matter is it lies in the hands the fighter as well as his promoter and manager to build a brand... thanks for reading D. Love your articles keep up the good work!!!!


Wow! Well written and well explained, Deric! I couldn't agree more. I really don't have anything to add on top of that. You hit the nail on the head which is why your email gets to be email of the week.

That's all I've got for this week. Email any questions or comments to
dkassel@fighthype.com
and I will answer them throughout the week. Your email may be featured in the next "Observe and Fight." Follow me on Twitter @BoxingObserver, and be sure to "Like" The Boxing Observer on Facebook.
[ Follow David Kassel on Twitter @BoxingObserver ]