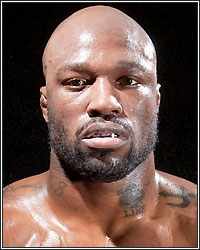 "My body feels good. I feel good, and in a few more days, I'm gonna be whoopin' somebody's ass... I'm cool with whatever because I'm always in shape. If we fight 3 weeks later, I'm cool with it. If we fight 6 weeks later, I'm cool, or 2 months later, I'm cool with it. I'm always in the gym putting in work and always in shape...solid guy. He's solid, but he's unorthodox, so it's hard to pick up on his style, but I'm looking to put an end to all that," stated Bellator light heavyweight contender King Mo Lawal, who talked about his upcoming return to the cage when he faces Emanuel Newton this Thursday in the semi-finals of the Bellator light heavyweight tournament. Check out what else he had to say!

PC: These tournaments fights come around very quickly; that's why Bellator's tournament is called the toughest tournament in sports. How does your body feel?

KM: My body feels good. I feel good, and in a few more days, I'm gonna be whoopin' somebody's ass.

PC: You really don't have long to celebrate these wins. Do you prefer it that way, because you know as long as you win, your next move is set?

KM: I'm cool with whatever because I'm always in shape. If we fight 3 weeks later, I'm cool with it. If we fight 6 weeks later, I'm cool, or 2 months later, I'm cool with it. I'm always in the gym putting in work and always in shape.

PC: And you're not one of these guys that goes out drinking to celebrate wins. In fact, I have never seen you party after a win.

KM: Yeah, I go back to my room and watch TV.

PC: Do you know a lot about Emanuel Newton or have you recently started watching him?

KM: Both! I've studied him and I know about him, you know what I'm saying? He is from California; we trained at the same gym a few times. He is a big body, a little stocky, pretty good conditioning…solid guy. He's solid, but he's unorthodox, so it's hard to pick up on his style, but I'm looking to put an end to all that.

PC: The closer you get to reaching your goal of fighting for the Bellator light heavyweight championship, does it get tougher to not look ahead at the champion, Christian M'Pumbu, and start kind of peeking at his style and what he brings to the table?

KM: It's not hard because I've seen him fight a few times, so I know what to expect. I would just have to go back and look at habits and more things that I can pull out of his style. Really I have to worry about these guys in the tournament because if I look too far ahead, one of these guys will beat me and I won't be fighting for the title.

PC: You told me this is the happiest you have ever been as far as going to the gym to train and really just being in the atmosphere constantly. How much of that is because you and Jeff Mayweather click so well?

KM: Jeff is my boy, man. I talk to him every day. Even if I'm not working with him, because really I work with him on Monday, Wednesday and Friday, but I still go in on Monday through Saturday and he will come there on Tuesday, Thursday and Saturday because I'm there and I will hit the double end bag and we will go over small things, just little technical stuff. I like being in the gym because everybody is working hard, like Badou Jack, Lanell Bellows, J'Leon Love, Ishe Smith, my boy Kevin Newman, and Andrew Tabiti. Hassam Ndam is there; the former champion. They got this cat from Romania just came in sparring. He works with Eddie Mustafa Muhammad…Big Rodney in there. There are a bunch of people up in there, dog. There are a bunch of big names that be up in there and they are all working hard. I'm just trying to do the same.

PC: Is it a contagious atmosphere, where you see guys working hard and feed off of them and they see you working hard and feed off of you?

KM: Yeah mayne, because I think birds of a feather flock together in a certain way in terms of working hard. It's hard to be around people that ain't trying to put in work when you trying to put in work. When you are around people that's working hard and trying to put in that work and do some things, you don't want to take a day off. I constantly want to improve myself, working at the Mayweather Gym.

PC: What would it mean for you to eventually capture your second title in as many organizations and get this Bellator strap?

KM: Hey man, it would mean a lot because I want to dominate. It would mean a lot to me and show my growth in the sport.

PC: You recently did an interview where you said you don't fit the UFC mold because you were raised to speak your mind. Could you elaborate on that a little?

KM: I feel they are muzzled over there. Comments came out from people in the UFC. I won't waste any time saying the dude's name, but they said Olympic wrestling hurt itself and this and that, and they felt that MMA could benefit from not having Olympic wrestling. The thing is, so what if that's how you feel, but you have people that were former Olympians that fight for you or fight in your organization. A lot of them cats are probably afraid to say something, but to me, that was a dumb comment. Really, if anything, you should be wanting…he should be speaking out for the Olympics to keep that sport around because that's your feeder program for MMA. Me, I would have said something and spoke out and said that's a dumb ass comment; he can feel that way, but I don't. Some guys are afraid to lose their jobs, and I can't knock them, but me, I'm just different.

PC: What product do you feel would be put out there for a bunch of guys coming to MMA from wrestling who didn't compete at the highest levels or didn't have that Olympic dream to chase after?

KM: All they gonna see is world-class Jiu Jitsu from a few people, national class wrestling, which don't mean nothing, and decent to average boxing and average kickboxing from some people. You're not going to see anything world-class, like Ben Askren, Cormier or Cole Konrad when he was in MMA. These guys are world-class. Joe Warren, you won't see anything like that. You will see it in Jiu Jitsu because you got Vinnie Magaleus and Werdum and guys that would be able to compete on a world stage in Jiu Jitsu and do good. The best boxing you seen in MMA is James Toney because he's done it on a world stage. But at the end of the day, James Toney got outwrestled. Judo, you've seen Ishi and Ronda Rousey, but with wrestling being gone, all your gonna see is subpar wrestling. When you think of Judo, not many high level Judokian guy's come to MMA. You see more world-class wrestlers come to MMA than Judo guys.

PC: What's your take on the Olympics deciding to get rid of wrestling?

KM: I think it was crazy as hell, but I expected it because the governing body in wrestling is kind of fucked up in my opinion, but thank goodness Rafael Martinetti stepped down and they got new people in there to clean up that governing body, and they are more responsible at what they do and I think that this is a big change; and it will make boxing a lot better and a lot stronger for everybody with Martinetti stepping down.

PC: Before I let you go, what did you think of Adrien Broner?

KM: He is a problem for everybody. You have to find somebody that can solve that problem, and I feel like there are a few people that can, but he has good offense and defense, big guy, rangy with power and good cardio, and he's young. I see people trying to talk down on him, but he's 23 years old. He might be trying to be like Floyd, but you know what? When Lebron James and Kobe Bryant was younger, they were trying to be like Michael Jordan and then when they became more mature, they found their own thing. Adrien Broner is only 23 years old and the same thing is going to happen with him. He's probably been acting like this for a while because he admired Floyd. Look at Andre Ward. When Andre Ward first came out, I remember in the amateurs…and he don't know me, but I remember watching him spar and watching him train and listening to him talk in the cafeteria and all he used to talk about was Roy Jones. When he first started fighting, he tried to fight like Roy Jones, and once he matured and came into his own, all of that Roy Jones talk was gone. I respect the man because I can't beat him. So for anybody talking all that shit about Broner, talking about he ain't fought nobody, why don't you get in shape and go beat him. My boy Fareed, who is in Colorado Springs, told me Adrien Broner got there, in high altitude mind you, and he said the dude sparred for an hour and a half straight with no breaks, with the exception of drinking some water here and there. But he went an hour and a half straight with different partners rotating in on him. Who in the fuck does that other than Floyd and a few other world-class fighters'?

PC: Best of luck to you on Thursday night. Is there anything you want to say in closing or anybody to thank?

KM: I want to thank Lana Egg White's, them thangs are good, and MMA Elite. Shout out to Omar Lima and AKA, Kit Cope, Mayweather Gym, Roy Nelson, Jeff Mayweather, Mike Kogan and anybody doing something positive.
[ Follow Percy Crawford on Twitter @MrFighthype ]