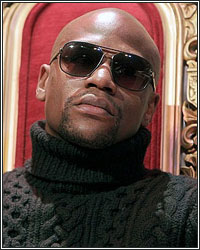 Boxing Scribe Vivek Wallace brings his Left-Hook Lounge mailbag to FightHype.com, answering questions for fans and giving his own unique perspective on all the latest current events in boxing. This week, check out his response to fans as they discuss Floyd Mayweather's move to Showtime, Robert Guerrero's chances against him, and much more.


---
In light of Floyd Mayweather's new signing with Showtime, how do you see things panning out regarding this "6 fight" contractual deal? I don't know 6 people he can face and I know it won't be within 30 months if the past is any indication. What are your thoughts on this topic?
Vivek W.: For starters, I'd like to say congrats to the Money Team. Floyd Mayweather, L-Boogie (Leonard Ellerbe), and the whole team. One can continue to question some of the personal antics, but professionally, I'd like someone to point to an athlete in any era that assembled the resume and depth of business acumen that Team Mayweather has shown. Last Sunday I posted a photo of the Miami Herald's lead cover story relative to LeBron James and how his annual salary stacks up to other marquee athletes? Leading the way (by a rather large margin) on that column was none other than Floyd 'Money' Mayweather.
As a Boxing fan in a non-boxing city like Miami, it was quite a marvel to see his photo up top, considering that Boxing doesn't have the endorsement opportunities of NBA, NFL, and MLB athletes. What Team Mayweather has accomplished is nothing short of ground-breaking, and this move was yet another watershed moment for them. Regarding the 6 fights in 30 months mentioned in the media, I think there's far more to that than many know. Obviously, specific terms of the deal have not and will not be disclosed, but I'm getting a different spin from a few behind the scenes that I've discussed the deal with.
The most popular notion is that it appears to be similar to a few of the deals we've seen in other sports where there are, say, 4 fights guaranteed, with an option to pick up the final 2, or 3 guaranteed with an option to pick up the final 3. This is speculative info swirling in the underground, but if true, it makes absolute sense, in the sense that it allows both sides the freedom to move in another direction for whatever reason after one solid victory, followed by a mega-fight and a potential rematch clause into the contract in the event of public demand in that secondary mega-fight. Regarding potential opponents, honestly, I think the sky is the limit. We don't know what Mayweather has in mind.
At one point we heard Uncle Roger (Mayweather) tip his hat to the possibility of Floyd going up to 160 to face Martinez or a belt-holder to add more historical leverage to his ledger. There's also a ton of up-and-coming youngsters who continue to command the spotlight, which offer Mayweather a chance to say "not only did I defeat the best of my era, but I conquered the best of those remaining prior to mine, and after mine". One thing we must admit is that Mayweather has clearly raised the bar on many levels. That being said, we have to logically expect him to aim to do it again, facing the proverbial 'westside' (or sunset) of his career.
Can't see the vision? Consider this: Rocky Marciano finished his career with a 49-0 mark. 6 Fights for Mayweather would place him right there. This is where the logic gets interesting. He doesn't have to worry about facing top level competition in every fight anymore to reach big paycheck numbers now because with this deal, a lot of his money is said to be front-loaded, not totally back-loaded. So he can conceivably sandwich a few 'stocking stuffers' between mega-fights, stay active and prevent rust between big fights, and still eat well and break the bank! It's a win win....unless there's a loss! It's very compelling, but without doubt, it's the best move for him.
With CBS and Showtime, the marketing potential is monstrous! There's only one thing to be concerned about now: Can he stay out of trouble over this span? Floyd has been his biggest enemy. 43 have tried.....43 have failed. Lets hope he doesn't become the "one" to finally defeat himself! Stay tuned.
Robert Guerrero got the fight he had been yelling for for the longest time. Now that it's official, what chances do you give Guerrero? And how do you see Mayweather looking after yet another lengthy layoff?
Vivek W.: I've warmed up to this fight far more than I had months ago. And although it appeared to be in jeopardy at one point, I said well over a month or two ago on FightHype Radio that Guerrero had been "far too quiet" to not have received this fight. We would have never heard the end of it had he not been in line to get this shot. When he went quiet, for me, it was the unspoken confirmation that he would in fact receive the nod. Regarding his chances, I'll just say this: Guerrero has unfortunately earned more recognition in the sport for circumstances outside the ring than in it. He has the heart of a lion and is as tough as nails. But so was Mosley......Cotto......and many others. He's about to be introduced to a level he never knew existed.
Experience is the best teacher. That's the upside. You know the downside to that equation? Experience also is known for coming a split second after you needed it....which is where the lesson learned arrives. Simplified: he has never experienced what he's about to experience. Even if he had, there's no guarantee that it would help him enough to save him. I think there are two things that give Guerrero a ray of hope in this fight. Age and foul play. Mayweather has looked absolutely amazing after layoffs in the past that spanned as much as 20 months, but that wasn't at the tender age of 36. Freddie Roach said after the Mosley fight that "Mayweather's legs are shot". Against Cotto, he didn't use them much either.
In this fight, we'll find out if there's merit to that, as Guerrero will be up in his chest like a pissed off Marine Corp drill instructor on Parris Island! His grit and determination will test Mayweather. Knowing Mayweather the way we do, one can expect him to figure Guerrero out and switch gears at some stage. Guerrero's chances beyond that stage will probably all hinge on foul play. I would like to think it won't be intentional, but with his gritty style and his penchant for in-fighting, I wouldn't be surprised to see an elbow land across the eye socket or something bizarre. We've seen Mayweather bleed before. Will we see him forced to close a show with one eye closed this time around? I really think we will. Not intentionally, but I have that gut feeling we will.
In the Berto fight, the punches behind the head were clearly fouls, but a blind and quiet referee made Berto fans get awfully loud! Several fight fans were outraged about what was perceived as "intentional headbutts" or "intentional attempts to headbutt", as well as rabbit punches and beyond. This type of gritty in-fighting and rough-house tactics will make things very interesting for an older Mayweather, whose reflexes may be slowing a tad. I think the fight should be an entertaining one. The oddsmakers will point to Floyd to get the nod, but one thing is for sure: RG will have his say in the matter. Stay tuned.
Vivek "Vito" Wallace can be reached every Wednesday night on FightHypeRadio. Also at
vivekwallace@ymail.com
, Twitter (@vivekwallace747), Facebook, and Instagram (viveksview).