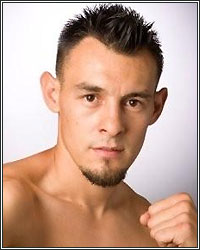 We all remember back in September 2011...the young, hungry lion awaits. After another one of his miniature retirements, Floyd Mayweather was making a return against Mexican-American banger Victor Ortiz. The man with the short fuse and the bullish style was completely eluded by "Money". Unable to land during his wild skirmishes against the slick Mayweather, the young fighter quickly became irritated. In round 4 of the bout, Ortiz slammed an intentional headbutt straight into the leaning head of the pound-for-pound champ. You know the rest of this story. Given the similar circumstances, what type of chance can we expect Robert Guerrero to have against the same elusive Mayweather.

First and foremost, Robert Guerrero is not the one-dimensional Ortiz. He can move laterally, he can punch from angles, he can grind on the inside, and he has shown a thick arsenal. Ortiz was punch, punch and punch some more until the opponent backs up. Guerrero is much calmer and smarter than that, and going into a career defining bout, I am assured he will have a plan B. Ortiz, however, did not. But what does that translate to against the greatest fighter of this generation? A fighter who, in every fight, persistently outclasses his opponents? On paper, it's a risky fight for both men, but Guerrero will need to pull a rabbit out of his hat to achieve this victory.

Mayweather will be cranking out that jab from the very beginning, keeping his range from Guerrero, who has gained solid physical strength since his move to 147 pounds. When the going gets tough, Mayweather will use his quick feints, signature shoulder roll, and line up those counter shots, which is expected to give the WBC titleholder Guerrero few cracks he can exploit...unlike his previous opponent, Andre Berto, who stood for the brutal assault Guerrero managed to issue.

Even back at a more comfortable weight class (welterweight), some are expecting a flashback of Mayweather's last fight against talented Puerto Rican Miguel Cotto, who gave him fits and a bloody nose in their May 2012 scrap. Mayweather overcame to slip past Cotto with a clear decision. At age 36 as of February 24th, he will need all of that determination to pull it off again. That number may play as one of the many contributing factors in this important bout, or not. I said the same thing prior to his fight with Ortiz. We keep being surprised by Mayweather, but a charm must wear off at some point.

Either way, this is boxing; an amazing will-tester that plays as the roots to some of the most amazing moments in sports history. Anybody can win any fight under any circumstances, and Guerrero is one live underdog, even against a phenom like Mayweather. A journeyman in the name of Sonny Boy Jaro crashed the career of lineal Flyweight champion and P4P star Pongsaklek Wongjongkam last year. So did Juan Manuel Marquez shock the future hall of famer Manny Pacquiao. The scripts are written, but will they be followed is a whole different story.

Will Guerrero follow the script? Will Mayweather crumble him apart? Discuss in the comments.