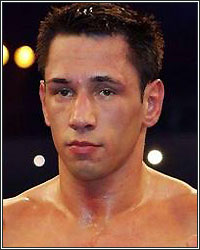 "I will stay at middleweight, or maybe make a catchweight. Or maybe I'll eventually fight at super middleweight one day. We will see where we have the best options. Golovkin, Quillin and Martinez are three great, strong fighters. I know I could beat them all and I know that it will be very hard to win against these fighters. The stronger the opponents will be, the stronger and better I will be in the fight," stated former middleweight champion Felix Sturm, who discussed his controversial upset loss to Sam Soliman, his future plans, and much more. Check it out!

SA: Felix, how are you and your family doing?

FS: We are doing well and got through everything well. We are going on vacation now to relax. I had 10 weeks of preparation for the fight, so that meant a hard time for my family as well.

SA: What will be next for you? When can we expect to see you back in the ring?

FS: My team is already working on my next fight. My next fight will probably happen in the summer. We had to change plans after the defeat, because we were all thinking of a victory. This is not a big problem though. We just put our heads together and thought about a very good plan for the future.

SA: Tell us your view of the fight! What did Soliman bring into the ring that you may have not expected?

FS: Many people are thinking that I wasn't happy with my performance against Soliman. This might have been my worst fight as a professional boxer. I should not have given him the chance to come back into the fight. I shouldn't have let him relax. In the future, I would like to have big, interesting fights, so I must find my way back to my old strengths. The fight with Soliman started exactly how we imagined it would start. After I had him in trouble and I landed more hard punches, where I shook him again and he wasn't steady on his feet, right there I was really confident that he would not make it through the round and he would be done. After this, I was confident and just waited for the one final blow. Soliman is a good boxer, but unfortunately is very dirty. Headbutts resulted in my cut, clinches, the list goes on. That's the way he fights, but the referee should have stopped it. Unfortunately he did not do it. Soliman was fair enough to mention it at the post-fight press conference and he admitted that the cut happened because of the headbutt. I had myself winning the fight as well, but that's not my decision. I should have put much more pressure on him in the second round when I had him nearly finished, and should have gave much more pressure. That's the way I put him to the canvas. I made a huge mistake in the second. In the final round, I loosened up again. I was more relaxed and it went well. I should have started to fight like this way earlier; then I'm convinced that I would have stopped him early and won. We watched some of Soliman's videos and we knew how he boxed. In the fight though, he just went way more into his own style, clinched a lot, and tried to just survive any way he could from the situation he was in. That's something that I hadn't expected and I should have acted differently in that situation.

SA: Do you think boxing is a fair sport? Do the judges score a fight fairly?

FS: I love boxing and boxing is one of the best sports in the world. No matter where in the world they have to make a decision and give points, there will be a wrong decision. That's what everyone who is involved in this sort of situation has to deal with. Most importantly though is the fact that this sport is above any other. It's number one and because of this, it offers so many great fights across the whole world.

SA: You fought Oscar De La Hoya back in the day. Even to this day, boxing fans still talk about it.

FS: My fight against Oscar did great things for me. The decision was made by the judges for the simple reason that Oscar was the greatest thing in boxing at that time and his next fight with Hopkins was already fully planned. No one would have believed that I would show such a good performance, especially not the judges, who didn't know me at that point. But hey, that's part of the business. Oscar used to be an absolutely great boxer and that fight helped me a lot in my future career. I will never forget that evening. Great experience.

SA: You mentioned you might move up to super middleweight. What 5 or 6 fights would still be interesting for you in the middleweight division? Would you like to finally face Golovkin, Quillin, or Martinez?

FS: I will stay at middleweight, or maybe make a catchweight. Or maybe I'll eventually fight at super middleweight one day. We will see where we have the best options. Golovkin, Quillin and Martinez are three great, strong fighters. I know I could beat them all and I know that it will be very hard to win against these fighters. The stronger the opponents will be, the stronger and better I will be in the fight.

SA: Which fights are you looking forward to as a fan of the sport? Are you excited for Mayweather vs. Guerrero?

FS: Of course I am looking forward to watching Floyd back in the ring in May, and I think he will clearly beat Guerrero. Guerrero has strong determination, but at the end of it, Floyd should win on skills and speed. I'm looking forward to when Andre Ward gets back into the ring. It's always a lot of fun to watch him fight, and to me, he's the future pound-for-pound king.

SA: Did you watch the Broner fight this past weekend? Do you think Broner will be the next Floyd Mayweather of boxing?

FS: Broner is an outstanding boxer, no doubt, and he has a bright future ahead of him. To say he is the next Floyd? Well, the best way to answer this question is for him to show it in the future. Against Gamboa, he could mark this title and put an exclamation behind it! Floyd is Floyd and I believe it will be very hard to follow in his footsteps.

SA: If you could matchmake your own fight, what would it look like?

FS: I would have liked to have fought Bernard Hopkins. He is, for me, the best middleweight boxer of the last 20 years and it would have been nice to have fought him and to have the chance to actually beat him.

SA: Let's talk about your training. What does a typical day in your training camp look like? What are your final thoughts minutes before your fight?

FS: I always prepare myself 10 weeks before a fight and we always try to bring something new into it. It is always very long and we use intensive training methods. I train 6 days a week, 2 times a day. On the final days before the fight, we mostly like to do a bit of shadowboxing, as well as hitting the mitts. I always try to stay calm and stay very focused on fight night. Minutes before my fights, I'm thinking, "It's finally on! Now it's time; now everything that I worked so hard for will be paid off, and so worth it. I'm ready!"

SA: You turned professional in 2001. What got you involved in boxing initially?

FS: When I was 11 years old, I went to the boxing club with a friend of mine and I fell in love with the sport. I loved boxing from the first minute I saw it. I did try everything though: soccer, basketball, etc. But boxing was, from the first second, my sport.

SA: How would you describe your boxing career?

FS: I'm happy with my career. I've been through a lot and was able to achieve a lot. I'm going through the most difficult time of my career right now. I will fight myself out of it, come back, and get more victories again and again. Boxing has given me a lot, thank God. Yes, I am very thankful for that.

SA: Do you think the middleweight division has changed over the years? Back in history, the top boxers fought each other time and time again, and a loss wasn't considered the end of the world. Do you feel that people tend to hype boxers too quickly these days, which can result in claims of being exposed once being in a close fight?

FS: The middleweight division has always been strong, and it's definitely not any more weak than in the past. When you look back, there was Hopkins, Trinidad, and so many more. Today, there are so many top and strong fighters in the division. Unfortunately, boxing is nothing like soccer or basketball. There, you can just lose or play a bad season, and then the year after, you become a champion again and everything is forgotten. It's different in boxing though. After a loss, they start to speculate and wonder what's now going to happen with the boxer. That's bullshit. Are boxers not allowed to lose? Look at Hopkins. 2 defeats right after each other and he came back stronger than he ever was. Look at Ali. Nobody gave him a chance against Foreman and he proved everybody who doubted him wrong; and so much more. Only the big fights count for me now. The fights you take and fight are the ones that will make you to a champion, and not a belt. Of course it's nice to be a world champion, but this is not as important to me anymore.

SA: What was your toughest fight you've had so far?

FS: My toughest fight and the boxer with the most skills was Oscar De La Hoya. He could fight, was super technical, strong, and had a heavy punch.

SA: You're not only a boxer, but also a promoter. Anything exciting planned for the future? Also, boxing fans would like to know what Felix Sturm is like outside the ring?

FS: By now, I have a big team and my manager takes care of the promotional side of things. I am there and help to build everything, but my own career is now the most important. I really like to play basketball and travel with my family. I'm spending every free minute with my son and my wife. I live in the here and now and I'm looking forward to my next fight. No one knows what will be in 5 years. I just enjoy every minute.

SA: Thanks for taking the time to talk to me. Do you have a message to the fans before I let you go?

FS: To all FightHype fans, I hope I can come back to the States and fight there soon once again and show you just as good a fight as I had with Oscar in 2004. Thank you for all your support. Thank you FightHype.