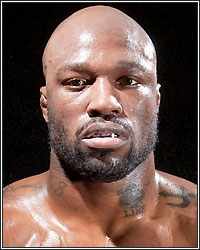 "I'm a work in progress...I will be back," stated Bellator light heavyweight contender Muhammed "King Mo" Lawal after suffering only the second setback of his career when he was recently knocked out in the first round by Emanuel Newton with a spinning backfist. His first loss with the organization, King Mo was considered by many to be the favorite to win this season's light heavyweight tournament. After a dominating performance and first round stoppage of Przemyslaw Mysiala in his Bellator debut, there was little doubt that Mo would cruise into the finals, but in a tournament deemed as the toughest in sports, anything can happen.

Lawal witnessed that fact firsthand and he is taking it as a learning experience that he will grow from to become a better fighter. "I have been here before and I bounced back from it, and I will do the same this time. I am going to work more on my defense with Jeff Mayweather and I'm going to go back to my roots and work with Kevin Jackson, and I think I will be just fine. Emanuel did what he had to do and he caught me," Lawal commented.

As far as the spinning backfist that put him out, Lawal said it was a shot he never even saw. "I didn't even see the shot. A lot of people saying that I was fighting cocky and with my hands down, but if you watch it, when he missed with his right hand, I threw a right hand and then he came with the spinning backfist," he explained. "So he kind of caught me in the act of punching, but no excuses, I'm good, and I will be back and hopefully I get to fight him again in the future. It was the first time I had been knocked out, and the good thing is I came to pretty quick. When I saw the ref standing over me, I just said, 'Damn!'"

The loss puts King Mo's record at 9-2 overall and 1-1 inside of the Bellator cage. He expects to be fighting in 3 months or so and still plans on becoming the Bellator light heavyweight champion in next season's tournament.
[ Follow Percy Crawford on Twitter @MrLouis1ana ]