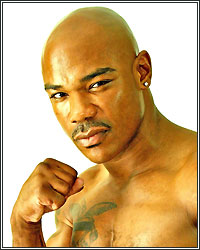 FightHype.com received the following email from undefeated heavyweight contender Amir "Hardcore" Mansour, who thought he had a fight with veteran Fres Oquendo virtually done, but according to this email we received, there has been a stumbling block. In fact, Mansour vows to expose fighters for turning down fights in a division that can't afford certain fights not to take place. Check out what Mansour had to say.

"As we all know, many of these top ten fighters have avoided me. FRES QUENDO is just another fighter that I am adding to my 'CHICKENS RUN!' list.I am sending this email to FightHype because you guys are the realest fight site that I know of. All of these fighters talk trash and about how they would love to fight Amir. Fres was one of them, but just like the rest of them, I called his bluff, offered him 25,000 dollars. I will even up the ante and give him an additional 5,000 to fight me. None of these fighters in the heavyweight division are making anything near 30 grand in a non-televised fight!!! When pressed to enter the ring with me, all of a sudden they want more money than they deserve or whats even reasonable!!! The heavyweight division in America is at its worse level of hype than it has EVER been!!! Why?? Because it's filled with a bunch of cowards who will only step in the ring against opponents that they know they can beat! The boxing fans are sick of watching two 200 lb. plus men hug, hold and gasp for air after 3 rounds. They are sick of watching fights where they know who will win before the bell rings. The heavyweight division lacks star power because of the cowardice reasoning you read in Fres Quendo's handler's email. It sounds good, but at the end of the day, this is the same man who boasted about being 'eager' to fight Amir Hardcore Mansour!!!! So we sent them the contract and once again we see a fighter making that 'chicken run!' Well I say this to every single heavyweight in the top ten: YOU CAN RUN, BUT YOU CAN'T HIDE!!! And every time one of y'all take that 'chicken run', AMIR "HARDCORE" MANSOUR is gonna expose you!! And to all of the boxing fans who still continue to support boxing and the heavyweight division in general, I salute you all and I thank you all. I, AMIR MANSOUR, promise to you all that I will take no chicken runs, and I will continue to seek out ALL top rated heavyweight fighters!!!"

Mansour also forwarded us the conversation between his manager, Keith Stoffer, and Oquendo's manager, Tom Tsatas.

Conversation History:

Tom Tsatas [9:55am Feb 23]

Keith,
I appreciate your input and probable reality on the paper champions. You are probably correct. What did you have in mind?

Keith Stoffer [10:42am Feb 23 ]

April 12. Dover Downs, DE. A good title and 25,000. I hope that you will consider this and let me know. You know how gossip is and I was told that you were not interested.

Tom Tsatas [11:03am Feb 23]

I am interested in fighting anybody. However it has taken a lot of sweat and tears over the past decade to get back to number #5. Unfortunately boxing has nothing to do with fighting but more to do with money, judges, and commissions. The money means nothing to Fres and I. We are millions into this thing and we will never get that money back notwithstanding a Klit fight, KO and rematch. We have turned down 6 figures so without disrespect or insult the $25,000 is not an enticement. What is an enticement is a fair playground. If Fres has a bad night (which is rare) or breaks his hand (which he did in his last fight) or anything else and he cannot stop or KO your guy and it goes to the judges, I believe it is fair to say we will not get a favorable decision. Fres cannot afford that nor tolerate that personally. We would be glad to put up our WBA ranking and belt with approval of the WBA to fight your guy under fair terms. It does not have to be in Chicago. It can be in Vegas, Florida, Indiana. We would not expect you to pay us a dime nor we pay you a dime. You pay your fighter whatever you want and I will do the same with Fres. We can both decide on independent judges approved by the WBA or WBC and we would happily share that cost of airfare and hotel etc..

I think you guys are with DiBella are you not???

Therefore we are at a crossroads. I also think we can agree that Fres has proven himself as I mention in the video. 300 pro rounds, no KO, no brain injuries against 7 world champions. He has taken these fights in everyone's home town, promoter card and country and lost every decision there. It appears to be a pattern. So it may be time for Amir to do the same to earn his wings so to speak. It cannot always be the same guy taking the chance. Fres will retire before he becomes an opponent ever again. I hope you understand that this is not personal. It is what is fair. Under those circumstances where the terms are fair and negotiated down to every detail including from which corner the fighters come out , we then would be willing to eneter into a discussion. We do have several offers on the table and will look at all of them closely and certainly this is one we can seriously consider and for what is in Fres' best interests.
[ Follow Percy Crawford on Twitter @MrFighthype ]