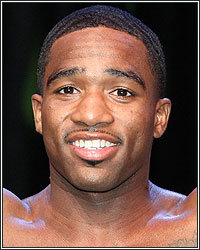 Sources close to the information have informed us that there's an extremely strong possibility that undefeated WBC lightweight champion Adrien Broner, who often times refers to himself as "Mr. HBO", will be making his Showtime debut when he moves up two weight divisions to challenge WBA welterweight champion Paulie Malignaggi on June 22 at the Barclays Center. Over the weekend, Golden Boy Promotions CEO Richard Schaefer confirmed that a welterweight clash between Broner and Malignaggi was basically a done deal for that date and venue. The details on the network, however, still remain a mystery, but according to our sources, it looks like Showtime is the frontrunner to land the fight.

Evidently, when undefeated pound-for-pound champion Floyd Mayweather, who had previously fought exclusively on HBO, decided to sign a multi-fight deal with rival network Showtime, a line in the sand had been drawn. During a time when HBO made it clear that they were being much more selective on the matchups they were looking for and cutting back on their boxing budget, both Richard Schaefer and influential adviser Al Haymon let it be known that they had no problems with moving the majority of their business over to Showtime. That move was made obvious when several Golden Boy and Haymon fighters, including Saul Alvarez, Amir Khan, Danny Garcia and Devon Alexander, began having more fights scheduled regularly on Showtime. Now that Mayweather has announced that he too will be fighting on the network, HBO is forced to decide how they want to move forward with their relationships with Haymon and Golden Boy, who both work with Broner.

Prior to the news that Mayweather was signing with Showtime, HBO was already hoping to secure Broner to a multi-fight deal. After the announcement, however, Richard Schaefer made it clear that HBO would have to "come correct" on whatever they offered Broner, who many consider to be the future heir to Mayweather's throne as the top pay-per-view attraction. In fact, it seems like the decision to have Broner leap-frog the 140-pound division to challenge 147-pound champion Malignaggi is the first step in a plan to place Broner on the fast-track to stardom. The question is whether or not HBO will want to co-sign the plan and invest in a 23-year-old that is already drawing comparisons to Floyd Mayweather. Judging from our sources, the answer is no.

Apparently, Mayweather's decision to work with Showtime has left a bad taste in HBO's mouth. From what we're told, after working with Mayweather throughout his 17-year career, there are individuals at HBO who believe that their network, not the fighters themselves, are far more responsible for turning them into stars. With that being said, those same individuals aren't willing to give Haymon and Golden Boy Promotions what they're looking for in exchange for the services of Broner. In other words, although they like what Broner can bring to the table as far as ratings, they're not sure if they want to allow Broner to become an instrument that can be used as leverage against them for future fights.

Details have yet to be finalized, so time will tell if Adrien Broner is indeed the latest Golden Boy Promotions/Al Haymon fighter to part ways with HBO. As it stands right now, it seems like HBO has put their foot down and would rather focus more on fighters not affiliated with Golden Boy Promotions and Al Haymon, like Sergio Martinez, Gennady Golovkin, and of course any Top Rank fighter, as opposed to agreeing to any requests being made by Schaefer or Haymon.
[ Follow Ben Thompson on Twitter @fighthype ]