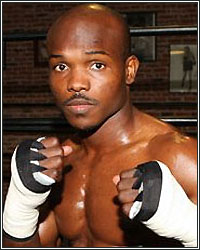 It's Monday. Welcome back for another edition of Observe and Fight, The Boxing Observer's compilation of observations and random thoughts from the week that was in boxing. Get caught up on some of the most recent events you may have missed out on, including the Timothy Bradley/Ruslan Provodnikov war, the war of words between Floyd Mayweather and Andre Ward, the battle for the June 22nd HBO fight card, and much more. Without further ado, check out the latest observations from The Boxing Observer, David Kassel.



In gaining the respect he is long overdue, Timothy Bradley may have lost so much more. Bradley, who was on the verge of tears in his pre-fight interview with HBO Saturday night, gained so many fans who were long overdue for jumping on the "Desert Storm" bandwagon, but he might end up paying the price in the long run. The war Bradley got himself into with Ruslan Provodnikov is more than likely going to shorten Bradley's reign at the top of the boxing world. Whether or not you believe Bradley beat Manny Pacquiao (which I don't), nobody can argue that before Saturday night, Bradley was a top-10 pound for pound fighter based on his resume alone. Bradley has now beaten Miguel Vazquez, Junior Witter, Edner Cherry, Kendall Holt, Nate Campbell, Lamont Peterson, Carlos Abregu, Devon Alexander, Joel Casamayor, Manny Pacquiao, and now Ruslan Provodnikov. He did not need to prove anything to anyone, and unfortunately, he is going to pay the price down the line. After Diego Corrales and Jose Luis Castillo had their epic war, neither fighter was the same. I have a scary feeling that Bradley will never truly recover mentally, or physically, from the beating he received from Provodnikov.


Did Bradley have an ulterior motive for not facing Lamont Peterson back in December? A lot was made of Bradley turning down a $2.3 million payday to face Peterson in a rematch (which certainly looks like the poor decision in hindsight), but maybe there was more to it than Bradley just wanting a new challenge. HBO commentators made mention that Bradley had to lose 40 lbs. before Saturday night's fight. For a 147-pound fighter to balloon up to 187 pounds is a lot of weight to lose in a short amount of time. I think that played as much into Bradley's problems on Saturday night as anything. Maybe that's the real reason Bradley turned down the Peterson rematch. Could it have been that he knew he wouldn't make the weight on time?


What the hell is Floyd Mayweather's problem with Andre Ward? Early in the week, Mayweather attacked Andre Ward because Ward said he would be rooting for his longtime friend, Robert Guerrero, when he faces Mayweather. If Mayweather cannot handle when a fighter doesn't want to root for him, he shouldn't be in the business of fans helping to pay his bills. Ward wasn't even criticizing Mayweather when he made those statements on Fighthype Radio, and Ward is one of the classiest guys in sports, yet Mayweather has an issue because Ward is rooting for someone he's known since childhood? If that's the case, Mayweather should have rooted for Cornelius Bundrage instead of his longtime friend, Ishe Smith, when those two locked horns a few weekends ago. Quit being so sensitive, Floyd.


Juan Manuel Marquez should be itching to face Bradley at this point. Much was made of Bradley going down in the 12th round, but is it that hard to remember that Bradley has been down numerous times in his career? Provodnikov exposed a ton of weaknesses in Bradley's arsenal, and with the likelihood that Bradley will never be the same after that war, now is the time to strike for Marquez. Don't be surprised to see Marquez request a fight with Bradley in the very near future.


With Marquez vs. Bradley likely in the future, should Brandon Rios beat Mike Alvarado, look for Rios to face Manny Pacquiao. Then, Bob Arum can finally have his dream match-up of Pacquiao vs. Rios. If Alvarado wins, there will most likely be a 3rd fight between the two men.


If Rios faces Pacquiao, Alvarado should face Provodnikov. There is not a junior welterweight on the planet who will be willing to move up to face Provodnikov, and it may take a crazy SOB like Alvarado to take on that kind of challenge. Either way, I WANT MORE PROVODNIKOV! Also, don't rule out a possible Pacquiao vs. Provodnikov match-up if Alvarado beats Rios.


If HBO is smart, they will bump Julio Cesar Chavez Jr.'s ass back to June 29th and shell out big bucks to ensure Adrien Broner stays on HBO. Both fighters say that they are fighting on June 22nd, and it looks like they both want HBO to be the broadcasting network. Ken Hershman and company need to realize that Chavez Jr. is a flash in the pan. He has maybe one or two more years of being a legitimate draw. Broner, on the other hand, looks to be around for the next 10 years. Broner is a future pay-per-view superstar, and Chavez Jr. isn't going to jump ship to Showtime because Top Rank isn't too keen on doing business with the Golden Boy Network...I mean Showtime. HBO better pony up, or they will be #2 very soon.


James Toney is fighting again? Lord help us all. Toney will be fighting Lucas Browne in Australia on April 28th. It's a shame that fighters cannot invest their money wisely. Toney, Evander Holyfield, and Roy Jones Jr. should be the poster children for investing money wisely. It's kind of like those old public service announcements with the egg in the frying pan saying, "This is your brain on drugs." It's kind of like that except saying to young fighters, "This will be your brain if you have to continue fighting because you didn't save your money."


It's a slow weekend in boxing, but if you get some time, be sure to watch the rematch between Arthur Abraham and Robert Stieglitz. Anytime two hometown fighters are fighting for country pride supremacy, it's more than likely going to be a spirited effort.


Each week, I feature an email from a fan on Observe and Fight. This week's email comes to us from Charlie C. in trying to come up with a more remarkable athlete than Bernard Hopkins...


"I have spent the last few hours trying to think of a more remarkable athlete doing something more amazing than Bhop, I'm not sure I can but I can think of 2 that come close. Its incredably difficult to compare across sports but Phil Taylor coming from 4-2 down to win his 16th world championship this year at 52 comes close. I know darts and boxing are worlds apart but Phils record speaks for it self. Also I think Brian Lara's 400 not out in Antigua is a contender, to keep that level of consentration for 778 minutes in that kind of heat is amazing."


I have to admit that I had NO IDEA who either of these two guys are. I did some research and although Phil Taylor has won 16 world championships in darts, I have to equate that feat to winning a golf major championships because they are non-contact sports. As far as Brian Lara, I had never heard of him, so I did the smart thing and Googled him. It looks like that 400 record you speak of was broken more than 10 years after and he was only the 10th man in a century to do what he did (although, I have to be honest yet again, I have no idea what that record meant. I know nothing about cricket). Both are VERY impressive, but I still can't see either one coming close to surpassing a 48-year-old man beating world-class fighters in the prime of their careers in a sport in which your fists are the weapons.

That's all I've got for this week. Email any questions or comments to
dkassel@fighthype.com
and I will answer them throughout the week. Your email may be featured in the next "Observe and Fight." Follow me on Twitter @BoxingObserver, and be sure to "Like" The Boxing Observer on Facebook.
[ Follow David Kassel on Twitter @BoxingObserver ]