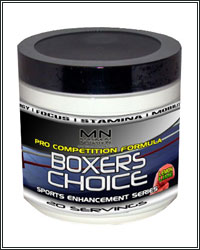 Every sport requires different types of training, whether it's boxing, baseball, football, etc. There is no single "across the board" way to train in sports. This applies to supplements as well. Boxers shouldn't take mainstream pre-workout drinks that are designed for bodybuilders and general gym people. First, most of these pre-workout drinks contain creatine, which causes bloating and water retention. Second, these pre-workout drinks do not address and enhance all elements of a boxer's training regimen.

For these reasons, Maximum Nutrition has developed the FIRST EVER boxer specific pre-workout drink, Boxers Choice™. Boxers Choice™ enhances the following areas of training:


Dramatically Increases Endurance and Training Duration
Lowers Post-Workout Fatigue
Increases Strength (ATP)
Faster Recovery
Reduces Muscle Injuries
Promotes Lean Muscle
Balances Muscle Water
Reduces Excess Water
Increases Energy
Improves Mental Focus
Rejuvenates and Lubricates Joints
Reduces Joint Inflammation
Increases Hydration
Product Information on Boxers Choice™:
Ingredients:
Boxers Choice KO Complex™: Proprietary Blend of Arginine AKG, Beta-Alanine and Ginger Root.
Arginine AKG: Acts as a vasodilator to increase blood flow, oxygen and glucose into working muscles. This allows for increased energy and longer training durations without fatiguing.
Beta-Alanine: reduces lactic acid production and build up in muscles, which reduces muscle fatigue. This process will allow you to train up to 4 times longer than normal. Beta-Alanine also helps with ATP (strength) and reduces post training fatigue and recovery time.
Ginger Root: Increases blood circulation during warm ups and reduces muscle injuries. Also helps reduce pre-competition nervousness.
Boxers Choice Amino Acid Complex™: Proprietary Blend of Alanine, Arginine, Aspartic Acid, Cystine, Glutamic Acid, Glycine, Histidine, Hydroxyproline, Iso-Leucine, Leucine, Lysine, Methionine, Phenylalanine, Proline, Serine, Threonine, Tryptophan, Tyrosine, Valine.
Amino acids are the building blocks for lean muscle. Amino acids are essential for proper muscle recovery and repair. During intense training, your muscles are depleted of amino acids. These depleted amino acids need to be replenished for your muscles to recover , grow (lean muscle) and reduce soreness.
Boxers Choice Energy and Focus Complex™: Proprietary Blend of Taurine, L-Tyrosine, and Caffeine Anhydrous.
Taurine: promotes an increase in energy levels during training. Balances water levels in muscles to prevent cramping.
Tyrosine: increases energy levels and focus during training.
Caffeine Anhydrous: increases energy levels, focus and reduces excess water retention.
Boxers Choice Joint and Mobility Complex™: Proprietary Blend of Glucosamine, Chondroitin and MSM.
Glucosamine: helps rejuvenate and lubricate joints.
Chondroitin: promotes an increase in joint mobility.
MSM: reduces inflammation in joints.
Boxers Choice Hydration Complex™: Proprietary Blend of Potassium, Chloride, Magnesium Oxide and Sodium.
This hydration complex contains more electrolytes per serving than 3 bottles of the leading sports drinks. This powerful complex will help you maintain proper hydrations levels even during your most intense training sessions.
Price:
Regularly $29.99 at
www.getmaxxed.com
(Sports Performance Series). Use coupon code fhbc46 to receive 46% off. Your cost after discount is only $16.20. This is a limited time offer so act now!
If you are a retailer or gym and are interested in becoming and authorized distributor, please contact us at
sales@getmaxxed.com
Motivation From One of My Favorite Boxers Ever:
"It is not the size of a man but the size of his heart that matters."
- Evander "Real Deal" Holyfield