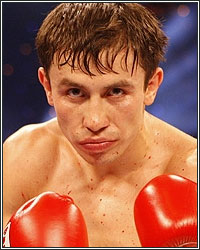 Early Monday morning, in my weekly "Observe and Fight" editorial, I wrote the following about Saturday afternoon's Gennady Golovkin vs. Nobuhiro Ishida title defense: "Does anyone have a link for Gennady Golovkin's title defense Saturday night against Nobuhiro Ishida? It will be a mismatch, but watching GGG put another beat down on someone should be fun. I'm glad Golovkin isn't sitting back and waiting for a payday. He is staying busy and improving his craft. A lot of young fighters can learn a little something about that."

Later Monday morning, I received an email from Doug Jacobs informing me that the bout was indeed going to be broadcast in the United States on pay-per-view by his company, Integrated Sports Media. After re-reading my original story, I realized that the format of my text makes it seem as if I was looking for an illegal stream to a legal broadcast in the United States.

While I have no excuse for my oversight, I am truly sorry to the promoters and fighters who are putting this event on because I in no way meant to take away any revenue from the fighters or promoters. I was truly unaware that the event is being broadcast in the United States, and again, I have no excuse, as this was a complete oversight on my part. This mistake is 100% my fault and has no bearing on the content FightHype.com posts, nor should it have any effect on the future content FightHype.com posts.

Here is the information for anyone looking to watch the event this Saturday afternoon...

The "Monte-Carlo Million Dollar Super 4" and Golovkin's middleweight title defense will be distributed in the United States and Canada by Integrated Sports Media for live viewing at 3:00 p.m. ET/12:00 p.m. PT on both cable and satellite Pay-Per-View via iN Demand, DIRECTV, DISH and Avail-TVN in the United States and in Canada via Bell TV for a suggested retail price of only $24.95. In addition, the event will be available via online Pay-Per-View at:

http://www.gfl.tv/Events/Fight/Boxing/Gennady_Golovkin_vs_Nobuhiro_Ishida/1896

The event is promoted by Rodney Berman's Golden Gloves. The Golovkin-Ishida bout is promoted in association with K2 Promotions, while the Rodriguez-Maderna and Erdei-Grachev bouts are promoted in association with DiBella Entertainment.

Also, in that same editorial, I made the following comment regarding Showtime: by all intents and purposes, has surpassed HBO in boxing viewership. Just to clarify, I was simply making a facetious prediction. In no way was I attempting to actually state that as fact. Fortunately for those that were wondering, however, the good media relations folks at HBO informed us that thus far, in 2013, HBO's four boxing telecasts are the four highest performing boxing events on television to date in 2013. So by all intents and purposes, HBO still appears to be the leader in boxing viewership for now.

Email comments and questions to dkassel@fighthype.com, follow me on Twitter @BoxingObserver, and "Like" The Boxing Observer on Facebook.
[ Follow David Kassel on Twitter @BoxingObserver ]