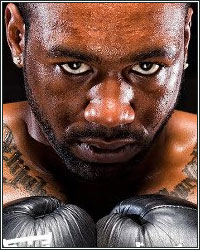 When you walk into the ring to face off against another man, there cannot be doubt in your mind. This may sound cliché, but this is very true. When you are working to become a competitor, you must mentally prepare for yourself for any situation that you may encounter. You must go through the numerous scenarios that your opponent may put you through. The attacks, the jabs, the counter punches, the weaknesses, the strengths of your opponent must be engrained. These attributes must be watched, broken down, and chopped up for consumption when I enter the ring.

At this point in training camp, I have completely immersed myself into everything that is Saul "Canelo" Alvarez. I know his footwork and the way his shoulders move when he is throwing a certain punch. I see the weakness in his face when he is bothered by a punch. I must know the intricate fabrics of what makes Canelo a boxer. My trainer, Louie Burke, and I spend many hours studying the film and breaking down the scenarios that he has put other opponents in to exploit their weakness. Then we study my own fights to break down my weakness. We go over my bad habits that others have tried to exploit and that Canelo will certainly try to use to his advantage.

Without divulging too much information, I am working to master my craft. I am obsessed with becoming the greatest ever to strap on a pair of gloves. This should be the mindset of each and every boxer that enters the ring. If you are not trying to become the best, then that person has no reason for wanting to become a boxer.

Most people will never understand the role of greatness. Greatness is not assumed, but it is worked for. Greatness takes sacrifices that will affect your friends and family. What is the reward of greatness? The reward is not always tangible, but it must not be taken lightly either. If you rise to the top to only be self-serving or egotistical with your opportunity, then you are a man that has squandered their talent for your demise. We have a responsibility as men to love.

Love and anger are closely tied together. We even see the wrath of God in the Bible tied closely to the love for his own people. When I state that we have a responsibility to love, I don't mean for that to be taken as a weakness but a strength that every man must possess in order to rise from his situation. Love takes fighting. True love takes wars. So when I relate to fear, love, and fighting, they are all hand in hand with their opportunity. I love boxing. I cannot fear another man to become great. I must fight to claim the love that I am obsessed with.

I am a man that must walk through the valley of the shadow of death. I am working towards greatness so that I can give back to my community. I am working towards becoming a loving husband and loving father to my children. This is a work that must be evaluated from each side. This is a work that our nation is running from and must face without fear.