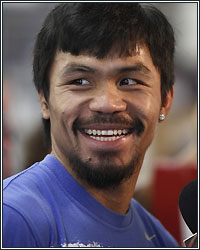 It's Monday. Welcome back for another edition of Observe and Fight, The Boxing Observer's compilation of observations and random thoughts from the week that was in boxing. Get caught up on some of the most recent events you may have missed out on, including the Top Rank & HBO vs. Golden Boy & Showtime feud, a preview of Donaire vs. Rigondeaux, a new superstar born in China, and much more. Without further ado, check out the latest observations from The Boxing Observer, David Kassel.



Saturday night is Top Rank's last chance (for a little while anyway) to prove they are the best promotional company. The last month of boxing has been dominated by major fight cards all staged by Bob Arum's Top Rank Promotions. The main event fights have certainly delivered more than anyone could have expected. Saturday night, Nonito Donaire faces Guillermo Rigondeaux in a junior featherweight title unification fight as arguably 2 of the best 3 fighters in the division square off. After Saturday night though, Top Rank will step aside while Richard Schaefer and Golden Boy Promotions broadcast major boxing cards during 4 of the following 5 weeks (May 11th being the only exception). During this time, the only major HBO boxing broadcast will be April 27th when Sergio Martinez (promoted by Lou Dibella) vs. Martin Murray goes head-to-head with Showtime's broadcast of Danny Garcia vs. Zab Judah. While most people will watch one broadcast that night while DVR'ing the other, it will be very interesting to see how the numbers shake out. However, what I'm really interested in seeing is the type of ratings the Golden Boy promoted cards, broadcast on Showtime, put out in relation to the Top Rank fight cards over the past few weeks. It's no secret that the two promotional companies (and networks) are currently at an impasse, and hopefully, when the numbers come out, we'll see who the true leader is and we can settle this silly feud once and for all.


Donaire vs. Rigondeaux will not go the distance. I'm calling it right now. Even though Guillermo Rigondeaux is the slicker boxer, Donaire will penetrate his defense in the middle rounds en route to a 9th round stoppage of the Cuban world champion. Rigondeaux will have trouble letting his hands go, which will lead to a boring fight early on before Donaire steps up the action and eventually stops Rigondeaux. I believe Rigondeaux will win the first 2 or 3 rounds before Donaire figures him out and overwhelms the former 2-time Olympic gold medalist. We'll see if I'm correct come Saturday night.


A superstar was born in China, but Zou Shiming will never be an all-time great professional. Shiming is already one of the greatest amateur fighters in the history of boxing after winning a bronze medal and two gold medals during the last 3 Olympic games, but unless the 31-year-old phenom develops some punching power, he won't scare any of the top notch fighters. His professional debut was very underwhelming on Saturday. The event itself was spectacular, especially for a fighter making his pro debut, but maybe Top Rank shouldn't have put Shiming in the ring with a rugged, 18-year-old, Mexican fighter. Valenzuela was tough as nails. Maybe Top Rank is trying to match Shiming tough very early on before trying to make him the quickest fighter ever to win a world title, but even after Brian Viloria had a sub-par performance in losing his title, I don't see him losing to Shiming if the two do ever meet for a world title as Top Rank was hoping to setup. I know it's all about the money, and I know Shiming has only fought once as a pro, but for a guy who made $300,000 for a 4-round fight in the most watched boxing event in Chinese history, I truly expected a stoppage. At 31-years-old, Shiming doesn't have the time to further develop his skills. At this point, he either has them or he doesn't. I don't see him progressing fast enough to win a world title in a year as Top Rank and Shiming's trainer, Freddie Roach, have boldly predicted.


I was surprised by the lack of media coverage the Floyd Mayweather "30 Days in May" special received. It's should be a telling sign since this observation is nowhere near the top of my column, but I was shocked that very few people in boxing decided to write about the 60 minute special, except for sharing their thoughts on Twitter. Before anyone jumps down my throat and claims the only reason I'm writing this is because FightHype bends over for Mayweather, think for a minute before you react. Like it or not, like him or not, Floyd Mayweather is the biggest attraction in the sport of boxing. Anytime Mayweather's name is linked to any headline, boxing fans, and casual fans alike, stop what they are doing to read whatever news comes out. When Robert Guerrero (Mayweather's opponent on May 4th) was caught in the airport last week with firearms (where he faces charges), the news went mostly unnoticed. Nobody can tell me that if that happened to Mayweather, he wouldn't be at the top of every headline and every writer under the sun would not have something to say about it. I thought the documentary was very well done (except for seeing Floyd's bare ass, which I could have done without. Next time, I'd rather see Ms. Jackson instead) and was nothing short of a stroke of marketing genius by Mayweather and his team because it gave fans the true side of Floyd Mayweather. There wasn't much in that documentary that Mayweather left out. He gave fans and writers plenty of ammunition to go after him, but he also allowed fans and writers to witness a side they may not have known about. I don't claim to be perfect, and I sure as hell don't claim to have never let my feelings get in the way of being impartial, but I would think that when the #1 pound-for-pound fighter in the world, and the biggest draw in combat sports, produces a behind-the-scenes look into his life, there should be more coverage, positive or negative. Floyd Mayweather is ONE of the main reasons (notice I didn't say the only reason) boxing still generates ridiculous revenues. It's about time people started to recognize him for that and put aside their personal feelings and vendettas toward the man. Like it or not, we are witnessing a fighter who comes along once in a generation and will most likely be remembered as one of the top-10 greatest fighters of all time. When we are 80 years old, sitting around talking boxing with our grandchildren, we are going to have the pleasure of saying, "I wish you kids had the chance to watch how great Floyd Mayweather really was in the ring."


According to Oscar de La Hoya, Mayweather is scared of "Canelo" Alvarez. I really like Oscar's enthusiasm as he tries to build the confidence of Canelo, but is it really necessary to take another jab at Mayweather (whom Oscar is not a fan of) and take Canelo's focus off of Austin Trout? Oscar better be careful because Trout is more than capable of handing Alvarez his first loss. I still believe this is a 50/50 fight, and I don't think the fact it is being fought in Texas will have anything to do with the outcome, because even though Alvarez will have many fans of Mexican descent in the crowd, Trout will bring a strong following (of course not as large as Canelo) from his home state of New Mexico.


I would like to publicly apologize on behalf of the World Boxing Council (WBC) for its continued corruption in the sport of boxing. I have absolutely no affiliation with the WBC, but I feel it necessary to apologize to boxing fans everywhere because the fact they have now rated Amir Khan #2 in the welterweight rankings proves that boxing is about nothing more than money. Khan is one of the sport's biggest draws, but he has never fought at 147 lbs. How can he be ranked at all, let alone #2, when he has never shown what he can do at welterweight? This is just another travesty the sport of boxing will have to endure. This rant has nothing to do with Amir Khan. It has everything to do with Jose Sulaiman and company getting richer by the second when they deserve none of it.


Manny Pacquiao and Juan Manuel Marquez both say they aren't desperate to fight each other again, so why do I get the feeling we'll see them square off again before the end of the year? Oh yeah, that's right, BECAUSE IT'S ALL ABOUT THE MONEY (in case you haven't been reading any of this column).


Juan Diaz is making his return Saturday night! The "Baby Bull" returns on Fox Sports Deportes, in a lightweight attraction, hoping to show he still has the skills to become a world champion again. While it might be a long shot, I hope Diaz is successful in his quest to recapture a title because there aren't many fighters as exciting to watch as Diaz.


Kudos to Deontay Wilder for finally accepting a worthy opponent at heavyweight. I know Wilder has been clamoring for the big names, and nobody has stepped up, but part of that has to do with Wilder being brought along very slowly. Not anymore. Wilder will next be facing former world title challenger, and current Prizefighter champion, Audley Harrison, in what is sure to be Wilder's stiffest test to date. I expect Wilder to improve to 28-0 (with his 28th knockout), but at least this time it won't be so easy.


Francois Botha, please give it up! How many times must we have to endure another Botha fight? Rumor now has it that Botha will fight again in June against a fighter, Joseph Parker, with an incredible record of...wait for it...wait for it...wait for it...4-0! Can we just stage a Botha vs. James Toney heavyweight (and I do mean HEAVY) fight before both men hang 'em up?


If Miguel Vasquez does decide to fight Yuriorkis Gamboa in a lightweight title fight, don't expect anything special. Vasquez has never been known to "wow" viewers with unbelievable action, and Gamboa may have already seen the peak of his career. Should this fight come to fruition, I expect Vasquez to control the pace of the fight en route to a very boring unanimous decision win over Gamboa.


I sure hope Showtime does an All Access show in anticipation of the Paulie Malignaggi vs. Adrien Broner welterweight title clash. The build-up alone may pit two of the most entertaining personalities the sport of boxing has seen in quite some time. CBS may actually want to think about airing it as it will make for GREAT television.

That's all I've got for this week. Email any questions or comments to
dkassel@fighthype.com
and I will answer them throughout the week. Your email may be featured in the next "Observe and Fight." Follow me on Twitter @BoxingObserver, and be sure to "Like" The Boxing Observer on Facebook.
[ Follow David Kassel on Twitter @BoxingObserver ]