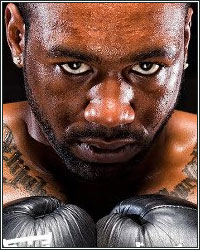 This is the week that we all have been preparing for. This Saturday, I will face off against Saul "Canelo" Alvarez for the title of "Undisputed Junior Middleweight Champion of the World". The last six weeks of training camp have been a challenging and insightful look into my weaknesses. When I step into the ring on Saturday, I will be able to turn those weaknesses into strengths against my opponent.

This week is full of checklists for my team and I. After we landed in San Antonio, Texas on Tuesday, we had commitments to other events throughout the week that posed a distraction of sorts. Everyone on my team wants to help out and ensure everything will go smooth, but at the end of the day, it is me who is climbing into the ring. My goal is to trust my team; to trust that all the little details are taken care of so that everyday I only have to focus on one goal.

Wednesday, we visited the Center for the Intrepid where I met the brave soldiers who are now wounded warriors. With both of my parents having served our country in the military, I am very thankful for the sacrifice they have made for us. We also had fighter media workouts where we went to a local gym and worked out for the press. Louie Burke (trainer) and I have been working on a unique set of skill sets for the past six weeks that we were sure to not showcase at the media workout. It is important to protect what we have been working on so that Canelo Alvarez cannot make any last minute adjustments to his game plan.

Thursday we had the final press conference, Showtime headshots, Showtime extreme fighter meetings, and Showtime's production meeting. As you see, the intensity of the programs increased each day. Everything and everyone will be a distraction. My goal is to not dwell on any of the events as they are happening but to keep my focus on beating Canelo.

Friday, we will have Showtime fighter meetings with the official weigh in. Both fighters are scheduled to weigh in at 154lbs so the week is full of managing your weight so that when you step on the scales, your body is at exactly 154. The weigh-in is also the scene of the final face off against Canelo. This is when he will look me in the eyes and try to intimidate me. I've looked hundreds of fighters in the eyes and you can tell when they have a hint of hesitation. I saw this hesitation at our first press conference face off.

Saturday will be the day of the fight. This will be a moment that will catapult a fighter into superstardom. The day will be filled with anticipation, as I will go over the days of training that have proceeded. I will hear Louie's words over and over as I walk through my game plan. I will feel the ring beneath my feet in my hotel room as I walk through the motions of my footwork. The silence in my room will be the same silence inside the Alamodome with 40,000 plus screaming fans trying to distract me from my goal.

My goal is to beat Saul "Canelo" Alvarez. My goal is to come back to Las Cruces with my zero still on my record and with Canelo's WBC Championship belt. My goal is not something that I haven't worked for. Over the last 17 years, I have poured my blood, sweat, and tears over my timeline to achieve this moment. One man is standing in my way. I only have one distraction; his name is Saul "Canelo" Alvarez and there can only be one winner. Saturday night, I plan to leave "No Doubt".