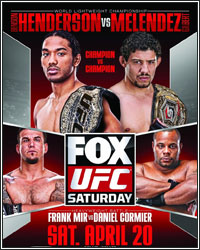 It will happen in 1 night! It has 6 current or former UFC and Strikeforce Champions. It will be 3 explosive and historic bouts. It is UFC on Fox 7! Saturday night at the HP Pavilion in San Jose California, a full half dozen super athletic and top of their game fighters will compete to see who stays a champion, who wins a championship, or who moves up into championship contention. Let's take a closer look.

Benson "Smooth" Henderson (17-2) vs. Gilbert "El Nino" Melendez (21-2)

Between them, they have a 13-fight win streak, 12 straight title fights, 5 championship belts, 13 KO's, 9 submissions, and if that's not enough, a resume of victories that look like a who's who of the MMA lightweight world. It does happen that the number 1 and 2 contenders in the world fight in every sport. It doesn't often happen when they are both the undisputed two baddest dudes in the most talent rich division in the UFC. When you look for classic matchups in MMA, it's usually the wrestler against the striker, the Jiu jitsu ace against the wrestler, and on and on. These guys are just so well rounded that you can't pigeon whole either one's sill set. Henderson is a two-time All American wrestler who's just as well known for his striking and Tae Kwan Do. Nate Diaz is considered by many to be the best boxer in the lightweight division, yet he was dismantled by Smooth's striking game so much that by the 4th round, the champ was landing jabs to his quadriceps. Who does that? Henderson frustrated Diaz to the point that he could easily step into the close distance, punch him in the leg, and get out again without being concerned about a counter punch. Yet, the Champ has 8 wins by submission. He's been a WEC champion and beaten Frankie Edgar twice to win and retain his championship at a time when Edgar was thought to be the best lightweight on the planet. Moreover, he's constantly morphing into a different and improved fighter. At 20 years old, his potential to progress may just be what propels him to achieve his omnipresent goal of being the best fighter ever in the history of MMA.

As Strikeforce was dissolved into the UFC, and its fighters have started squaring off against their UFC counterparts, it's become clear that talent-wise, the leagues were equally rich. Melendez's UFC debut brings a legacy of accomplishment. He was a two-time Strikeforce Lightweight champion, has the most Championship bouts (10), most successful title defenses (6), and most wins in league history (11), and oh yeah, he was also a WEC Lightweight Champion. If you want icing on the cake, the year that Henderson started training in MMA was the same year (2006) that Melendez was named Lightweight MMA Fighter of the Year. His skill set is balanced with a high school wrestling background, a Brown Belt in Jiu Jitsu under Cesar Gracie, and 11 wins by KO. One cannot find a major liability in his game. Finding any liabilityÂ…any openingÂ…just a small dent in his armor may prove to be the biggest challenge of Benson Henderson's life.

The Pick: Okay, I'm going to break this down (which means I just flipped a coin). The edge in the ground game has to go to Henderson, the All American wrestler with 8 submission victories. The edge in the boxing is definitely to Melendez, whose 11 KO's speak for themselves. What's left then is three areas. Transitions, kicking, and athleticism, and that's where the current UFC Champion remains the UFC Champion. Henderson's athleticism allowed him to allude taking much damage from Diaz and also from Frankie Henderson (whose lightning quick boxing and footwork made future Hall of fame champion B.J. Penn looks slow). He also has the edge in kicking game based on his Tae Kwan Do skills (black belt) and no one in the division uses their body better in going from ground to striking and back better than Smooth. These advantages, however, must be tempered with the word slight.

The X Factor: The Corner and the Power! First off, Melendez was in Diaz's corner when he took on Henderson last December. When you watch a man close up for 5 rounds, you get a feel for what he can and can't do. Then there is his knockout skill. If he catches Henderson once or twice, especially against the cage, it could be all over. At the very least, it will be game changing.

Frank Mir (16-6) vs. Daniel "DC" Cormier (11-0)

This fight will prove to be no more less dramatic nor competitive than the main event as we have the number 3 ranked heavyweight (Cormier) against the number 6 ranked heavyweight in Mir. Mir's a two-time UFC Heavyweight Champ and Cormier is the outgoing Strikeforce champ, but there is a contrast in style here.

Cormier's wrestling pedigree is world class. He's a two-time NCAA Champ, a 6-time US open champ, and a 2-time Olympian. The only rub against his wrestling is that he didn't medal, much less win gold at the Olympics. With his transition into MMA in 2009, there are many that believe those shortcomings prove to be his motivation for greatness in the UFC. His striking is mostly focused on boxing and although his technique may lack artistic beauty, his power is unquestionable. He may not be pretty, but wherever and whenever he connects, damage ensues. His rapid rise to championship status and UFC stardom can be in part attributed to his training partner and mentor, current UFC Heavyweight Champion Cain Velasquez. Velasquez is known for his tireless work ethic as well as having transitioned from being an All American wrestler into a fierce, fast hands striker. No doubt that will rub off on Cormier, and to hear Cain talk about the newcomer, he gives a good as he gets when sparring. When you can hang with the champ and your about to make your UFC debut, you are in good company.

Mir seemingly has been around the UFC forever, having started fighting in 2001 and winning his first UFC championship in 2004. Yet he's the younger of the two fighters and remains relevant because of his desire to consistently re-invent his skill set and improve on liabilities. He's proving that once again by doing his first training camp away from home and with the guru's themselves, Greg Jackson and Mike Winklejohn, in Albuquerque, New Mexico. What is an unknown is how much one of the top MMA gyms in the world can improve a 13-year veteran. What's for sure is Mir's conditioning and commitment will be unquestionable coming into this fight. Cormier is looking to make his mark in the UFC and become a champion, even if it means he needs to drop to light heavyweight to avoid fighting his friend Velazquez. Mir is still motivated to prove his quest to get back to the top of the mountain is a successful one.

The Pick: Mir will be improved and ready and he's one of the most dangerous fighters in the league, but Cormier wins this though by first outwrestling the submission artist (Mir) and tiring him out. Look for one or two big punches to land after that, and rememberÂ…all of Mir's losses have come by KO or TKO.

The X Factor: Mir is never out of it and can and will submit you, even when he's hurt and you think you've beaten him. Just ask Brock Lesnar.

Nate Diaz (16-8) vs. Josh "The Punk" Thomson (19-5)

This is another bout with long-time veterans and former champions that are still at the top of their game. Diaz is the TUF Champion from 2007 that's made a name for himself as the trash talking, no pretense, bad boy and brutally skilled boxer as well as dangerous Jiu jitsu practitioner. At 6' tall, the southpaw presents an awkward matchup for most 155-pounders. He'll simply pick his opponents apart with his boxing and then end the fight with a submission; a feat he's accomplished 11 times before. He was riding a 3-fight win streak before his December title shot loss to Henderson. A win here puts him right back at the top of the division.

The Punk (and you got to love that nickname), is just as formidable on the ground, having garnered 9 submission victories to go along with his black belt in Jiu jitsu. The real question here is how much can this former Strikeforce Lightweight Champion, 13-year and 24-fight veteran improve? Once considered as one of the best Lightweights in the world, Thomson can no longer be found on anyone's elite (top 10) ranking. This is a vast underrating as his last fight was against the aforementioned Melendez for the Strikeforce Lightweight title, which he lost by split decision. Regardless of ranking or UFC fan knowledge, The Punk makes his debut as a dangerous and highly capable fighter.

The Pick: Diaz. He'll be able to use his range in boxing and frustrate Thomson. The additional advantage here is his training partner Melendez, who has fought Thomson 3 times for a total of 9 rounds while coming out victorious on 2 of those occasions. Melendez knows Thomson well enough to beat him. That knowledge will be inside Diaz's game plan and head.

The X Factor: Diaz can get frustrated and Ben Henderson showed the world how to do that in their recent fight. Coming off a title loss, his focus may not be as strong and Thomson is a grinder.

And to round out the evenings pugilistic prognostications:



Matt "The Immortal" Brown (18-11) beats Jordon "Young Gun" Mein (27-8)
Chad "Money" Mendes (13-1) wins over Darren "The Damage" Elkins (17-2)
Tem Means (18-3-1) gets beaten by Jorge Masvidal (23-7-1)
Joseph Benavidez (17-3) comes out on top over Darren Uyenoyama (8-3)
Francis "Limitless" Carmont (20-7) is swamped by "The Monsoon" Lorenz Larkin (13-0, 1NC)

Thanks for reading and supporting; have a powerful day!