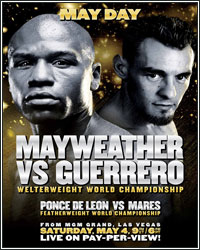 It's Monday. Welcome back for another edition of Observe and Fight, The Boxing Observer's compilation of observations and random thoughts from the week that was in boxing. Get caught up on some of the most recent events you may have missed out on, including a final preview of Mayweather vs. Guerrero, analysis of both Sergio Martinez and Danny Garcia's victories over the weekend, a recap of the rest of the action from the weekend, and much more. Without further ado, check out the latest observations from The Boxing Observer, David Kassel.



Floyd Mayweather vs. Robert Guerrero...Let the games begin! All the talk is almost over. No matter how you feel this fight will play out, Mayweather vs. Guerrero is going to net over 1 million pay-per-view buys and will be action-packed for as long as it lasts. CBS, which owns Showtime, is doing everything in its power to hype the fight, especially during fight week. CBS aired a Mayweather special this past Saturday, Showtime will have plenty of coverage of fight week, and CBS Sports Network is even going to air fight week programming. It will be very interesting to see how the numbers shake out once all is said and done. Showtime signed Mayweather to a 6-fight, almost $300 million deal over 30 months. They better hope the investment pays dividends. I believe Mayweather vs. Guerrero needs to equal, or eclipse, the 1.25 million pay-per-view buys Mayweather vs. Ortiz did in September of 2011. Guerrero is as popular now as Ortiz was when he stepped into the ring against Mayweather. In the lead-up to the fight, Ortiz did not endear himself to the fans, and Guerrero has certainly had his ups and downs during the buildup to the fight. At the end of the day, Mayweather is the draw, and Guerrero is the opponent, but any fans that Guerrero brings in due to the belief he could win is a win for all parties involved. Instead of watching the fight from the confines of my couch, my wife and I are going to have a date night at the movie theater, as we did for Mayweather vs. Mosley. Watching a fight inside the movie theater is a great experience and I would recommend it for anyone who doesn't want to sit at home or can't be in Las Vegas for the fight. Also, it is a very affordable way to watch the fight if there are only one or two people in your party. As for the fight itself, I'm going with Mayweather by unanimous decision, 117-111.


The co-feature of "May Day" is going to steal the show. I like the two opening bouts on the pay-per-view card, as J'Leon Love vs. Gabriel Rosado should be competitive, and I expect Leo Santa Cruz to make a successful junior featherweight debut against Alexander Munoz. However, the fight that will steal the show, in my opinion, is Daniel Ponce De Leon vs. Abner Mares for the WBC featherweight title. Mares is all action, all the time, and Ponce De Leon is always competitive no matter the opponent, as evidenced by his close loss to Adrien Broner. I would love to say this fight will end in a knockout, but I don't think either guy will go down for the count and we'll see a Fight of the Year candidate last for 12 rounds. In the end, I'm going with Mares by majority decision.


For the first time since becoming a star, Sergio Martinez looked overwhelmed by the moment. To me, Martinez did not look good against Martin Murray on Saturday night in front of 45,000 fans in his home country of Argentina. Soaking in the moment, Martinez looked winded heading into the ring, and he did not have the same bounce in his step we have become accustomed to seeing. Martinez looked as much mentally exhausted as he did physically exhausted in the middle rounds of the fight. I do believe he did enough to win, but this fight was an example of a fighter headlining a major fight card in his hometown for the first time not being prepared for the moment. I know Martinez is 38 years old, and I know his body is breaking down, but this might be the best thing for his career at this point. We know a rematch with Julio Cesar Chavez Jr. is inevitable as long as Chavez Jr. makes a successful ring return this summer, but Martinez's performance on Saturday, coupled with the 12th round against Chavez Jr., may give his future opponents some doubts about his ability. I believe Martinez will recover nicely to come back and dominate Chavez Jr. in the rematch before closing his HBO contract with another fight card in Argentina worth big bucks. If Martinez chooses to fight beyond then, it will be for big money.


Forget about a chance to see Martinez vs. Canelo Alvarez anytime soon. Canelo is a Showtime fighter. Martinez is contracted with HBO for at least 2 more fights. Maybe in the summer of 2014 at the earliest we could hope for this fight. Not any time in the near future though.


After Saturday night, I would like to see Martin Murray return against Gennady Golovkin. Should GGG get past his tough test in Matthew Macklin in June, Murray would represent a very formidable opponent for GGG. One thing is for sure though, had GGG been Martinez's opponent on Saturday night, we would have been talking about something entirely different today.


Danny Garcia is going through the same trials and tribulations as Timothy Bradley did. Bradley is known as a guy who doesn't do anything great, but everything good. Bradley still hasn't gotten the respect he deserves. Garcia's career is following along the same path. Before I start getting hate mail, I'm NOT comparing Garcia to Bradley in terms of style. I believe Garcia is a much more polished fighter right now than Bradley was at this point about 2 years ago. All I'm saying is that Garcia deserves better than he has gotten from most boxing people (including myself) over his past few performances. He is far from perfect, but he creates entertaining fights and all he does is win as he proved Saturday night against Zab Judah. At some point, Garcia could see his name across the same marquee as Floyd Mayweather. It may be sooner than we think.


Zab Judah will be back, but he won't get another title shot. I see Zab headlining a few more cards against up and coming fighters who need big names on their resumes. I could see Judah come back in the fall against Adrien Broner, if Broner beats Paulie Malignaggi in June. Should Malignaggi win, how about an all Brooklyn welterweight title fight between Malignaggi and Judah? I don't think Zab has "it" anymore, but he certainly has what it takes to be competitive with almost anyone and will present a tough challenge for any future world champion.


Speaking of Broner vs. Malignaggi...If Showtime does not put together at least a 2-show, All Access preview, I'm going to be REALLY PISSED OFF! This fight will not be a Fight of the Year, but the buildup will be better than any fight over the past 25 years. Both guys deserve to have a camera on them at all times.


Is the left hook the same kryptonite to Amir Khan as the overhand left was to Paul Williams? Damn, Khan did not look good at all in what was supposed to be a homecoming showcase against Julio Diaz. Khan is the epitome of the premise for the sport of boxing. It's all about making money, and Khan is a moneymaker. Other than Zab Judah (whom Khan already beat), I'm not sure Khan can beat Danny Garcia (whom he has already been knocked out against), Lamont Peterson (who beat Khan via much controversy), or Lucas Matthysse at this point in his career. It's amazing that it's those 4 guys who were put into a 4-man 140-lb tournament for the right to face Khan in December. Khan has more than enough boxing experience to make up for his change in trainers (from Freddie Roach to Virgil Hunter) two fights ago. Khan looked like the same fighter who wants to be more like Rocky and less like a winner. Golden Boy Promotions was very smart in stating that Khan would not be back in the ring until December, likely against the winner of the defacto tournament, because, at this point, Khan against any Top 20 fighter is a big risk for "King" Khan.


Peter "Kid Chocolate" Quillin should continue to take his time as he rises up the ranks. I was of the opinion that Quillin would be ready for the upper echelon of the middleweight division one fight following his dominant win over Winky Wright (which turned out to be against Hassan N'Dam). However, while Quillin looked great against Fernando Guerrero, he didn't fight a middleweight. It won't be that easy against Sergio Martinez, and it won't be that easy against Gennady Golovkin. Quillin, who always tells it like it is, gave an honest opinion about the possibility of facing GGG, saying the fight didn't make sense from a financial standpoint right now. One fight I could see in Quillin's future is former junior middleweight champion Austin Trout, who would not necessarily be the smaller man in the ring. That would also be a great fight against a southpaw who could help prepare Quillin for the possibility of Martinez.


Does Bermane Stiverne have a legitimate chance against Vitali Klitschko? I have to say yes he does. Stiverne is not flashy, he is not big, and he is not fast, but his ability to box and counter-punch against Chris Arreola was something I didn't think he could do. Stiverne, who still has a long way to go to be polished, doesn't have much time left before he gets his chance at a heavyweight title shot against a Klitschko. One thing Stiverne possesses, which he proved against the normally iron-chinned Arreola, is the ability for a one-punch knockout (he didn't knock Arreola out, but he broke his nose and sent him to the canvas, which is something Vitali Klitschko could not do). The Achilles heel for the Klitschko brothers is the tendency to go down with a big shot. Stiverne possesses that kind of power and could land it against Vitali Klitschko. I don't think the fight will happen, mostly because Stiverne is promoted by Don King, but should it happen, Stiverne has the true ability to beat Vitali with one punch.


I was wrong about Arreola. I said Arreola would be the next man to become heavyweight champion, but Arreola clearly cannot dedicate himself 100% to the Sweet Science, which has always been, and will always be, his downfall.


Deontay Wilder would absolutely destroy Fury in the ring. Wilder annihilated Audley Harrison in Wilder's first real test. Nobody in boxing has the type of one-punch power Wilder has, and while he is still very raw, Wilder would put Fury on his butt for good. If Steve Cunningham could knock Fury down, just imagine what Wilder would do. Fury is a very smart man to avoid Wilder in his next fight.


In case you missed it, James Toney lost again. Yup, no shock there. He collected another paycheck in Australia against Lucas Browne. I didn't see the fight, but I saw all I needed to see in the pictures. Toney looked in worse shape than I have ever seen him, and that's saying something. Should I just stop writing every time I have the urge to ask Toney, Roy Jones Jr., Evander Holyfield, or any other over-the-hill fighter to retire?


Each week, I feature an email from a fan on Observe and Fight. This week's email comes to us from Steven M. on Karo Murat's chances against Bernard Hopkins on August 3rd...


"What kind of chance does Karo have?...Barclays arena, his first fight in America, does he have any type of chance?"


It's boxing, so he always has a chance, but I wouldn't put money on it. LOL.

That's all I've got for this week. Email any questions or comments to
dkassel@fighthype.com
and I will answer them throughout the week. Your email may be featured in the next "Observe and Fight." Follow me on Twitter @BoxingObserver, and be sure to "Like" The Boxing Observer on Facebook.
[ Follow David Kassel on Twitter @BoxingObserver ]