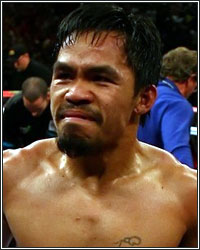 Sources close to the information have informed us that it looks like multi-division world champion Manny Pacquiao will make his highly-anticipated return to the ring against former lightweight champion Brandon Rios. Although an official date and venue has yet to be determined, the bout is expected to take place some time in November in Macau, China. Both fighters are coming off lossess; Pacquiao being brutally knocked out in the 6th round by long-time rival Juan Manuel Marquez and Rios suffering his first defeat after losing a 12-round unanimous decision to Mike Alvarado.

According to one source, Pacquiao's top choice was actually a rematch with WBO welterweight champion Timothy Bradley, who he lost a controversial decision to prior to being knocked out by Juan Manuel Marquez, however, that option was eliminated when Bradley turned down the opportunity to instead face Marquez on September 14. When that fight was announced, it appeared as though Mike Alvarado would land the assignment, especially when his manager was said to be in negotiations for the bout. According to another source, however, Rios is being eyed as a "more sutiable opponent" for Pacquiao because he'll make the fight "more fan-friendly".

In other words, it looks like Pacquiao's handlers don't want to risk the possibility of an ugly and/or more difficult fight, which it could turn out to be should Alvarado choose to utilize his boxing skills. Rios is the type of opponent that provides the perfect come-forward style that, in the past, has made Pacquiao look spectacular. According to our sources, that's the reason why it looks like it will be Rios, not Alvarado, standing across from Pacquiao in November.
[ Follow Ben Thompson on Twitter @fighthype ]