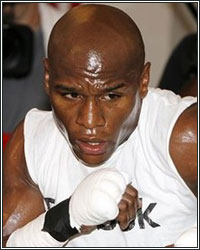 Not long after undefeated pound-for-pound king Floyd "Money" Mayweather scored a dominant unanimous decision victory over multi-division world champion Robert Guerrero, FightHype.com was given exclusive access to accompany Mayweather when he left the arena. During the near shutout performance, after landing a series of straight rights to the body and head of Guerrero, Mayweather suffered a hand injury that prevented him from ending the show with the stoppage he had hoped to give fans. As a precaution, he had his swollen hand examined to make sure it wasn't broken.

After a brief visit to the Big Boy Mansion, where Mayweather ate a bowl of Ramen noodles and took care of his post-fight blood and urine tests for USADA, FightHype.com and the All Access camera crew accompanied him to the local hospital at roughly 3AM PT. Once inside, Mayweather was only allowed to bring two guests, and thankfully, yours truly was one of them (video footage coming soon). After the doctor examined the x-rays, he informed Mayweather that his hand was not broken, however, he may elect to wear a splint to prevent any further injury from happening while the swelling subsides.

Naturally, the doctor advised Mayweather not to have any physical contact with his hand for the time being. Mayweather plans on following up with his own sports medicine doctor on Monday to ensure that no unseen damage has been done.
[ Follow Ben Thompson on Twitter @fighthype ]