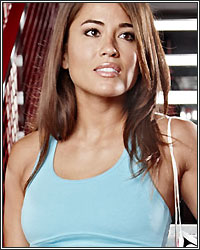 Former boxer and gorgeous reality star Cara Castronuova is partnering with Everlast on June 1st to raise funds that help kids lose unhealthy weight by learning the Sweet Science! "I love boxing. I love kids. I love helping people lose weight," said Castronuova. "So I started 'Knockout Obesity' to teach kids how to box and fight for weight loss, and how to exercise and eat healthy in general. This summer I am giving away grants to kids to go to weight loss camp and get healthy."

Adolescent obesity in America has hit a dangerous and all-time high and Castronuova is asking the boxing community for help in this fight. WBA Welterweight Champion Paul Malignaggi has already pledged a substantial donation to the charity after he wins his next fight with Broner, and the fast-handed champ encourages the boxing community to do the same. "I had a hard childhood, so I know what it feels like to be bullied growing up," said Malignaggi. "It makes me feel warm inside to know I am helping kids that need it. Most people think I am just a big-mouth Guido and that's it. Yeah, yeah, that's somewhat true (laughing), but deep down, I'm also a very empathetic guy. I'm multi-layered."

The charity kick-off event will be the evening of June 1st. Castronuova is hosting a Women Warrior's "DANCE-A –THIN" Fitness Extravaganza, where women of every fitness level are invited to come dance the night away! Special guests will include Dr. Suzanne Steinbaum (Preventative Cardiologist, Mount Sinai Hospital; Women & Heart Disease Advocate) and Vikki S. Ziegler (Celebrity Divorce Lawyer and BRAVO'S Next Star). Many more VIPs and celebrity athletes to be announced soon.

Castronuova and Malignaggi, a former couple and now close friends, just co-starred in a reality pilot together. The show's unique plotline? Malignaggi and Castronuova will each be training feuding rivals to duke it out in a professional boxing match to settle their differences. "We are waiting to hear if it gets picked up, so put good energy out there," said Castronuova. "Either way, it was a great experience. I think it shows that once feuding exes that did each other wrong can work together for the better good. I think anyone can identify with this show. It is about redemption and forgiveness through blood, sweat, and tears between Paulie and I and also the show contestants beefing with each other. Paulie and I have a gift, to help people settle their differences and make the world a more peaceful place by our special mediating technique...boxing!"

This particular event will be "women only" to ensure that everyone feels comfortable letting loose and dancing, according to Castronuova. But if you are a guy, you can still make a donation by going to www.knockoutobesityfoundation.com or sponsor a lovely lady in your life to go to the event. "Since I am not a girl, I am not invited. Too bad because I am a great dancer," Malignaggi joked. "But I plan on sending my Mom and sister and my Nonna [Grandma], plus Nonna's neighborhood lady friends to represent me because this is an important cause."

Every dollar counts and is appreciated, says Castronuova, so please go to www.knockoutobesityfoundation.com for more info on how to register for the event and how to donate via PayPal.
[ Follow Ben Thompson on Twitter @fighthype ]