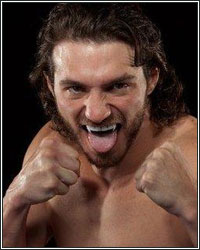 "My goal for right now is simple...to finish every fight! I don't want to go to the judges. I do not want to go to the cards. Whether it's a TKO, KO, or submission, I just want to get in there and finish it...Whatever he shows me. I can go out there and feel him out. I can go out there and do the Dan Henderson face bomb as well. It's whatever he shows me...I'm going to finish the fight. I'm not going to the judges' scorecards," stated UFC lightweight Mike "The American Wolverine" Rio, who will be making his second appearance in the UFC when he takes on Francisco Trinaldo this Saturday night at UFC on FX 8. I had a chance to catch up with him as he finished his training camp and just before he headed to Rio for his biggest test to date to discuss his preparation for this bout, his prediction for this bout, and what was up with the Tito Ortiz hair. Check it out!

SWD: Hi Mike. How are you doing?

MR: I'm actually pretty good. I'm excited. I' m going to pick up my fight shorts and my fight banner right now.

SWD: You're always excited. Your one of the most enthusiastic people I know.

MR: I try to be.

SWD: So before we move forward, let's go back to December and the TUF Finale. It was a 3rd round submission of John Cofer. What was that like to finally be in the big show and to get your first win?

MR: Oh man, it was...what's the word I'm gonna use? It was a big, humongous relief; all that pressure that was building up finally gone. Everything that I was training for finally just happened. It's what every fighter that fights in the UFC wants to happen. It's one goal off the list, and of course there are other goals, but that was one that felt good to accomplish.

SWD: What are the next goals?

MR: For sure it's to be the UFC Champ, and of course to defend the title as many times as possible. But my goal for right now is simple...to finish every fight! I don't want to go to the judges. I do not want to go to the cards. Whether it's a TKO, KO, or submission, I just want to get in there and finish it.

SWD: Last time we talked, you had spoken of fighting in the UFC as finally having your dream and your goal in front of you. After that win, did it change anything in your life?

MR: I pretty much try and stay as grounded as possible, so I don't let any of the fame of being in the UFC go to my head. My paychecks are a little bigger, and it's cool when people recognize you, so I appreciate that.

SWD: You said in a post-fight interview that you can never be satisfied with your performance and that you always have to improve. What did you see that you wanted to improve on?

MR: I can't really elaborate because that would reveal strategy for this fight. I can say that I was a little sloppy for that fight. The nerves got to me. Just try and tweak and work on the edges a little bit so I can be a little higher horsepower and go after my guy more.

SWD: For the Cofer fight, you had trained a bit with the Blackzillions and you said that it was great, not only for the quality of training, but that it was also good to get out of Miami and focus on just fighting. Did you repeat that process for this fight or have you spent the entire camp at Zen Jiu Jitsu with Enrico Coco?

MR: No, when I do my actual fight camp, it's always with Enrico Coco at Zen Jiu jitsu. We get along great; we see eye to eye. He's more of the calm Jiu jitsu guy and I'm the loud, crazy wrestler guy, so we compliment each other well. But you know, I do want to use the perks of my profession. I get to travel the world and train with the best fighters there are. So you know, for example, if after a fight I get a chance to travel to England and train with Andy Ogle, then I'm going to take advantage of that.

SWD: You and UFC fighter Alex Caceres, AKA Bruce Leroy, are good friends. He's gone totally vegan. Is he trying to convince you about the benefits of eating that way?

MR: No and no. I like my meat. I eat McDonalds as much as I can. He's one of those guys that jumps into the deep end of the pool when he gets into something. He tells me, "Organic is the way to go, man, you'll feel better," and I'm just like, "Dude, I don't care." Give me a cheeseburger and I'm happy.

SWD: Now for your second UFC fight, you get to travel to Brazil and perform in front of what many people call the loudest fans in MMA, and you're fighting a Brazilian. Do you have any feelings for that crowd and whether or not it will be a distraction?

MR: Oh, I've actually been preparing myself for that. I'm an American there fighting in Brazil against a Brazilian. I'm going to be booed by the entire stadium, but I'm going to take the fans as fuel. The Brazilian fans are extreme martial artists and they love their sport. It's not because they hate; it's because they love their sport so much. The first thing you learn in martial arts is respect. If I show them and my opponent respect, then win or lose, I'm sure they will do the same.

SWD: You fought in Costa Rica before. Is there anything different about fighting in a foreign country in regards to preparation?

MR: Yes. I'm pretty sure that the UFC will be keeping us in a nice section, but I'll be able to get around and do my thing and train. The one thing that I do like to do after my weigh-in is go eat at Olive Garden and I don't think they're going to have an Olive Garden in Rio.

SWD: Your opponent is Francisco Trinaldo. He's 12-2 (2-1 in the UFC) with four wins by KO and four by submission, which matches your record in regards to finishes. He's a little like a Hector Lombard type of fighter with a good kickboxing background. How do you match up with a guy like that?

MR: I think I match up great. Usually if you're super aggressive, then you like to overcommit. Overcommitting consists of being off balance and then your falling into a wrestlers world, but if he wants to come after me and have a barnburner, then I'm down with that as well. That's what I'm expecting...for him to come at me.

SWD: Do you see yourself going out there and imposing your will from the beginning or more strategically waiting for him to make a mistake?

MR: Whatever he shows me. I can go out there and feel him out. I can go out there and do the Dan Henderson face bomb as well. It's whatever he shows me.

SWD: The last fight was tough for you because you were fighting a friend and a guy that you had spent 16 weeks with on the TUF show. There is arguably a comfort zone there because you do know a little bit more of what your opponent will want to try. Do you prefer not personally knowing the guy you're going to fight, even though you don't have the familiarity advantage?

MR: I would rather fight someone I don't know. Look, this is a fight. The mentally you have is I want to kill the guy. I want to break this guy's face. With Cofer, it was the hardest thing in the world for me to think that way. I had to force it and I felt like an asshole, but it's how I had to make myself think. This situation, I have no ties to the guy. I have respect for him because he's fighting in the UFC and we're all an elite group of fighters, but I have nothing holding me back, so you're going to see the very best of me. You're going to see the very best Mike Rio.

SWD: Do you think this is your toughest test to date?

MR: Yeah, he will be, but you'll see me not holding back and see me full go. You won't see me second guessing myself. If I can finish this fight in 2 seconds, 3 seconds, I will. If I can beat him at the weigh-in, I will.

SWD: You've trained and sparred with Vitor Belfort. He's going against the former Strikeforce Middleweight Champion Luke Rockhold, who is making his UFC debut. The former Strikeforce fighters have been looking impressive and have had some big wins over top UFC fighters as of late. Do you have any predictions on this fight?

MR: You can't rule Vitor out. Rockhold is a beast. He's young, hes hungry, and he's a beast, but Vitor, I'm a little biased about because I think the world of him. He's a fantastic human being. He never gives up. Even if he's getting his face pounded in, he'll find a way to win.

SWD: Alright, any predictions for your fight?

MR: I'm going to finish the fight. I'm not going to the judges' scorecards.

SD: One last question. I was watching some old YouTube footage of you fighting back in 2009 and there's one thing that I'm confused about. Can you explain the Tito Ortiz bleach blond hair?

MR: (Laughing) I think that was for Halloween. I did it for that and then I just decided to keep it for the fight.

SWD: I'm just hatin' because I don't have any hair. Any last thoughts that you would like to share with our FightHype.com readers?

MR: Anyone wants to get a hold of me, training tips, when you should start MMA or anything as simple as hair products, because I have long, luscious hair, just hit me up. My twitter handle is @mikeriomma or hit me up on Facebook.