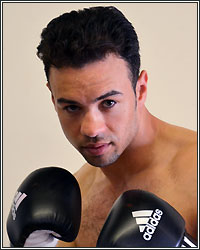 "I had a good camp. We feel very strong and that's always good. We sparred some guys much bigger than me. I did pretty good during those sparring sessions. I feel very explosive, very fast, and very strong. Like I said, I'm ready to give the fans an exciting fight," stated jr. middleweight contender Delvin Rodriguez, who spoke about his upcoming clash with Freddy Hernandez tonight on ESPN Friday Night Fights. Check it out!

PC: Big fight tonight. How do you feel, man?

DR: I'm excited, man. We prepared very well in training camp and now it's just going in there to dance, man, and have a good time and put on a good fight for the fans.

PC: A.J. says he knows it's cliché to say it's the best training camp and so forth, but he feels this was your best camp since he's been with you. Do you share those thoughts as well?

DR: Yeah, you know, I had a good camp. We feel very strong and that's always good. We sparred some guys much bigger than me. I did pretty good during those sparring sessions. I feel very explosive, very fast, and very strong. Like I said, I'm ready to give the fans an exciting fight.

PC: Freddy Hernandez is a durable veteran and he has fought some tough opposition. Do you feel like you have to one-up those opponents or do you think that could be the worst possible thing for you to do?

DR: I don't think like that. If I do my work and do what I'm supposed to do, and that's put my combinations together and take it to the guy in a smart way, it will automatically be a better performance than the guys he's faced.

PC: Your last performance was a knockout win over an undefeated guy, but going in, people felt he hadn't fought anyone with your experience. Hernandez has obviously been in with some tough guys. Do you have to hold back somewhat if you get him hurt knowing he has great survival instincts?

DR: I don't know if I would call it holding back, but I have to approach it in a smart way to where I would have to break him down. I feel like if I can put my combinations together, I feel like if I hit him with 3 or 4 punches, he's gonna be hurt and then I could go in and finish him.

PC: Since the Austin Trout fight, you have used the word exciting a lot. You always say you want to be exciting and put on good fights for the fans. How important is that?

DR: It's very important to me. The way I fought that fight was a mistake and I'm trying to continue the streak that I have been on of being exciting. I train very hard and I prepare myself very hard for each fight, so why hold back like I did against Austin Trout? I just gotta let it go, man, and leave it in the ring.

PC: You always perform well on ESPN; not saying you haven't performed well on other platforms, but always great performances on ESPN, win, lose or draw. Are you just comfortable with the way things go there?

DR: Yeah, ESPN is pretty much a part of my family now. I have fought on that network so many times and they make me very comfortable. I know everybody on their team pretty much. I love ESPN and it motivates me a lot because most of the time I fight on there, it's close to home and my fans are able to go out and cheer me on and support me and that's always a great feeling for a fighter.

PC: I read where you said you would love to fight Canelo Alvarez. How much are you putting this performance on landing fights like that?

DR: Definitely every fight that I have from now on, I have to win them impressively and look very good. That's the only way to get fights against guys like Canelo. My goal now is to win fights, look good, and win them impressively and take care of whoever they put in front of me.

PC: Now that you have settled in at 154, do you mainly feel the difference in strength or the fact that you can eat more so you're more durable? Where do you feel the biggest advantage comes from in settling into this division?

DR: At 154, I feel strong, so I can train as hard as possible. For a couple of fights at 147, I was killing myself. It's a different feeling when you go into the ring feeling great and strong and knowing that you are able to go 10 to 12 rounds with no problem. When you go into a fight weak, it plays with your mind as well. It makes a big difference.

PC: You are now in the category of veteran. What do you feel you have learned the most throughout this process, from prospect to contender to title challenger/veteran?

DR: Experience is a lot and it is everything. I think it will be hard for me to step in there with a guy and them show me something that I really haven't seen. I think what I have really learned over these years and being in there with champions and things like that is you learn how to adapt and make changes. If one thing is not working, you gotta change it. One of the biggest things I have learned is that you have to learn how to adapt and change and I had to learn that the hard way.

PC: What type of fight are you expecting out of Freddy Hernandez?

DR: I expect him to try and pressure me, which I would love that, at least in the beginning. I think he will try to come forward, which I'm not gonna back down, so it's gonna be a good fight because of that. I don't think he's gonna like when I start putting my combinations together and connecting with hard punches. When that happens, I think he will try to box a little bit.

PC: You started at a very fast pace in your last fight. How much do you credit your conditioning for that?

DR: I'm always gonna be in good condition when I get in there. I take this sport very seriously. I know it's a very dangerous sport and you can't play with it, so every time that I step in the ring, I'm in very good condition. I take care of myself. I do very hard training. I'm not scared to train hard and very intense, so every time you see me in the ring, know that I respect the sport and I will never come not in condition or out of shape. That's definitely a no-no for me.

PC: I wish you the best tonight against Hernandez and we will speak afterwards. Is there anything you want to add?

DR: Thank you guys for letting me talk to my fans and I want to thank my fans because the fans that I have behind me always support me no matter what. They are always there. And if you can't be there live, make sure you tune in to Friday Night Fights because I'm sure it's going to be an exciting fight. Hernandez is a guy with a lot of experience and he's a tough guy and I know he's going to try and come forward and I'm going forward, so we will both collide in the middle of the ring and it's going to be an exciting fight.
[ Follow Percy Crawford on Twitter @MrFighthype ]