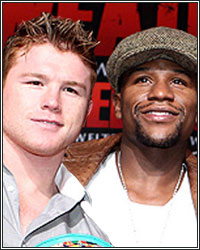 It's Monday. Welcome back for another edition of Observe and Fight, The Boxing Observer's compilation of observations and random thoughts from the week that was in boxing. Get caught up on some of the most recent events you may have missed out during the last two weeks, including the Floyd Mayweather sweepstakes, Carl Froch's revenge over Mikkel Kessler, Lucas Matthysse's destruction of Lamont Peterson, the return of Miguel Cotto, and much more. Without further ado, check out the latest observations from The Boxing Observer, David Kassel.

If Floyd Mayweather doesn't face Saul "Canelo" Alvarez on September 14th, he will ensure himself yet another easy night's work. I am by no means indicating that Canelo will beat Mayweather, folks. Mayweather could very well defeat Canelo with ease, but I believe that Canelo presents the greatest challenge to the pound-for-pound king. Before he broke his hand against Lee Purdy, I tabbed IBF welterweight champion Devon Alexander as the man who would get the call to face Mayweather, but that is not likely to happen now. Richard Schaefer and company are trying vigorously to negotiate for Mayweather vs. Canelo to happen, but I just don't see it falling into place so soon. I believe this fight should take place on Cinco de Mayo weekend of 2014, where it would have the proper 6 months to build a pay-per-view. I believe, with the proper planning, Mayweather vs. Canelo could produce over 2 million pay-per-view buys. Other names have been thrown out, such as Amir Khan, but I don't see that happening either. We could throw Lucas Matthysse's name into the fray considering he is a hot name right now and he just signed with Al Haymon, but I think Golden Boy is dead set on putting him in the ring with another potential Mayweather opponent, Danny Garcia. When all is said and done, if Canelo is not the guy who gets the call, I believe the man who will face Floyd Mayweather on September 14th will be none other than...(Barney Stinson voice) wait for it...wait for it...VICTOR ORTIZ. Don't get me wrong, I would hate to see this match-up again, but it might make sense. Being that Ortiz just built up his fan base on Dancing With the Stars, he has a name that non-boxing fans will recognize. He is also of Mexican descent. He has certainly been getting more air time than most of us would like to see. Finally, his first fight with Mayweather left a lot to be desired because even though he was being dominated, he didn't truly show everyone what he is made of. He made a crucial mistake by letting his guard down and he paid for it. The buildup for the fight will center around how Mayweather is a cheater and Ortiz won't make the same mistake this time around. Plus, Ortiz has been working with Manny Pacquiao's trainer, Freddie Roach, which should make for another interesting element. It sounds like a long shot, but it's not really as far-fetched as some might believe. I hope we see Mayweather vs. Alvarez in September, but I'm going with the long shot, Victor Ortiz, to get the call.

If Canelo doesn't fight Mayweather on September 14th, will he fight on the undercard? The answer is yes, and no. Canelo will still be on the broadcast, but he will defend his championship from another location, such as the Staples Center in Los Angeles. This way, Canelo can look spectacular against the likes of an Alfredo Angulo-type and still be happy he put fans in the seats. The night Mayweather first fought Ortiz, Canelo fought Alfonso Gomez from the Staples Center. We could very well see something like that again, which would be the perfect build-up as both guys could call each other out after their respective fights. That would start the build-up and the fight could be announced around Thanksgiving or Christmas time. I don't have the inside info, but I'm making my best guess, so please don't lambast me if I'm wrong. It has happened before.

Miguel Cotto returns September 28th at Barclays Center. Sources say he will fight for a world title, and if he does, I believe it will be against middleweight champion Peter "Kid Chocolate" Quillin of Brooklyn. However, I wouldn't be so sure Cotto will face a current champion. Cotto, coming off of consecutive losses, may want a bounce back fight. Golden Boy signed former IBF champion Cornelius Bundrage to a deal and he is still under contract with the company with a nice payday coming. Bundrage is a come-forward fighter who will make great action in the ring with Cotto. If Cotto wins, he'll be right back in title contention (not that he ever left), but if Bundrage wins, Cotto should probably retire, and Bundrage will earn himself another title opportunity. It's a win-win for Golden Boy because Cotto will pack the house no matter where he fights, but especially in New York City.

Lucas Matthysse is the most dangerous 140-lbs. fighter in the world. With the absence of Observe and Fight last Monday, I didn't have the chance to state the obvious, so I will now. I thought Peterson was going to win the fight because I felt he was more diverse a fighter than Matthysse, but I completely underestimated how powerful Matthysse is. When Matthysse faces Danny Garcia this fall, look for a late round knockout from the Argentine. I like Danny Garcia, but I don't believe he possesses the skills to deal with what Matthysse will bring to the ring on fight night.

Carl "The Cobra" Froch avenged his loss to Mikkel Kessler in a big way Saturday night. I don't personally need to see another fight between the two, but it may be the biggest money fight available at super middleweight. The fight was entertaining as hell, but Kessler couldn't sustain his pace for 3 minutes of every round. That, to me, was the difference in the fight. Usually, that is a sign of father time catching up with a fighter. If the two meet again, I predict a knockout win for Froch. One thing I am 100% certain about is that Andre Ward should not give Carl Froch a rematch unless the money is right. The fight would be less competitive than the first fight between the two, and Ward would punish Froch over 12 grueling rounds.

Please give Adrien Broner and Paulie Malignaggi their own All Access show! Sincerely, every boxing fan everywhere. Thank you!

Shane Mosley made a successful return to the ring two weekends ago. Pablo Cesar Cano was game, but Mosley showed his toughness and determination still exist. I don't know if he has enough in the tank to win another world title, but Mosley is certainly in the conversation. We could see Mosley face the winner of Broner vs. Malignaggi, or he could fight Devon Alexander for the IBF title. Either way, the name Shane Mosley still attracts fans and draw viewers.

Will Delvin Rodriguez ever get over the hump and win a world title? I'm not sure, but Rodriguez is an excellent ambassador for the sport of boxing and would represent the world of boxing in the proper way should he accomplish his goal. Rodriguez could face the winner of Ishe Smith vs. Carlos Molina, which takes place on July 19th for Smith's IBF junior middleweight title, or he could face the winner of Zaurbek Baysangurov vs. Demetrius Andrade for the WBO title. Lots of options and lots of winnable fights for Rodriguez to realize his dream.

I've said it once and I'll say it again...Alexander Povetkin has NO SHOT against Wladimir Klitschko. NONE!

Pour Evander Holyfield. Losing your driver's license because you can't make your child support payments. Holyfield needs to call Jay-Z ASAP because he's got about 99 problems right now.

Each week, I feature an email from a fan on Observe and Fight. This week's email comes to us from Gunna God Hardy regarding the best trainer in the world...

"I have catalog many fights over the years. Bernard Hopkins glory moments. Has been a favorite, being as tho im from Philadelphia. But i always seem to pay attention to the most is Brother Naz Hameed commentary, strategy, & gameplan in the corner. I often tune in to the cornerman of any fight i watch & tho sum trainers are not as vocal. It seems just from a "GAMEPLAN" standpoint. Naz is one of the best Strategist in the game... Even in his work with Mosley. I heard him speak into existence the win over Margarito. Then even in Mosley's lost to Mayweather his advice & truth he spoke in the corner was accurate & gripping. I also favor Robert Garcia, Nacho, & the late Emanuel Stewart. From a "Corner Advising" stand point who do u view as the best gameplan strategist?"

WOW! That's a ridiculously tough question, but it's also a great question. A lot of it has to do with the personality of the fighter. Certain trainers can look like geniuses with one fighter, but look like they don't know what they're doing with another fighter. I've always been of the belief that trainers are only as good as their fighters. You can be the smartest trainer with the best strategy, but if your fighter can't execute due to lack of ability, it's going to be tough to win.

I feel like I had to explain that because I don't want to dance around the question, but in truth, I don't believe there is a correct answer for this question. If the fighter doesn't execute the strategy, then the trainer looks terrible. Lamont Peterson against Lucas Matthysse is the perfect example. Barry Hunter (Peterson's trainer) had prepared to stay on the outside and box, but Peterson got lured into Matthysse's fight. As good as Virgil Hunter is as a trainer, he can't control whether Amir Khan decides to try and become Rocky in the middle of the ring. Andre Ward follows the game plan and look where it has taken him with Virgil Hunter. I think Naz is a wonderful strategist, but I also believe he is too cautious sometimes and doesn't put the foot on the gas when needed (but he is one of the all-time greats). Robert Garcia has a great stable of fighters, but where was the strategy for Nonito Donaire when Plan A wasn't working against Guillermo Rigondeaux. Freddie Roach is a great offensive mind, but his fighters lack defensive skills. Floyd Mayweather Sr. usually comes in with a brilliant game plan, but I've noticed that if his fighters don't have the natural ability to be great, he has trouble building them and training them to get there. Nacho Beristain is another great trainer who has worked wonders for so many fighters, including helping reinvent Juan Manuel Marquez. Pedro Diaz is another very good strategist, but he hasn't been working in the professional ranks long enough for us to give him his just due.

To me, this is a loaded question and one in which I truly cannot pick one trainer. Each trainer brings his/her (Ann Wolfe) own unique skill set which will either mesh well with the fighter or it won't.

That's all I've got for this week. Email any questions or comments to dkassel@fighthype.com and I will answer them throughout the week. Your email may be featured in the next "Observe and Fight." Follow me on Twitter @BoxingObserver, and be sure to "Like" The Boxing Observer on Facebook.
[ Follow David Kassel on Twitter @BoxingObserver ]