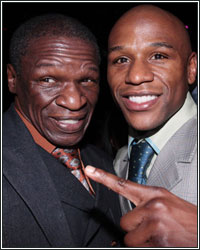 In boxing, fathers predominantly assume a huge responsibility and play a significant role in some of the most visible names in the sport. Father and son combinations are as common in the 4 corners of the ring as cool as a glass of ice tea is on a hot summer's day. Take for instance the poignant instructions given by Angel Garcia between rounds that led to his son Danny Garcia's swift 4-punch annihilation of Amir Kahn. "Me and Danny are a team. He fights, I talk, and we win; I love my son," said an elated Angel Garcia shortly after his son won another version of the jr. welterweight crown.

From the Garcias to the Mayweathers, Bradleys, Guerreros, Mosleys and others, fathers can be heard dictating and navigating the courses of their son's victories. Perhaps that's why this Father's Day, we can lay down the gloves and show these fathers some much deserved and unconditional love. In the case of Floyd "Money" Mayweather, he was inspired by his father to love boxing.

Long before Floyd Mayweather could even tie his shoes, he could lace up a pair of boxing gloves. "Lil' Floyd", as he was known back then, was throwing combinations in mid-air, all while punching at doorknobs too. Floyd Jr. was God-gifted, at the same time imitating his father's every move. Shadowboxing in the image o f the man who was his Superman growing up, and the one and only person he will ever call "Daddy". That word and these words, "Father" or "Pops", illustrate the universal language children use to identify the man they honor as their father; a true champion to his offspring that translates into a code of command, known as "Head of the House".

Personally, I experience it firsthand, as my 25-year-old son Joshua inherited my same love for boxing, much like many of names mentioned. Even when there appears to be nothing else for us to talk about, boxing is the vernacular we use to always communicate. Without question, no greater example of such an indestructible dialect that involves a father and son is none other than the often described dysfunctional battle of the Mayweathers. The fight game is the bloodline of their ancestry, and the DNA doesn't lie. It has been well documented that Floyd's father, Floyd Mayweather Sr., was a welterweight contender as a professional, and his brother Roger would take the family's dynasty to the next level and become a World Champion.

"Blood, sweat and tears" is a familiar phrase we often hear throughout any statement made by the great Floyd May weather Jr. Still, those three, extremely powerful words can connect any man with his children, if delivered and properly received. They also represented the 3 keys to victory too, as Floyd Jr. demonstrated superior defensive skill in his signature "easy work" beatdown last May of Robert Guerrero. Ironically, working his corner as the lead trainer was his father, Floyd Sr. "We been away from each other for quite a while, and being back together has strengthened our relationship. I'm not used to telling people I love them and I told Lil' Floyd I love him ," stated an emotional Floyd Sr. after the Guerrero fight.

Once estranged and separated by the frustrations of ego, the Mayweathers are now one happy example of father and son. Floyd Jr. said in his comments after his fight with a rugged Guerrero that being under the watchful eye of his father's tutelage is the best thing. "Having my father back with me is the best. He knows defense and he knows what's best for me. My father, along with my Uncle Roger, are the best trainers in the world. I had to bring back the defensive master, my father," he stated.

By my account, the Mayweathers have delivered boxing a perfect 1-2-3 punch…and they have knocked out any animosity they have held against each other in the past. For many, it's hard being a true father, while inheriting the parental responsibility of teaching your young son how to be a man. Statistics provide numbers that paint a negative profile of African-American fathers, who in many cases find themselves coming out of single parent households primarily run by women.

Floyd Mayweather Sr. is doing the best he can to restore and rebuild his relationship with his son, and it is noble that Floyd Jr. is doing the same. The landscape of a broken pattern detailing the lines of communication taken down by verbal insults have now been repaired with love. A legacy of change is on the horizon as we witnessed on Showtime's "All Access" program as Floyd "Money" Mayweather is investing time and attention to his own children. The healing has begun between Sr. and Jr. and the essence of their father and son love may not be conventional to some, however, it appears to be working for them.

The reunion the Mayweathers make this Father's Day a special one. Today, there is a humble presence of respect from one man to another. Fathers want only the best for their sons, and vice versa. In the words of the elder Mayweather after Lil' Floyd had won the Golden Gloves as an amateur, "He is the best North, South, East and West, I must confess, there is no contest." That being said, I guess like the old black and white TV series from the 1950's, "Father Knows Best!"

Ronnie Duncan is a Television Sportscaster, Producer, as well as CEO of Slam Dunc Productions. His work has been seen on ESPN, Showtime and Fox Sports. To Respond to this piece and others, email Ronnie at sportsbro@aol.com.