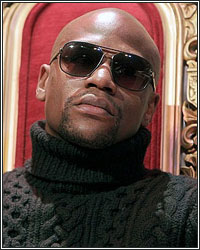 It's Monday. Welcome back for another edition of Observe and Fight, The Boxing Observer's compilation of observations and random thoughts from the week that was in boxing. I've been on vacation and man did I miss a lot. Get caught up on some of the most recent events you may have missed out on over the past 3 weeks, including the beginning of the Mayweather/Canelo press tour, Adrien Broner's successful jump to welterweight, the return of Gennady Golovkin, Mikey Garcia's continued dominance, Andre Ward's tough loss, and much more. Without further ado, check out the latest observations from the Boxing Observer, David Kassel.



If the Mayweather vs. Canelo press tour is any indication, this fight may just produce over 2 million pay-per-view buys. I still believe this fight would have been much more lucrative had it taken place in May 2014, but credit to both fighters for making it happen sooner. A few weeks back, I predicted this fight would not surpass 2 million pay-per-view buys (which I'm still not ready to predict it will), but with the success of the 11-city press tour thus far, and the fact that the fight completely sold out at the MGM Grand in 24 hours, 2 million does not seem out of the question anymore. I am aware that CBS/Showtime put a really big push on the Mayweather/Guerrero fight, but it needs to at least double the amount of advertising and programming it puts into this fight's promotion (figuratively speaking). There needs to be a lot more attention given to Canelo to make him into a hero and sports' next major star. Non-boxing fans need to believe that Canelo is "The One" (pun intended) who will finally knock Mayweather off the throne. If there was ever a promotion where it should be good (Canelo) vs. evil (Mayweather), it's this one. Most casual boxing fans and non-boxing fans alike only see Mayweather in one light: flashy and obnoxious. While that is not necessarily fair, because Mayweather has done a lot of great things in and out of the ring to try to reshape his image, his past will always precede him. That's the society we live in today. In order to maximize the profitability of this fight, Mayweather may want to consider going back to the money-flinging days of old, and there needs to be a camera on him at all times. Cameras also need to be on Canelo, who will publicly denounce Mayweather's actions at every turn. It may not be what Mayweather stands for anymore, and it may not be fair to cast Mayweather in this light, but for profitability of this fight, it is the best option. Even in this digital age of immediate answers, people still want to believe in heroes and good guys. Unfortunately, at this point in Mayweather's career, I hate to flat out say it because it is not fair, but Mayweather will NEVER be the good guy.


Did Paulie Malignaggi expose a flaw in Adrien Broner's arsenal? First and foremost, I had Broner winning the fight. He did more damage and out-landed Malignaggi. The right man won the fight. However, Malignaggi did make good on his word by saying he would not stand in front of Broner and be a punching bag for the 23-year-old, now 3-division world champion. The comparisons of Broner and Mayweather are fair, but not entirely accurate. At 23, Mayweather moved around the ring a lot more. That's something we have yet to see Broner do much of at all. Broner allows himself to be hit far easier than Mayweather did because Broner doesn't mind engaging. Broner believes he has the power to knock anyone out (which still remains to be seen at 140 and 147). Broner is still a top talent (and in the top 5 of any weight class between 135-147), and he has a choice to make. Broner can either learn to make an adjustment, or he can continue to do what he does, which is rely on his talent. Malignaggi laid out a solid blueprint to frustrate Broner; move around the ring and give him angles while not standing toe-to-toe and engaging. I'm not saying all fighters are physically capable of implementing this game plan. Marcos Maidana (Broner's rumored next opponent), Lucas Matthysse, and Danny Garcia can not physically bounce around the ring for 12 rounds like Malignaggi did. However, there is a plan in place now and Broner needs to get back in the gym and figure out how to be ready for this type of attack. If Broner does learn from this experience and works toward strengthening his weaknesses while utilizing his strengths, I have no doubts he can one day become the #1 pound-for-pound fighter in the world. The talent is there. He just has to want to get better. At 23-years-old, there is no reason why Broner shouldn't be able to hone his craft.


Gennady Golovkin is the best middleweight in the world. Enough said! Nobody from 154 to 160 is going to beat GGG. Nobody is questioning GGG's punching power. He is the strongest puncher in the world. Both hands are deadly. Ask anyone who has been in the ring with him or sparred with him. The question is whether or not he can take a punch from a true middleweight. Macklin answered that question on Saturday night. Macklin landed a few solid shots on Golovkin and the champion walked through those punches as if he were hit with a pillow. No disrespect to Sergio Martinez, but he stands zero chance against Golovkin. There are very few fighters who can cut the ring off as well as Golovkin and Martinez would eventually have to engage. At that point, Golovkin would break Martinez's body down en route to a late stoppage. Yes, Golovkin would knock Sergio Martinez out folks. I've said it. I personally would love to see Golovkin in a title fight with Julio Cesar Chavez Jr. Chavez Jr. would be, by far, the hardest puncher Golovkin will have faced, and Chavez Jr. has an iron jaw, which will translate well when he eventually moves up to 168 lbs. I believe that fight is worthy of a pay-per-view which could produce about 500,000 buys. If Golovkin vs. Martinez doesn't happen, I would love to see Golovkin vs. Chavez Jr.


The Nevada State Athletic Commission reduced Julio Cesar Chavez Jr.'s fine from $900K to $100K. The decision was correct, but the number is still ridiculous. $100K for smoking something that has been legalized in two states already? Sounds a little like a take the money and run scheme.


By the way, why isn't GGG on The Gatti List for HBO's The Fight Game? People are always looking for the knockout and Golovkin delivers every time. Same goes for Lucas Matthysse. Why isn't he on The Gatti List? Oh wait, that's right. It's because he is a Golden Boy fighter who fights on Showtime. I will admit I was surprised Jim Lampley acknowledged Showtime fighters as much as he did. It just goes to show that this stupid war between HBO and Showtime needs to be resolved for the sake of boxing.


One more thing about HBO's The Fight Game. The show is useless if it is not live. If you need proof, watch the interview with Andre Ward from Saturday night. It was revealed late Friday night that Ward lost his case against Dan Goossen in front of the California State Athletic Commission. Ward's taped interview with Lampley late Saturday night looked foolish because they were still discussing the ongoing case. The show has a lot of potential, but it needs to go through a serious makeover.


Is Mikey Garcia the best featherweight in the world? No disrespect to Abner Mares, but if Garcia can still make the featherweight limit of 126 lbs, the answer is yes. Garcia did not surprise me at all by dominating an outmatched and war-torn Juan Manuel Lopez a few weekends ago. I have felt for a long time that Garcia is the best featherweight in the world (before Mares moved up to 126). In my opinion, Mares would give Garcia problems, but the power and technical skills that Garcia possesses are second to none in that weight class. I didn't learn anything new about Garcia from the Lopez fight (other than he is capable of finishing an opponent early), but I think he would eventually stop Abner Mares. I feel he is too big and too strong. This fight will likely never happen because of the Top Rank/Golden Boy feud, but it is fun to dream about. The other name who could give Garcia problems is Gary Russell Jr., but with Russell's inactivity and lack of quality opponents (to no fault of Russell), it is too soon to pass judgment.


Andre Ward could be in real trouble if Dan Goossen doesn't go to bat for him anymore. In case you missed the news, Andre Ward was trying to break his promotional contract from Goossen-Tutor Promotions, the company that has promoted Ward since 2004. Ward is certainly looking for a big payday and feels that as the #2 pound-for-pound fighter in the sport, his marketability should be at an all-time high. Goossen-Tutor, while a well known and major boxing promotional company, is not as recognizable as Golden Boy or Top Rank. However, the California State Athletic Commission ruled that Ward is required to honor his contract. Goossen, who has been known to be a great promoter for his fighters and a not-so-good guy to other fighters, has always been a businessman first and foremost. While Goossen certainly has the power to hamper Ward's ascension, he would be foolish to do so. I believe Goossen will work hard to put Ward in the best position to succeed, as long as it is also what is best for Goossen-Tutor Promotions. However, if Goossen wants to make this personal (which I don't think he will, but I am not Dan Goossen, so only he can answer that), he can make Ward's life a living hell by not keeping him active. Promoters have the ultimate authority on a fighter's career. That is the reason Floyd Mayweather and Oscar de La Hoya broke away from Bob Arum and Top Rank Promotions. If you believe that fighters signed to a promotional company truly have control of their careers, just look at most Don King fighters. Ask Paulie Malignaggi about his feelings toward Lou DiBella. Ask any fighter who has tried to break away from Top Rank Promotions. At the end of the day, the promoter makes the call. For the sake of Andre Ward and boxing fans everywhere, let's hope Dan Goossen leaves feelings and emotions out of the equation and allows Ward to stay active.


James Kirkland's career is finished. The man from Texas with as much punching power as anyone in boxing proved to fans everywhere he does not have the discipline to avoid distractions outside the ring which have a negative influence on his life and career. Kirkland was recently arrested again for allegedly assaulting his girlfriend. Even if Kirkland does come back to boxing, I highly doubt any promoter will want to put a lot of money behind him because of the problems he causes outside the ring. He is a fan-friendly fighter and promoters are probably secretly hoping to match him against an up-and-comer in the hopes he can knock Kirkland out (which would be a major win because Kirkland is still a big name) to build the young fighter's star power. At this point, any hopes Kirkland had of becoming a star are through. It's really a shame.


A lot of title fights were postponed or cancelled while I was away. Bernard Hopkins' light heavyweight title defense against Karo Murat was cancelled due to Murat having issues receiving a work visa (which was later resolved, but only after the fight had already been called off). Demetrius Andrade's first world title opportunity against WBO junior middleweight champion Zaurbek Baysangurov was postponed due to an injury for Baysangurov, but it looks as if Andrade may face Vanes Martirosyan for the vacant title, with the winner facing Baysangurov in his next fight. Over the weekend, IBF junior middleweight champion Ishe Smith announced the postponement of his championship defense against Carlos Molina, scheduled for July 19th, due to an eye injury.


There are talks of an Adonis Stevenson vs. Tavoris Cloud light heavyweight title fight; an all-action fight and could be a good one for Stevenson. The risk involved for Stevenson is he could get knocked out by Cloud. This is not as easy a fight for Stevenson as fans will make it out to be. Remember, Cloud's only loss came to Bernard Hopkins because Hopkins was able to box Cloud. Stevenson does not possess Hopkins' boxing ability and Stevenson will engage with Cloud. Excellent match-up!


Bryant Jennings has the right attitude as he continues to rise up the ranks. After Jennings' most recent victory, he did not call out any of the top fighters in the heavyweight division. At just 17-0, Jennings still has a lot of work to do. I'm still not convinced he is the future of American heavyweights, but I become more of a believer with every outing. Jennings' message after his most recent win proves to me that he a strong team behind him who is truly looking out for his best interest and not just trying to cash out. All he kept reiterating was progress and getting better. Great attitude for a young fighter and it shows that patience may be his best virtue.


Speaking of heavyweights, I will do anything to not have to go through a Tyson Fury vs. David Haye showdown. This will be a terrible promotion for two terrible trash-talkers and the fight will be awful. I am aware this is a big money-maker in Great Britain, but fans will be disappointed. Is there ever any other outcome to a David Haye fight?


Seth Mitchell's next opponent should be Chris Arreola. Johnathon Banks has proven Mitchell's chin is not the strongest, and if Mitchell wants to prove he can become a champion, Arreola would be the perfect test. Arreola would come straight forward and Mitchell would actually have to box because if he got into a slug-fest with Arreola, it would be lights out. Mitchell may no longer get a push from Golden Boy Promotions if he can't show them something. Pretty soon, we might see Mitchell matched up with Deontay Wilder, which would not be good news for "Mayhem" Mitchell. If Banks can seriously hurt Mitchell, imagine what a Deontay Wilder right cross would do.


Sergei Kovalev will cause Nathan Cleverly major problems in their light heavyweight title showdown. Cleverly is a much more technically sound fighter, but he falls into the category of the robotic, European fighter. While Cleverly is the bigger fighter, Kovalev is just as strong a puncher and will be able to give Cleverly angles he has never seen before. I'm not going to predict an upset win for Kovalev just yet, but I wouldn't be surprised if he stops Cleverly.


Devon Alexander says yes to Amir Khan fight, but no to Dubai. I don't blame Alexander for not wanting to go all the way to Dubai to defend his IBF welterweight title, but, in my opinion, I don't think the location of the fight will matter. I think Alexander is going to knock Khan out, and the fight will not go to the judges' scorecards. Khan has a glass jaw if there ever was one, and has almost been knocked out in many fights on top of being knocked out in 2 of his 3 losses. It wasn't that long ago that Alexander knocked the iron-chinned Juan Urango silly, and Alexander was on the verge of making the normally strong-willed Marcos Maidana quit. Alexander doesn't always display the punching power, but he will knock Amir Khan out if they meet in the ring.


Congratulations to Sakio Bika for winning his first world title. The other fighter in Kevin Cunningham's stable (Alexander being the other) worked very hard to achieve world title status and earned every dollar in his victory Marco Antonio Periban. I don't think Bika should face Andre Ward again because Ward would win handily, but Bika has a lot of options with a world title and should try to maximize his earning power.


Explain to me how Brandon Gonzalez vs. Thomas Oosthuizen was a draw? Yet another travesty in boxing.


Willie Nelson will never win a world title. He does not use his natural advantages to his advantage. I do wish I would have seen a fight between Nelson and Paul Williams though. That would have been fun before Williams knocked Nelson out.


How does a Terence Crawford vs. Yuriorkis Gamboa match-up sound? If the all-action Gamboa shows up, I'm all for it. If the Gamboa that showed up against Darleys Perez shows up, no thank you. Either way, Crawford wins the fight. Gamboa is not getting any better as a fighter and is showing no signs of improvement.


I love the title fight between Ricky Burns and Ray Beltran! Styles make fights and this one could be special.


Eddie Chambers' move to cruiserweight is the best thing for his career. Chambers is too small for the heavyweight division and is immediately one of the Top 5 cruiserweights in the world, along with Marco Huck, Yoan Pablo Hernandez, Krzysztof Wlodarczyk, and Guillermo Jones. Chambers can make a lot of money fighting in Europe and may be the best of the bunch.


We have a Lateef Kayode sighting! Before I left for vacation, I put a BOLO (be on the lookout) out for Kayode, who has been inactive for over a year since fighting to a draw with Antonio Tarver (the fight was later changed to a no-decision after Tarver tested positive for a banned substance after the fight). Kayode's manager, Steven Feder, stated that Kayode is moving up to heavyweight and is currently weighing around 218 pounds. It was only a matter of time, but Kayode could be a beast if he brings his power up with him.


Joan Guzman, welcome to the Jose Luis Castillo school of boxing. Guzman missed weight for his 140-lbs. contest by an astonishing 8.2 lbs. It's still not as bad as when Shawn Estrada was 24 lbs. overweight for a fight once, but considering this is certainly not the 1st, 2nd, or 3rd time that Guzman has done this, I believe it is time to hang 'em up.


Does BoxNation TV have any plans of expanding into the United States? If not, I hope they soon think about making the move. That channel is a dream for boxing fans everywhere and I, for one, am truly jealous of everyone in Europe who has access to this gem.


Thoughts and prayers go out to the family of famed Mexican trainer Rudy Perez, who passed away. Perez was one of the greatest trainers in boxing history, having worked with Marco Antonio Barrera, Israel Vazquez, Pablo Cesar Cano, Marcos Maidana, Hernan Marquez, Jorge Barrios, and more. He was one of the best and will truly be missed in boxing circles.


Each week, I feature an email from a fan on Observe and Fight. This week's email comes to us from RJ regarding Paulie Malignaggi's comments after the fight...


"Hey DK, I was thinking about it…you know what else lacked class?? Paulie's insinuation that the outcome of his fight with Broner was FIXED and the accusations against Al Haymon that he had one of the judges in his pocket!! When JuanMa Lopez made a similar accusation against the referee of his 2nd bout against Salido he was suspended. A VETERAN like Paulie shouldn't have let his emotions get AHEAD of his, HE should've demanded a REMATCH during the POST fight interview rather than making an enemy out of one of the most influential agents in boxing and entertainment."


You are absolutely correct, my man. When I watched the fight on my DVR, I had Broner winning a close fight. The fight reminded me a lot of the Canelo vs. Austin Trout fight, where Trout was busier, but did far less damage than Canelo. In that fight, I had Trout winning by one point (even though I had no issue with the decision going to Canelo because the fight was so close), and the stats showed he landed more punches than Canelo. Difference in this fight though was that even though Paulie threw way more than Broner, Broner still out-landed Paulie. The fact is, Malignaggi felt Broner's power and Paulie didn't make a dent in Broner's mindset. While I think Broner's comments after the fight showed a complete lack of class and even more immaturity, Malignaggi let his emotions get the best of him in insinuating the fight was fixed. Teddy Atlas even made a reference to it on ESPN's Friday Night Fights. I don't feel he should be suspended, just like I felt JuanMa shouldn't have been suspended. This is a prime example of why boxing needs a uniform, unified commission. The government is the only entity who can fix boxing. The problem with that is boxing is a global sport. When the United States government stepped in to fix the problems baseball was having, it was a bit easier because all but one Major League Baseball team participates in the United States (the Toronto Blue Jays play home games in Canada). I was always under the belief that the government had better things to do than deal with sports, but sports is such a big part of modern-day society that I have begun to change my thinking. Maybe the government really should be the one to govern sports, or at least boxing. The difference with boxing is because it is a worldwide sport, the only organization qualified to take on such a task is the United Nations, and while I am not in any way a political expert, I think the U.N. has much bigger fish to fry. Unless fighters, promoters, managers, media, and networks come together on their own to fix the problem, nothing will change.


I have to give a shout out to my Miami Heat for winning its 2nd straight NBA title and 3rd overall. I wasn't able to give props to my hometown team after winning because I was MIA (yet another pun intended), but Lebron, D-Wade, and company certainly deserved the title after a tough series from the Spurs. Congrats gentleman and let's go for a 3-peat next season!

That's all I've got for this week. Email any questions or comments to
dkassel@fighthype.com
and I will answer them throughout the week. Your email may be featured in the next "Observe and Fight." Follow me on Twitter @BoxingObserver, and be sure to "Like" The Boxing Observer on Facebook.
[ Follow David Kassel on Twitter @BoxingObserver ]