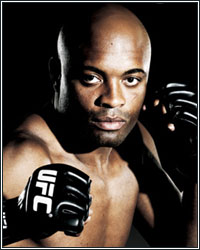 It happened when Joe Louis fought Rocky Marciano; to Ali against Larry Holmes; Liddell against Jackson; Couture against Machida. And on July 6th, 2013, in Las Vegas-the capital city of destitution, shattered dreams, and foolhardy hope-it happened to Anderson Silva.

In a crowed bar on Main Street, I take off my hat and look away from the television screen. All around me is the fiery roar of drunken men and women, screaming and cheering and clapping and calling for drinks; Silva is on the canvas, a dazed, tired look to his eyes, and Chris Weidman-the new middleweight champion of the world-is yelling and flexing his muscles and running around the cage. The world feels as if spinning backwards.

I am sobered; my heart broken.

How? I wonder. Why?

It had been a great night of fights; indeed, the card of UFC 162 was one of the best of the year (and will no doubt be remembered as historic), featuring fighters like Cub Swanson, who won an outstanding back-and-forth bout against Dennis Siver via TKO in the third round; Mark Munoz, who ground out a decision in his match with Tim Boetsch; Edson Barboza, who became the first man in history to finish two fights via leg kicks, decimating Rafaello Oliveira; Gabriel Gonzaga, who knocked out Dave Herman in 17 seconds of the first round; Tim Kennedy, who beat up Roger Gracie to earn a unanimous decision; and Frankie Edgar, who went to war with Charles Oliveira, slugging out a hard-fought victory.

And then came the Main Event.

Leading up to the Silva/Weidman fight, there had been much pro-Weidman discussion I didn't understand… How do you pick against Anderson Silva? Silva: the greatest pound-for-pound fighter on the planet; Silva: undefeated in 17 fights; Silva: the unarguable, undisputed champion, conqueror of men like Chael Sonnen, Vitor Belfort, Dan Henderson, and Rich Franklin?

As if they knew something I didn't. It is a fact of combat sports that all great champions must fall, but I refused to believe.

The bell rang for the start of the first and Weidman dominated from the opening minutes, securing the takedown we all saw coming. I worried little. Silva is, after all, 38 years old, and Weidman a world-class grappler. I knew Silva would be taken down during the course of the fight and I knew he'd endure some punishment, which he did, but I also knew he'd get back up. Which he also did.

The taunting, however, the shameless showboating, I did not expect.

Silva showboats on occasion. Demian Maia, Forrest Griffin, Stephan Bonnar, and several others have each felt the acerbic bite of Silva's taunting. The difference here is that Silva was winning those fights when he first opened his mouth and beat his chest and generally behaved like a miscreant in the cage. Against Weidman, he was losing, and losing clearly.

Perhaps it was strategic taunting; an effort to entice Weidman into fighting on his feet, where the champion had the advantage. Perhaps Silva was hurt, which is usually when fighters begin to taunt. Either way, the round ended with Silva begging for more and Chris Weidman ahead on points.

Silva attacked in the second round with a bit more of the pizzazz I'd come to expect from this once-mythic striker, evading Weidman's punches, landing hard leg kicks, stuffing the lone takedown attempt as if Weidman were as weak as a child….but still the taunting, the frustrating mockery, the gestures for Weidman to bring it continued. It seemed as though Silva was desperate to show how much better he was than Chris Weidman without actually doing anything to prove it; a shameful echo of his title defense in Dubai, where he was fined for similar behavior.

But I maintained hope. I gritted my teeth and clenched my fists and willed Silva to stop clowning and actually fight. Instead, he was knocked down by a less-than-crushing left hook, then put to sleep by a devastating right hand.

The punch that floored him came at the tail-end of a missing combination; one which Silva, doing his usual bob and sway, had been unable to time. Again, he'd been showboating; again, he was acting as if his foe didn't belong in the same cage as him.

Unlike his previous opponents, Chris Weidman proved him wrong.

Silva is rising from the canvas, now the former champion. Does he realize what's happened? What he's done? Has the shame yet sunk in behind those battle-glazed brown eyes? I pick up my hat from the floor, run my hands through my hair, and shake my head. Now I understand what the masses felt as they wept for Joe Louis, unconscious between the ropes, or what writer Budd Schulberg meant when he said, "The king is dead," in regards to the pathetic contest between Muhammad Ali and Larry Holmes.

Anderson Silva is the greatest martial artist of all time. His defeat will not negate that. But his performance inside the cage this night was pitiful. It profaned the sacred act of fighting. It ran converse to every warrior ethos I believe in. Chris Weidman won with a bang, but Spider Silva went out with a whimper.

I gather up my things in a surreal fog of anger and shock, pay my tab, and go out into the night. Weidman has dethroned my champion. There will be no shortage of eager opponents to attempt the same to him (I imagine Vitor Belfort is practically drooling at the idea). But, for now, he can rest secure in the knowledge that he has managed the impossible. He has beaten the unbeatable. The reign of Anderson Silva has come to an end. There are no stars in the sky, no moon, only the clouds, and the unending dark of space.