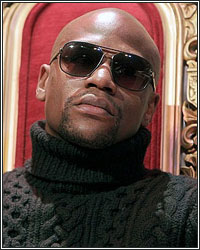 Last week, undefeated pound-for-pound king Floyd Mayweather wrapped up his multi-city tour with undefeated jr. middleweight champion Saul "Canelo" Alvarez promoting their highly-anticipated September 14 showdown at the MGM Grand Garden Arena in Las Vegas, Nevada. As he was entertaining questions from members of the media, Mayweather himself had a question for those attendance. "Tell me one, not boxer, just one athlete that's been dominating for 17 years without a loss and is still at the top and is still champion," Mayweather asked. While most in attendance were silent as they thought hard for an answer, one reporter eventually commented, "What about Anderson Silva? MMA. He's still undefeated."

At the time of the press conference, Anderson Silva was the UFC middleweight champion, and although he wasn't "undefeated", as the reporter claimed, Silva had yet to lose a fight inside the Octagon (16-0) and had reigned as champion for nearly 7 years. When presented with that answer, Mayweather wasted no time to respond, "Sir, my man, this is boxing. I'm not disrespecting nobody. I respect the guys at whatever they do, but this boxing. I don't know that guy. I'm just sayin', tell me, he's been at the top for 17 years? 17?" When the reporter incorrectly stated that Silva had been at the top for 12 years, Mayweather smiled and replied, "Well, you know, 5 more to go. A half a decade to go, then talk to me."

Unfortunately, Anderson Silva won't make it to the 17-year mark that Mayweather was referring to, let alone the 12-year mark, because he was knocked out cold in the 2nd round by his undefeated challenger Chris Weidman this past Saturday. Mayweather can continue to lay claim to being not only the best boxer, but the best fighter in the world. Will he still be able to make that claim the morning of September 15 or can Canelo do to Mayweather what Weidman did to Silva? On September 14, the world will find out.


[ Follow Ben Thompson on Twitter @fighthype ]