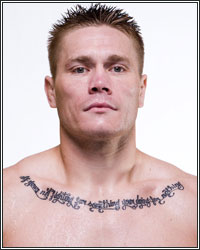 It was playing with my mind a little bit because that was actually my second opponent that pulled out; they didn't show the first one. My original guy only had to cut a few more pounds and he acted like it was too much for him. And then, the one they showed with the shoulder injury that they actually showed. I have been seeing a sports psychologist for awhile, so it was good. Things don't really fuck with my head these days. I was pissed for a minute, but I calmed down rather quickly and I credit that to the help I've been seeking.

Before I left to go to New Orleans, it was I win or I retire, so I had to win that fight to get in the house or I would have retired. That was it for me and I was gonna make sure I won. Either I won that fight or I was done. They would have to literally kill me because I made a pact with my wife that if I lost, I would have retired. I had to make sure I won. As far as being the veteran of the house, the guys weren't jackasses. There were a couple of guys, but there wasn't a whole lot of drinking and people being stupid, so it was cool. They were really respectful towards me and what I've done, so it was cool. It was a lot better than I thought it would be, to be honest with you.

A lot of people are saying I went for more submission attempts than they've ever seen me go for, and honestly, I have always had that; I'm just able to think in the cage, which I usually haven't been, and I can do more things because of it. Having my whole artillery, I'm able to do more in the ring and it's making me a lot better and gives me a lot more things that I can do.

As far as fighting last goes and only having 2 coaches to pick from, Greg Jackson is where I wanted to go the whole time. That was my whole plan, so I was happy at where I landed. Greg can push me and make me a stronger guy and a winner. He knows where I need to be, so that was a good pick!