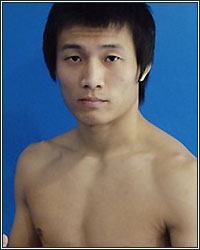 "He's human, so sure, he has faults in his game. Physically, I think I have an advantage over him. More than anything though, I think the mental game is where this fight will be won or lost, and I plan on winning," stated UFC featherweight contender Chan Sung Jung, who talked about his upcoming August 3rd showdown with UFC featherweight champion Jose Aldo at UFC 163. Check it out!

PC: How are you doing Chan?

CSJ: Good. I'm here in Sao Paulo, Brazil getting over jet lag and preparing for my fight.

PC: This has been somewhat of a rollercoaster ride for you to get to this title shot. It will be over a year since your last fight with Poirier. How tough has it been being so inactive?

CSJ: The toughest part was not being able to fight and workout. The best thing about the layoff is that it really stoked my competitive fire. By the time I was ready to workout again, I was on a mission. I think it only helped in the long run; physically and mentally.

PC: Was it tough staying in the gym training when you really had no idea what was going on throughout this process?

CSJ: Not really. I was scheduled to face Lamas fairly early on, then the injury to Pettis happened and I was asked to fill in.

PC: You're obviously not a fan of fighters changing weight classes and getting an immediate title shot. You were vocal in thinking Anthony Pettis kind of jumped the line.

CSJ: I think a fighter should have around 3 fights in a division before they can get a title shot. I'm not against fighters moving divisions, but they need to earn their place in the division.

PC: Both you and Ricardo Lamas were coming off of very impressive wins. Aldo had just defeated someone who moved up in weight in Edgar. Do you feel like this Pettis situation put the division on hold so to speak?

CSJ: Yeah, he said himself that he just planned to do the one fight and go back to lightweight, so it wouldn't have really done any good for the division. It's not as if there aren't other fights to make at featherweight. It's probably one of the most competitive weight classes out there right now.

PC: Obviously leaving your long-time gym, Korean Top Team, was a difficult decision to make. Why do you feel this was the perfect time to do your own thing?

CSJ: I don't know how long I'll be in the UFC, so I wanted to take advantage of my ability to start my own gym and team right now. Also, I felt like I needed to make some changes with my training and fighting. I'm very satisfied with my decision.

PC: You have called Jose Aldo a near perfect fighter. With that being said, every fighter has a weakness and we actually just watched him in a close fight against Frankie Edgar. You don't have to say what, but did you see things that Edgar was able to do that maybe you can have some success with?

CSJ: He's human, so sure, he has faults in his game. Physically, I think I have an advantage over him. More than anything though, I think the mental game is where this fight will be won or lost, and I plan on winning.

PC: Do you embrace this underdog role with people saying you don't stand a chance or do you view it as a form of disrespect?

CSJ: I think it's fun to be the underdog. MMA would be no fun if the favorite won every time.

PC: Chris Weidman definitely made the year of the underdog seem like a reality, although I don't see Aldo giving you free shots like that.

CSJ: I agree, especially after seeing Anderson Silva lose like that. I'm sure Jose is going to be very focused coming into this fight.

PC: What would it mean for you to not only capture that 145-pound title, but also end this amazing streak that Jose Aldo has been on?

CSJ: It would mean everything to me. This has been my goal for years now. I'm not as concerned with his winning streak and breaking it, but more just beating him as the champion. It's my dream and my goal.

PC: Congrats on getting this opportunity. I wish you the best of luck on August 3rd and I'm sure it will be a great fight. Is there anything else you want to add in closing?

CSJ: As always, I want to thank the fans for supporting me. I'm planning to take advantage of the opportunity that's been given to me and put on a great show. Thanks to you too, Percy!
[ Follow Percy Crawford on Twitter @MrFighthype ]