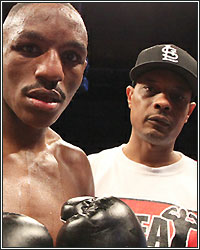 "First of all, Devon's the champion and Khan's the challenger; that's first and foremost. Secondly, we have yet to see any proposal in reference to a Khan fight, so when Khan steps out here with this bullcrap that Devon's making excuses and trying to get out of a fight with him, how is that when we've never been offered a fight," stated world-class trainer Kevin Cunningham, who responded to recent comments made by former jr. welterweight champion Amir Khan alleging that IBF welterweight champion Devon Alexander is reluctant to face him. As far as Cunningham and Team Alexander are concerned, a clash with Khan is still a possibility, but they have yet to receive any type of proposal for the potential bout.

"Devon would love to check Khan's chin, but there is no deal on the table as of yet. Khan and his dad was reported saying that a deal in Dubai was 90% done. Well, Al has yet to come to me with any type of deal, so I find that hard to believe," Cunningham explained. "Devon has never ducked anybody. He's faced the biggest punchers in the division - Urango, Matthysse, Maidana and Bailey - so why would he duck a glass jaw con job like Amir? Team Khan has this arrogance and sense of entitlement attitude, but like I said before, they don't dictate shit over here."

As previously stated in an earlier aticle on FightHype, Golden Boy Promotions CEO Richard Schaefer has been in Dubai for the past two weeks reportedly meeting with investors to discuss the possibility of staging the event. Although there's been no word yet on how those discussions have gone, Khan seems eager to move forward with other options despite the fact that Alexander is still willing to defend his IBF welterweight title against the unranked challenger [note: though Amir Khan is not ranked by the IBF, he is ranked #2 by the WBC, whose welterweight champion is Floyd Mayweather]. "Khan has said Devon ducked him at 140; we were never offerd a fight with Khan at 140. Now he's saying Devon doesn't want the fight. Hey Amir, you and your daddy need to stop fucking around and sign the damn contract so Devon can check your chin and make you do the St. Louis boogaloo," Cunningham added. "Rumor has it that Team Khan is trying to find a softer touch, so maybe this is his excuse to get out of the Alexander fight."
[ Follow Ben Thompson on Twitter @fighthype ]