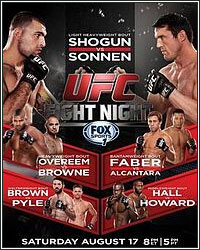 UFC Fight Night: Shogun vs. Sonnen unfolds in a big way as Dana White heads back to his old stomping grounds and Fox sports kicks off what it anticipates to be the best sports channel ever in the history of the universe. Whether Fox Sport 1 lives up to its hype is yet to be determined, but what is certain is that this "Grand Opening" will showcase a UFC card that's surely the deepest thus far this year. Subsequently, the anticipated punches, kicks, submissions, blood and sweat should be as good as it gets. And if that ain't enough...it's free! Let's take a closer look at Saturday night's card and just who is going to kick whose ass.

Mauricio "Shogun" Rua (21-7) vs. Chael "The American Gangster" Sonnen (28-13-1)

Sometimes we forget that Chael Sonnen can actually fight really well. He's done a remarkable job at self-promoting to the point of being one of the biggest pay-per-view draws in the UFC, which speak volumes to why, even after getting knocked out badly by Anderson Silva and Jon Jones in his last two bouts, he's still the main event on one of the most hyped cards in recent UFC and Fox history. Both of these men have lost 3 of their last five, but stand to come out in different places if they lose again. A loss for Sonnen here though simply means he drops back down to middleweight where he's still ranked number 9.

A loss for Shogun may prove to be more telling as this aging Muay Thai warrior and former Light Heavyweight Champion seems to be showing the effects of a 30-fight career and a never-back-down mentality. His Fight of the Year epic battle with Dan Henderson was a punishing affair for both men. Anyone watching his title loss to Jon Jones may have been squirming with an "OMG, please get this over with" trepidation. He absorbed more punishment last August before finally dispatching Brandon Vera in the 4th. Furthermore, his defeat at the hands and feet of Alexander Gustafsson in December showed that although he's always tough as nails, numerous knee injuries and the relentless punishment of the most brutal sport on the planet have taken their toll. Nevertheless, he's still dangerous, still training hard, and he's still committed. That said, one has to wonder though how much is left in the physical tank. A setback here could be the beginning of the end for one of MMA's all-time greatest light heavyweights.

The Pick: Chael Sonnen by decision. The American Gangster loves to mix it up with some boxing and then take his opponents down and muscle them. It's in that vein that this is a better matchup for him than Rua. Shogun still has vastly superior striking and power, but Sonnen's explosiveness in the takedown will prove to be the difference.

The X Factor: Rua is still one of the baddest Strikers in all of MMA and if he can defend the takedown well enough to keep the majority of the fight standing, he'll end this by the 2nd round.

Alistair "The Reem" Overeem (36-12-1) vs. Travis "Happa" Browne (14-1-1)

It was UFC 141 in December of 2011 when Alistair Overeem made his long-awaited UFC debut, riding a 7-fight win streak. He dismantled Brock Lesnar in round 1 in front of the world. He was set to fight then champion Junior Dos Santos before it all unraveled when we learned that he failed a pre-fight drug test with a 14 to 1 testosterone to epitestosterone level. For a man who had gone from lanky as a Light Heavyweight to bulky and muscle bound as a Heavyweight, this was fuel to the haters and at the very least caused much speculation by most. Then came his 3rd round knockout loss to Antonio Silva in February, when the heavily favored Dutchman seemed to tire easily and lack his usual aggression. So now, the world awaits to see what kind of demolition man they will get as Overeem makes his return on a mission to be back in heavyweight contention and garner the title of the baddest man on the planet.

Travis Browne isn't here to make that an easy task though as he's fast, athletic, and sports 10 KO's in 16 fights. His only loss to the aforementioned Silva happened when he tore his left hamstring. So how good is he? He's only been a pro for 4 years and his comeback fight against former UFC Champion Gabrielle Gonzaga was a first round knockout that won him Fight of the Night honors. This guy has had 6 wins in under 1 minute, and if Overeem takes him as lightly as he did Silva, it will prove to be a dangerous mistake.

The Pick: It's hard to tell which Overeem we'll see, but based on his experience and striking skill, plus the fact he's facing a guy who loves to stand and bang, I have to give the edge to the Dutchman. Look for Browne to come out fast and unpredictably, but once they start mixing it up, the Reem should be able to manhandle Happa in the close distance and the clinch. This results in Overeem by K.O.

The X Factor: Which Overeem will we get? Killer Instinct, brutal Overeem or lackadaisical, cocky Overeem?

Yuri Alcantara (27-4, 1NC) vs. Urijah "The California Kid" Faber (28-6)

Alcantara may be the best Bantamweight you never heard of. He's 14-1-1 in his last 16 fights and 4-1-1 since joining the WEC and UFC. Moreover, as most of the lighter weight class fighters seem to be, he's truly a well-rounded mixed martial artist, sporting an even dozen wins by both K.O. and submission. This is just the kind of guy that, taken lightly, will change the night for a heavily favored former WEC champion and currently #2 ranked contender named Faber.

For his part, Faber says that not only is he not taking his opponent lightly, but that Yuri deserves this fight. One has to wonder though if Faber does. This is one of the biggest names in the sport and yet he's trying to put together his first 3-fight win streak since June of 2008. To his credit, his last 4 losses have all come in championship fights and he's looked faster, more athletic, and still improving in both of his last two submission victories, both by rear naked choke. Faber is still relevant and a top contender, which is no easy feat after 10 years as a pro.

The Pick: Faber by submission. He won't take Alcantara lightly and he's just too experienced against so many high level fighters.

The X Factor: Yuri's has no major weakness in his game, with plenty of power and plenty of submission technique. He's an opportunist who can take advantage quickly if Faber makes one mistake.

And to round out the rest of the evening's epic (there, I used the most overused word in the English language) battles:


Mike Brown (26-8)makes a successful return by defeating Steven "Super" Siler (22-10)


Mike "Quicksand" Pyle (25-8-1) beats Matt "The Immortal" Brown (19-11)


Uriah "Primetime" Hall (8-3) defeats John "Doomsday" Howard (20-8)


Conner "Notorious" McGregor (13-2) knocks out Max "Blessed" Holloway (7-2)


Joe Lauzon (22-8) gets the best of Michael "The Menace" Johnson (13-8)
Thanks for reading and supporting. Have a powerful day!