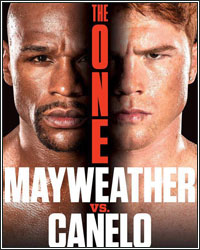 It's Tuesday. Welcome back for a special Tuesday edition of Observe and Fight, The Boxing Observer's compilation of observations and random thoughts from the week that was in boxing. Get caught up on some of the most recent events you may have missed out on, including episode 2 of All Access: Mayweather vs. Canelo, the premature death of yet another boxer, a preview of this weekend's fights, and much more. Without further ado, check out the latest observations from the Boxing Observer, David Kassel.



How much of a chance should we really give Canelo Alvarez against Floyd Mayweather? I'm not trying to stir the pot with this topic, but as the fight gets closer, the more I find myself coming back down to reality. The proof is in the pudding. Mayweather will win this fight. The only way I see Canelo winning this fight is by knockout, and he'll have to land a blistering shot to put down Mayweather. While it's true Mayweather has never faced a puncher like Canelo, he has faced many fighters with much better skill sets than the Mexican superstar. Mayweather is not doing a lot of talking in the lead-up to this fight, which leads me to believe his focus is better than ever. In reality, Canelo might be the only fighter in boxing whom fans believe might actually have a shot of handing Mayweather his first "L". Mayweather's last 11 opponents have been current or former world champions, with 1 current hall-of-famer (Gatti), 5 future hall-of-famers (Cotto, De La Hoya, Mosley, Hatton, Marquez), and 2 potential hall-of-famers (Judah & Guerrero). In each of these fights, regardless of the scorecards, Mayweather made it look easy. Alvarez, on the other hand, has faced 3 current or former champions (Trout, Mosley, and Cintron), and only one of those is guaranteed a hall-of-fame spot (Mosley). I know Canelo has looked better and better as he steps up in competition, and I do believe he will rise to the occasion and put forth one of his best performances to date, but it won't be enough. I have Mayweather winning a unanimous decision 117-110. I do believe there will be a rematch, and when that takes place (in about a year or two), I would give Canelo a MUCH better chance. Right now, I just don't see it happening.


Thank goodness CBS and Time Warner and Bright House Networks reached a deal. In case you were not aware, the last 4 weeks saw a dispute where Time Warner and Bright House would not broadcast certain CBS-owned networks, including Showtime. What this means is that fight fans will now be able to watch this weekend's fights and this weekend's episode of All Access. This is certainly going to help produce bigger numbers for Mayweather vs. Canelo.


Another boxing legend has passed too soon. Tommy Morrison, who is best known for his role as Tommy "The Machine" Gunn in Rocky V, passed away Sunday after a long fight with AIDS. Morrison, who was only 44 years old, gave fans some great fights in the ring, and though he didn't achieve world-renowned greatness as a fighter, he did win a heavyweight championship and he will always remain in fight fans' memories. Thoughts and prayers go out to his family and friends.


I'm loving the potential doubleheader in Brooklyn on December 7th! I've never been to the big apple, but I might have to consider using some vacation days to get out to Barclays Center for this terrific night of fights. Golden Boy Promotions continues to impress me with its commitment to bringing fans quality fight cards. The main event will allegedly pit IBF welterweight champion Devon Alexander, against former 140-lb champion Amir Khan. A win for Khan will almost guarantee him a spot as Floyd Mayweather's next opponent in 2014. A win for Alexander will keep his name in the mix as a potential opponent for Mayweather as well. In the co-feature, Brooklyn natives, and former world champions, Zab Judah and Paulie Malignaggi may go toe-to-toe with the winner possibly earning themselves a shot at a welterweight title. Two of the best trash-talkers in Brooklyn going head-to-head, and cameras will not want to miss a minute of the action. I hope this card comes to fruition because I can't wait for it!


Does this weekend's winner between Seth Mitchell and Chris Arreola have a chance to beat Deontay Wilder? That's not much of a prize for the winner of this Saturday night's Showtime main event, but that's probably what the winner will get. I know some people believe Mitchell is going to come back strong and knock Arreola out, but I don't think he is capable of doing so. The only way Mitchell wins this fights is if he stands on the outside and uses boxing skills. Arreola's chin (and nose and ears and mouth and eyes) is as hard-nosed and tough as they come. Arreola has the power to knock Mitchell out, but I don't see it happening the other way. Either way, the winner won't get past Wilder, so it's really a moot point.


Speaking of Wilder, he is joining David Haye, once again, in training camp. This isn't the first time Wilder has been one of Haye's sparring partners, but I can't think of a better time for Haye to bring Wilder in as he prepares for his upcoming showdown with Tyson Fury. Wilder should give Haye some tough rounds. I like Haye in this heavyweight showdown, even though the fight will be as boring as watching paint dry.


The fight I really want to watch this weekend takes place in Glasgow, Scotland. I said it when the fight was announced, and I'll say it again...Ricky Burns defending his lightweight title against Ray Beltran will be a Fight of the Year candidate. Burns is a champion who is trying to make a name for himself in the United States, and he has had some less than spectacular performances recently. He doesn't want to disappoint fight fans, so he is almost assuredly going to try to put on a show. Beltran, who is one of Manny Pacquiao's chief sparring partners, is never in a boring fight. This has the makings of an all-time classic in my opinion.


I cannot understand why Top Rank would release flyweight prospect Jonathan "Bomba' Gonzalez. The young man is only 22 years old, and Top Rank has a lot of clout in the lighter weight classes. I know he suffered a knockout loss in his last fight, but this move makes me think there is more than meets the eye. Top Rank has no problems putting in their fighters against guys with several losses to build them up. At the very least, had Gonzalez suffered any more losses, Top Rank could have used him for that. If he started another winning streak, he could have eventually earned himself a shot at a title. It just doesn't make sense, which again, is why I say there is probably more than meets the eye.


Nonito Donaire might send Vic Darchinyan into retirement on November 9th. The rematch might look worse than the first.


Each week, I feature an email from a fan on Observe and Fight. This week's email comes to us from Luis V. regarding the outcome of the Abner Mares vs. Jhonny Gonzalez fight...


"Hey David...I gotta tell you I am in shock with the Mares Vs Gonzales Fight. I seen Mares get caught with harder punches. IMO I think Mares got caught cold. Would like to get your thoughts on how the K.O Happened? Helluva Left-Hook by the way!! Keep up the good work."


Always appreciate it, my man! To be honest, the only thing I knew Gonzalez was bringing to the fight was more power. Abner traded with a more powerful guy. He's never been in the ring with a puncher like that, and you have to remember that it was only about 1 1/2 years ago he was fighting at bantamweight. Abner will be back and he'll beat Gonzalez in a rematch. He just has to fight a smarter fight. Mares is a multifaceted fighter, and I think he'll box Gonzalez the 2nd time around.

That's all I've got for this week. Email any questions or comments to
dkassel@fighthype.com
and I will answer them throughout the week. Your email may be featured in the next "Observe and Fight." Follow me on Twitter @BoxingObserver, and be sure to "Like" The Boxing Observer on Facebook.
[ Follow David Kassel on Twitter @BoxingObserver ]