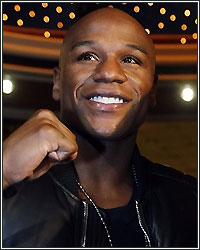 "We still can break the record and we don't have to do 2.5 [million pay-per-view buys], because you gotta realize this, right now, we're talking financially-wise," stated undefeated pound-for-pound king Floyd "Money" Mayweather, who shared his thoughts on the possibility of his upcoming showdown with undefeated jr. middleweight champion Saul "Canelo" Alvarez breaking the all-time pay-per-view record set during his 2007 mega-fight with Oscar De La Hoya. That fight, which Mayweather won via split decision, grossed a whopping $132 million from a record-breaking 2.48 million pay-per-view buys.

Whether or not the September 14 clash between Mayweather and Canelo can exceed such lofty numbers in viewership remains to be seen. When it's all said and done, however, the man known as "Money" is far more concerned with the revenue generated from the event than the final tally of buys. "I think when I was fighting Oscar, I can't remember what it cost exactly at that particular time because that was almost, could've been, I think that was '07, so you know that was 6 years ago. And you know, of course, the price of everything has went up, so the price of pay-per-view has went up," Mayweather explained, noting that his fight with Canelo is priced at least $10 more ($64.95 or $74.95 for HD) than his fight with De La Hoya was ($54.95).

"So we don't have to do exactly 2.5 to break the record financially-wise," Mayweather added. It should be noted that , as first reported by FightHype.com back in May, Floyd Mayweather is already receiving a record-breaking guarantee of $41.5 million for this fight.
[ Follow Ben Thompson on Twitter @fighthype ]