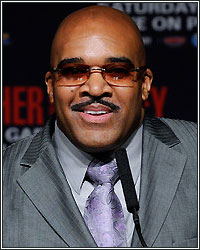 "I'm not going to debate with two buffoons about intellect. That's as much of a mismatch as September 14. Let's be clear about one thing when it comes to intellect, take a look at their bout agreement and Floyd's bout agreement, then we'll take a look at the subsequent pay-per-view revenue that Floyd will be receiving compared to his, and then we'll let them determine who the intelligent ones are," stated Mayweather Promotions CEO Leonard Ellerbe, who wasted no time to respond to comments made by Team Canelo regarding his recollection of how both sides came to agree on the 152-pound weight limit. Although Ellerbe has repeatedly made it clear that undefeated pound-for-pound king Floyd Mayweather did not request any catchweight for the fight, Canelo and his team have an entirely different opinion.

Shortly after hearing comments made by Ellerbe during episode 2 of All Access: Mayweather vs. Canelo, Team Canelo challenged the validity of his statements regarding the 152-pound catchweight that both fighters agreed to meet at. "That's a complete lie. They wanted me to drop weight. They were the ones crying about the weight. Makes us laugh. It's just talk. Pure talk. They know very well that they're the ones that wanted the fight at this weight," Canelo commented, responding to Ellerbe's assertion that his "inept" and "idiot" management put him at a disadvantage by going on record to express their willingness to fight Mayweather at a catchweight. Canelo's trainer, Eddy Reynoso, would echo his sentiments. "Ellerbe is so smart. He had the supposed best pound-for-pound fighter go up 5 pounds. That motherfucker. What are they talking for? Don't underestimate your enemies. No one is invincible. You should be careful, thoughtful, and keep your mouth shut," he stated.

What both men fail to remember, however, is that they were indeed the ones who initially suggested the idea of coming down in weight for an opportunity to face Mayweather; a fact that Ellerbe is quick to point out. In an interview conducted back in November of 2011, Canelo made it clear that he wanted the fight so much that he'd drop down to 150 pounds to make it a reality. "It's what I want, the Mayweather fight. That's what we put on the table. I feel more mature and for that I am willing to go down to 150 pounds," he would tell Sal Rodriguez. When the opportunity to face Mayweather presented itself 18 months later and negotiations finally began, however, Canelo's team backtracked on the idea of fighting at 150, instead suggesting a weight of 152 pounds. "We proposed an intermediate weight for things to be level for both [fighters], but he refused...He wanted 150 pounds and we requested 152," Chepo Reynoso, Canelo's manager, explained in two separate interviews back in May of this year.

Regardless of who wanted what when it comes to a catchweight, the fight is just a week away and both fighters are right on track to make the 152-pound limit. At today's 7-day weigh-in, Mayweather weighed in at 152.2 pounds while Canelo tipped the scales at 157.4 pounds. As far as Ellerbe is concerned, however, Canelo's size and strength isn't going to matter, and when he steps into the ring with Floyd Mayweather, he'll soon understand that his team did not put him in the best position for victory on September 14. "You have one of the greatest trainers ever in Mexican history saying that the only chance he has is to bring a bat to the ring. And then you have one of the best Mexican fighters of all time saying he don't stand a chance," Ellerbe added. "They have no room to speak on me about anything. He doesn't have a strength and conditioning coach, he doesn't have a nutritionist, and he doesn't have any of the other things that modern day fighters have because these guys are afraid that if they bring knowledgeable people around him, then they'll be out of a job. That's why they don't let nobody come around the kid. It's about time Canelo wakes up and sees what's going on around him."
[ Follow Ben Thompson on Twitter @fighthype ]