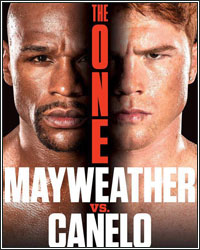 It's Monday. Welcome back for another edition of Observe and Fight, The Boxing Observer's compilation of observations and random thoughts from the week that was in boxing. Get caught up on some of the most recent events you may have missed out on, including a look at where both Mayweather and Canelo would stand with a victory on Saturday night, a preview of "The One" fight card, the Face/Off between Juan Manuel Marquez and Timothy Bradley, an analysis of this past week's fights, and much more. Without further ado, check out the latest observations from the Boxing Observer, David Kassel.



Will a Floyd Mayweather win secure his place as the best of all time? Floyd Mayweather is undoubtedly the #1 fighter in boxing today, and anyone who tries to tell you otherwise is completely ignorant, or biased, due to his/her hate of the Mayweather persona. Like him or not, there is no denying he is the king. But where does Mayweather rank as an all-time great? Some will say that Mayweather hasn't faced the competition to solidify himself as the best ever. That may be true, but is that Mayweather's fault? He can only fight who is available, and he has defeated 16 world champions (Canelo would make 17). Others will say that Mayweather should fight guys like Sergio Martinez, Gennady Golovkin (both middleweights), and Andre Ward (super middleweight). Let's be realistic about that though. Mayweather's best weight class is probably between 135-140 lbs, but because he has had to move up in weight throughout his career to take on the best available opposition, he has had to fight as high as 154 lbs. Mayweather began his career as a super featherweight (130 lbs). Sometimes I think some fans won't be happy until Mayweather wins a heavyweight championship. We should give this guy his just due. If Martinez and Golovkin are willing to come down to 154 lbs to fight, Mayweather should certainly take on those challenges (Ward cannot physically make it down to 154). If Mayweather is willing to fight at 154, anyone willing to kill themselves to make that weight should have the opportunity to fight. Mayweather should never have to fight any higher than that though. The guy struggles to make it up to 150 lbs, so he is already at a natural disadvantage. Sugar Ray Robinson was a welterweight before moving up to middleweight and winning the championship there. He eventually tried to capture the light heavyweight title and fell to Joey Maxin (due to heat exhaustion). Even though Robinson was winning the fight, he never tried for another light heavyweight title again. Robinson lost 19 fights in his career, but many consider him the greatest of all time (a lot of other consider Ali the greatest ever, and even he retired with blemishes on his record). Mayweather's undefeated record is clearly important to him, and Canelo may present the toughest challenge of his career. If Mayweather wins this Saturday night, I would be hard-pressed to not have him in my top 3 of all-time great fighters.


What happens if Canelo shocks the world and upsets Mayweather? Most certainly there will be a rematch, which will make an insane amount of money and might even eclipse the 3 million pay-per-view buy mark, but would that make Canelo Alvarez the new pound-for-pound king? I'm not sure if it would be fair to put the 23-year-old at the top of the sport after one win against Mayweather, but he will certainly be in the top 3. Andre Ward would move up to #1 in my mind, and Wladimir Klitschko would be #2. Right after that, Canelo would be #3. If Canelo wins, he immediately becomes the biggest name in the sport of boxing (other than Mayweather), however, and if he can defeat Mayweather in the rematch, #1 pound-for-pound would certainly be a serious discussion. In order to be #1 in the sport, you have to beat the best, and the guys you beat have to remain on top of their game. If Alvarez can beat Mayweather twice and Mayweather goes on to beat quality opposition after that, Canelo would certainly be in consideration for #1 pound-for-pound. If Austin Trout gets back to his winning ways, that would make Canelo's argument even stronger.


Who is going to be "The One"? Here's my final prediction before the fight. Mayweather will win a unanimous decision, 116-110. I am predicting a flash knockdown by Canelo, but Mayweather will dominate the majority of the rounds and score a knockdown of his own to win the fight. Canelo's power and speed are not my concern for the 23-year-old. Canelo has yet to prove he can fight an entire 12 rounds without taking rounds off or getting tired down the stretch. This is where Mayweather will take over. If Canelo takes rounds off early, Mayweather will steal them. If Canelo fights hard early, he will fade down the stretch. The biggest concern I have from the Mayweather camp are his hands and whether or not they can hold up against the young champion. Mayweather's hands seem to become more fragile and brittle as time goes on, and I don't believe he will score the knockout he hopes to score for this very reason.


Lucas Matthysse will knock Danny Garcia out late in the fight. This will be one hell of a fight and it is a 50/50 fight in my mind. I believe if this fight was fought 10 times, each man would win 5. I just don't see Garcia causing Matthysse the same kind of issues that Devon Alexander and Zab Judah (Matthysse's only 2 losses, which were both disputed) because Garcia likes to stand and fight. He doesn't possess the ring movement. When push comes to shove, the power edge goes to Matthysse, even though Garcia will handle himself very well. However, after 9 rounds of punishment from both men, Matthysse's chin, which is very strong, will be the difference. Garcia also has a very solid chin, but where Judah failed to finish off Garcia late, Matthysse's power will be the difference. I'm picking Lucas Matthysse to win via 11th round TKO over Danny Garcia, but please don't make bets on my prediction because this is just a gut feeling. This is truly a 50/50 fight in my mind. Another thing to consider is that the winner of this fight will truly be the best man because neither has been able to gain an "edge." I'm not accusing either fighter of using performance-enhancing substances, but this fight has had random drug testing in the lead-up. If you will remember, there was a lot of controversy when Matthysse fought Mike Dallas Jr. because Matthysse took what he called "vitamins" just before the fight, which caused quite an uproar. Matthysse has not tested positive for anything illegal (as far as I know), but if he is on something, you better be sure he will get caught. I don't believe Matthysse is cheating and the better man will win the fight on Saturday.


Carlos Molina's time has come and he will defeat Ishe Smith for the IBF light middleweight title. Even though this fight will be the least entertaining fight on the card, it might be the most competitive. Both men are typically counter-punchers, so the punch output totals will not be high. Smith has never been down in his career and Molina has only been down once (to the hard-hitting James Kirkland). This fight is likely to go the distance and I think Molina's accurate punching will be the difference in the fight. I wouldn't be shocked if Smith took a decision, but I'm predicting Molina to finally get over the hump and win a long-awaited world title belt.


Ashley Theophane will outbox Pablo Cesar Cano en route to a unanimous decision. This will be another competitive fight because Cano is going to come right after the slick counter-puncher, Theophane. While Cano has excellent power, Theophane has never been down in his career, and he will need every bit of his chin to sustain the attack of Cano. Theophane's ring movement and total punches landed will be the difference in a very close fight.


I thought it was interesting that Juan Manuel Marquez stated that he didn't believe he could knock Timothy Bradley out. In case you missed the HBO Face/Off with Max Kellerman between Marquez and Bradley, both men were very open and candid about their expectations for this fight and about the damage done in previous fights. On a side note, Marquez's English has drastically improved and he didn't seem to need a translator to understand, or speak, to Kellerman. When asked about his health, Bradley admitted to suffering a serious concussion against Ruslan Provodnikov, which caused him to have slurred speech for two months after the fight. When Kellerman asked Marquez whether he believed he could knock Bradley out, Marquez stated, "I don't think so. I'm looking for the knockout...but I know it's a tough fight." This will certainly be one hell of a fight!


I think it's safe to say Seth Mitchell's career as a heavyweight contender is finished. Chris Arreola showed that Seth Mitchell cannot stand up and take a punch from a heavyweight. Arreola absolutely demolished Mitchell on Saturday night, disposing of him in the first round. While Mitchell's future as a fighter looks bleak, Arreola has one last opportunity to win a world title. I believe Arreola will next face fellow Al Haymon managed heavyweight contender Deontay Wilder. This fight will tell us two things about Wilder. If Wilder can knock Arreola out, he can knock out anyone. The other thing we'll find out about Wilder is whether or not he can take a punch. Arreola has extreme power and he will almost certainly test Wilder's chin, which no one has been able to do. If Wilder can pass the test, he might be ready for a Klitschko. If Arreola dumps Wilder and comes into a Klitschko fight in shape (and I'm talking even better shape than he was in on Saturday), he could certainly be the man to become the next American heavyweight champion. I wouldn't be surprised to see Arreola vs. Wilder added to the pay-per-view planned for December, which will be headlined by Adrien Broner vs. Marcos Maidana.


Speaking of Broner, rapping isn't his thing. Not only is Broner not a very good rapper, but he looks like he is eating his way through every Popeye's in every city he stops in. Broner made an appearance on the latest edition of All Access and showed off his stomach. Amongst the highlights of Broner's appearance were Mayweather calling Broner a fatty and Broner admitting that he doesn't have abs anymore; he has an ab. It was pretty entertaining television, I must admit, and Broner is doing a fantastic job of marketing himself, but I hope he doesn't lose focus of what will make him the most money, and that is his boxing career.


Ray Beltran was robbed against Ricky Burns on Saturday. In what I thought was going to be a Fight of the Year candidate, Burns and Beltran fought to a draw which allowed Burns to retain his WBO lightweight title. While the fight didn't live up to my lofty expectations, it was very entertaining and competitive. Burns looked uninspired and distracted coming to the ring, but showed his extreme toughness by fighting much of the fight with a broken jaw. Beltran was winning the fight on my card, but gave away the last two rounds, which caused the judges to be split; however, one judge scored the fight 114-114. Burns was knocked down in the 8th round. If the fight was even, that means it should have been 114-113 in favor of Beltran. I have not seen the official scorecards, but someone's math had to be wrong. I think 10-10 rounds, or 9-9 rounds in boxing should be banished unless there is a point deduction from the referee. Speaking of the referee, how did Phil Edwards not take a point away from Burns for repeated holding? All around, it was a poor night of officiating in Scotland.


Rafael Marquez needs to hang up the gloves. I love Marquez as a fighter, but it was sad to watch him from the opening bell on Saturday. I noticed from round one that his reflexes weren't the same anymore, and he clearly doesn't have the goods to make another run at a world title shot. I know he has 3 fights remaining with Golden Boy Promotions, but I hope all parties involved convince the future hall-of-fame fighter to call it a career before anymore serious damage is done to his long-term health. He suffered a fractured orbital bone, which may require surgery. It's been a wonderful career, Rafael. Please bow out gracefully.


"Monday Night Fights" on Fox Sports 1 looks like it is here to stay! The ratings may not be as great during the week because of ESPN's Monday Night Football, but that's why we have a DVR, and it's great to see more boxing on TV. Luis Collazo's win over Alan Sanchez Monday night was less than spectacular, but at least it was another night of quality boxing programming on national television. The more boxing we have on TV, the better it is for fight fans, and the easier it will be to bring boxing back to the national forefront.


Moises Fuentes terrorized Luis de la Rosa to win the WBO 108-lb title in the 1st round on Saturday night. It has been on my bucket list for quite some time, but I really need to get out to Mexico to cover a fight. Mexico is the #1 country for boxing in the world (in my opinion at least) and the fans are so passionate about the sport. I would love to get over there, just once, to experience a live fight firsthand. Europe is very high on my list as well.


Don't forget about the other fights this week besides the Mayweather vs. Canelo pay-per-view. Thursday, Fox Sports 2 will televise an excellent fight card featuring a rematch between Shawn Porter and Julio Diaz, along with a 10-round super middleweight, attraction between Marco Antonio Periban and Badou Jack. Also on the card, Hugo Centeno Jr. faces Julian Williams in a junior middleweight contest in a battle of undefeated young fighters, and Jermall Charlo is expected to make his return to the ring.


Thoughts and prayers go out to family and friends of 2013 USA National Boxing Champion Alexis Urbina. Urbina was severely beaten in his home in Phoenix and died on Thursday due to his injuries. Police say there was no sign of forced entry, but some of Urbina's boxing memorabilia is missing. Another mindless tragedy in the sport of boxing. Rest in peace, Alexis.


Each week, I feature an email from a fan on Observe and Fight. This week's email comes to us from Louis T. regarding HBO and Top Rank's handling of 122-lb kingpin, Guillermo Rigondeaux...


"What about you, boxing journalists, stand for the sake of Rigondeaux's career in order to wake HBO up from their lack of courage and professionalism. What is the near future of this amazing boxer? Nobody knows, and nobody talks a lot about that and it is becoming a great shame for the sport of boxing. Boxing journalists should ask for it loud, that they we want Rigondeaux on TV in big events because he fights like a god and because we, boxing spectators, need to watch this guy perform. It is important and fun to have diversity in such a sport. Boxing is not only brutal or meaningless stupid fights. Boxing is chess and technics too. And that is exactly why the Klitschko brothers are still unbeatable and so exciting. And because each time they fight, in our hearts we fantasize about the death of the myth, whether you're a big fan of them or not. This is what makes boxing exciting as well. Who will say that Maidana is an exciting talker? Who will say that Mikey Garcia is an exciting talker? Who will say than even Pacquiao is an exciting talker? These three fighters are fantastic fighters and they are really not exciting outside of the ring...just as Rigondeaux is!! One can say the difference is that Pacquiao is very exciting in the ring. But Pacquiao gets caught a lot of time and getting caught the way he does, I don't think it gives him more credit. It just means that he is beatable. His last fight said it clearer than I'm doing now. Come on, there is something very wrong underneath all that indifference. I might be very wrong and I'm trying to convince myself I am but wouldn't it be about racism? I mean, it's like when you're black and not a trash talker or exciting, you won't get a fair shake. Look at Wilder who's been destroying every fucking body. Still no credit. Look at Bradley who showed an amazing heart and skills against the monster Provodnikov (that would be a true danger for any fighter). No credit. Look at the way Rigondeaux took Donaire to school in their last fight. No credit. What the hell is going on?"


First off, Louis, thank you for the very passionate email. I agree with you that this topic has not received enough coverage and publicity. Rigondeaux's manager, Gary Hyde, has been telling anyone who will listen that both HBO and Top Rank (Rigondeaux's promoter), are handling this situation in a very unprofessional manner. The fact is, when HBO staged the Donaire vs. Rigondeaux fight, the network and promoter were hoping Donaire would knock Rigondeaux's lights out because he was the big name guy. Rigondeaux didn't have the name (even though he had won 2 Olympic gold medals) and Donaire was the draw they were hoping to build up as the next Manny Pacquiao. Clearly those plans were scrapped when Rigondeaux completely outclassed the much bigger name, Donaire. However, not to say that I agree with the handling of the situation, but for as much of a buildup as that fight received, it was a complete dud. The fight was boring to watch (regardless of the outcome). Recently, both HBO and Showtime have been trying to stage quality, competitive, action-packed fights that will draw the attention of fans. It doesn't necessarily mean the two best fighters have to fight each other. Casual fans don't turn on HBO or Showtime on a random Saturday night to watch guys they don't know anything about go at it. Hardcore boxing fans are going to watch regardless of who is fighting, but if a casual fan happens to be flipping through the TV and sees boxing on, they are more likely to stop and watch two guys beating the hell out of each other rather than a technical, chess match where each fighter only throws 30 punches a round. Pay-per-views are one thing. If a fight is on PPV, the casual fan almost always knows the names of the main event fighters, but if they don't, they at least know who one of the fighters is. We have seen a shift lately of building fighters' records up with non-competitive hoping to build a pay-per-view, to promoters and networks saying, "Screw this. We need an action-packed fight that will entertain the fans."

Take a look at the slate of fights we have coming up after this weekend's pay-per-view card (while Mayweather and Canelo may not be the most-action packed fighters, they are certainly 2 of the top 5 biggest names in the sport of boxing, and everyone knows who they are which is why fans will be willing to pay for a pay-per-view). On Sept 28th, HBO has Adonis Stevenson vs. Tavoris Cloud in a match-up of two heavy-hitting light heavyweights in what is sure to produce a knockout victory one way or the other. Also, we will see the return of Julio Cesar Chavez Jr. (who is an action fighter but also a big name). England has a huge heavyweight affair that night also as two of the biggest names in the heavyweight division, and two of the best trash-talkers, go head-to-head as David Haye squares off with Tyson Fury. While that fight may not be entertaining, each man has built his name up using his mouth and fight fans (both hardcore and casual) are very aware of who they are.

On Oct. 5th, we get the heavyweight super-fight everyone has been waiting for between Wladimir Klitschko and Alexander Povetkin. Also, another top 5 draw in the sport of boxing, Miguel Cotto, makes his return.

On Oct. 12th, Timothy Bradley takes on Juan Manuel Marquez on pay-per-view in what is sure to be an action-packed fight. We all know that Bradley didn't beat Pacquiao, but his fight with Provodnikov was the Fight of the Year so far, and Bradley would not be getting this opportunity on pay-per-view had he not fought like a fool and put his life in severe danger against Provodnikov. Bradley's two previous big fights were both duds. His fight with Devon Alexander was supposed to produce a possible contender for Floyd Mayweather, but neither fighter showed much of anything that night, and we all know about his fight with Pacquiao. Bradley needed that Provodnikov fight to prove he is a pay-per-view worthy fighter.

On Oct. 19th, Provodnikov, who was nothing more than an ESPN fighter before the fight with Bradley, returns, in another sure to be fight-of-the-year candidate, against Mike Alvarado. That will be a can't miss fight even though neither guy is the best in the world.

Oct. 26th brings the return of Bernard Hopkins who, even though he doesn't always produce memorable fights, fans will tune in to see because they want to know if the 48-year-old marvel still has what it takes to remain a world champion. Nobody knows his opponent, Karo Murat, but fans will tune in.

Nov. 2nd, Gennady Golovkin returns to fight Curtis Stevens in what is sure to end with a knockout for one of the two fighters.

Nonito Donaire returns Nov. 9th in a rematch against Vic Darchinyan. You can almost be assured that fight will end with a spectacular knockout by Donaire.

Andre Ward is supposed to make his return on Nov. 16th.

Nov 23rd. is Pacquiao vs. Brandon Rios on pay-per-view (in another Fight of the Year candidate) and Carl Froch vs. George Groves in England.

Amir Khan returns Dec. 7th, most likely against Devon Alexander.

Are you starting to notice the trend here? Either the main events involve well-known fighters to casual fight fans, or they are going to be Fight of the Year contenders that casual fight fans don't want to miss. I'm not saying what HBO and Top Rank are doing to Rigondeaux is right because he deserves a platform to showcase his talents, but until he does something spectacular in the ring, or builds his brand outside the ring, I can't see anything changing. HBO does have plans to bring him back before the end of the year, but I wouldn't be surprised if he is not the headliner. Fans were left with a bad taste in their mouths after Rigondeaux's last fight and they want more. Juan Manuel Marquez was often criticized in Mexico for the same thing and he became an action fighter. I'm not saying Rigondeaux should change his style and put his health at risk, but if he wants something to change, he is going to need to take more chances inside the ring, or he is going to have to do something drastic outside the ring to make himself more marketable.

Guys like Klitschko, Pacquiao, Mikey Garcia, and Maidana are not the best talkers, but they have proven themselves time and again to be either UBER entertaining inside the ring, or they have shown complete dominance for years and years (much like Floyd Myweather) where fans will tune in to see if they will finally lose. Rigondeaux only has 12 professional fights under his belt, and other than Donaire, he has beaten nobody of relevance. Being in a lower weight division also makes it tough to market to the casual fight fan.

As far as playing the race card, that's not fair to do in this situation. Rigondeaux has not been exposed enough to the casual fight fan. Wilder is starting to build his name, and while he will get his opportunity on the big stage very soon with the addition of Al Haymon, he hasn't fought anybody. All of his knockouts, with the exception of the last two, were against nobodies. The biggest name in the sport of boxing, Floyd Mayweather, is black, but he had to build himself to that point, much like Mike Tyson and Evander Holyfield did in the 1990's. I'm not going to sit here and say that race doesn't play a role in boxing because I believe it absolutely does. I've heard numerous stories that make me believe race plays a role in promoting a fighter, but in the case of Guillermo Rigondeaux, I believe race is not the main factor, nor do I believe it is a contributing factor. Rigondeaux's style currently doesn't fit what the networks are currently trying to produce, which are all-action fights, all the time. Rigondeaux may be one the top-5 fighters in boxing, but without fans tuning in to watch, it really means nothing to the networks or promoters.
That's all I've got for this week. Email any questions or comments to
dkassel@fighthype.com
and I will answer them throughout the week. Your email may be featured in the next "Observe and Fight." Follow me on Twitter @BoxingObserver, and be sure to "Like" The Boxing Observer on Facebook.
[ Follow David Kassel on Twitter @BoxingObserver ]