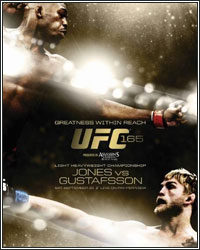 UFC 165 kicks off this weekend from Air Canada Centre in Toronto Ontario with a pair of title fights as the headliners. The most interesting of which should be the #1 ranked pound-for-pound MMA fighter in the world trying not only to defend his title, but to set a record for the most storied division in MMA lore. Along the way, two of the more exciting 135-pounders in the UFC will clash for the Bantamweight title. The card is deep with talent and laden with dramatic back stories. Let's take a closer look.

Jon "Bones" Jones (18-1) vs. Alexander "The Mauler" Gustafsson (15-1)

Chuck Liddell couldn't do it. Tito Ortiz couldn't do it. The depth and talent of the Light Heavyweight division in the UFC has long been filled with stars and Hall of Famers, but none of those great champions were able to defend their title more than 5 times. Jones has tied Ortiz's record and with this fight goes for his 6th straight and 205-pound division record setting title defense. What's more interesting about this just may be his opponent, and much has been made of the physical matchup. For the first time, Jones is fighting someone that isn't older than him and that isn't shorter than him. For the first time, his 84" wing span may not be a huge advantage as Gustafsson's is reported to be 81.5". There are other similarities of course. Jones is a wrestler who has become one of the most unpredictable and devastating stand-up artists in the game. Gustafsson's skill set is rooted in kickboxing and boxing, but after his submission loss to Phil Davis at UFC 112, he changed his camp and his game by training with Davis and company. He then promptly won his next two fights by submission.

The talk and the hype are what you would expect. Gustafsson claiming that he's faster than Jones and that Jones will have a serious wakeup call when he feels the Swedes first combinations. The Mauler is the #1 contender and has had a brilliant career in MMA and the UFC thus far. However, the oddsmakers seem unimpressed; some even installing Jones as a 9-1 favorite. Perhaps the reason for that is not just his current skill set, but moreover his ever increasing and "Holy crap, I didn't know he could do that" moments, which unveil themselves every time he fights. He's only been fighting for 6 years and in a recent interview, Jones spoke of how he's only a white belt in Jiu jitsu and how working with his new boxing coach is improving vision and clarity while fighting. Everyone knows that both of these fighters are supremely confident and at extremely high skill levels. The intrigue about Jones is just how good the number 1 pound-for-pound MMA fighter in the world can become? No doubt that the UFC Light Heavyweight Champion that enters the Octagon for his record-breaking attempt will be a more improved fighter from the man that easily dispatched Chael Sonnen with a 1st round KO last April.

The Pick: The reach advantage may look like it's neutralized, but Jones has an explosiveness that no opponent has been able to contend with. That's why he'll be able to pick apart Gustafsson from the outside and then get in and get out. Look for this fight to get nasty against the cage, and that's when Bone's Greco Roman wrestling skill set and nasty clinch, accompanied by razor sharp elbows, will be the difference maker. Jones wins this one dominantly and it's over by the 3rd round.

The X Factor: The Mauler does have superb footwork. If he can use it to avoid Jones' strikes and punish him without taking damage, then it changes everything. Jones has never been out struck, or even close to it, so if that starts happening, then the psychology of the bout changes and Gustafsson could pull off the upset. He has both excellent power and technique in both his hands and feet.

Renan "The Baron" Barao (32-1) vs. Eddie Wineland (20-8-1)

The UFC needs to stop referring to Barao as the Interim Bantamweight Champion. The man hasn't lost in 30 fights, beat Uriah Faber to win the title, and has a resume deep with 135-pound talent that he has handily dispatched along the way; his latest being a 4th round title defense submission of a highly-touted Michael McDonald this past February. The only guy he hasn't beaten is of course the Bantamweight title holder Dominic Cruz, whose recovery from a torn ACL injury has taken 2 surgeries and kept him out of fighting for over 15 months. The UFC has been patient with Cruz and more than fair. However, Barao has done everything asked of him and proved to be one of the best pound-for-pound fighters in the world. You can't beat a man that you can't fight. Whether you throw a temporary status on him or not, he's truly a champion.

Wineland is the former WEC champ and a man whose career has had its ups and downs. He's currently riding a 2-fight win streak and seems to be better than ever. He's also supremely confident in his boxing and makes no mystery of how he intends to fight and win this bout. The challenge for him here is can he keep a highly elusive Barao standing in front of him long enough to land one, much less multiple power punches? After all, The Baron possesses excellent Muay Thai and striking skills, having won 6 times by knockout. The edge for Wineland is not just in his technical power, but also in his brilliant footwork and ability to cut and create angles. However, with 14 wins by submission, don't expect Barao to intend to be keeping the fight standing for 5 rounds.

The Pick: Barao has just too many skills. He's tough to find when he's in his opponent's range and deceptively fast in gaining a position that he's capable of garnering a submission from. Couple that with knockout power and you have a man more than capable of defending his title for the 2nd time.

The X Factor: If Barao finds himself exchanging in the short distance when tired, then this fight can be over in an instant. Wineland's defense is deceptive and slick. His head movement can be highly evasive while still delivering powerful punches. One or two of those landing and we may have a new Bantamweight Champion.

Brandon "The Hybrid" Schaub (10-3) VS Matt Mitrione (6-2)

Perhaps no two heavyweight fighters careers have paralleled each other's more than Schaub and Mitrione. They both got their UFC break by being on the same season of The Ultimate Fighter where they became friends. After the show, both of their careers started off with a bang.

Mitrione won his first 5 UFC fights before dropping two in a row and then bouncing back with a TKO win over Phil De Fries last April. The Hybrid made it to the finals of TUF, where he lost to Roy Nelson, but then came back with 4 wins in a row before dropping his next two. He too is on a 1-fight win streak after dispatching Lavar Johnson this past February at UFC 151.

The usual trash talking has ensued, both on Twitter and in all forms of press, however, there seems to be a bit of good natured jabs here; Schaub questioning Mitrione's work ethic and Mitrione poking fun of Schaub's alleged glass jaw. For both of these men, a win over a good friend is important for their respective careers to stay relevant and employable. Although neither of them will most likely fight for the UFC title anytime soon, they both promise to bring knockout power (a combined 12 KO's between them) and the excitement which fans love when watching the big dogs go at each other. No matter who wins or loses, this should be highly entertaining and most likely doesn't go the distance.

The Pick: Schaub. He's a former Golden Gloves boxing champion and most of this fight stays standing as neither man will be shy about trading blows. The difference here though will be The Hybrid's timing and footwork. He'll be able to get in, do damage, and get out more effectively than Mitrione.

The X Factor: All 3 of Brendan's losses have come by knockout. Mitrione has big power. One punch landed correctly and…well…you do the math.

And to round out the night pugilistic prognostications:


Francis "Limitless" Carmont (21-7) upsets #7 ranked Middleweight Costa Philippou (12-2)
Alex "Bruce Leroy" Caceres (8-5) beats Roland Delorme (9-1)
Pat "Bam Bam" Healy (31-15) wins over Khabib Nurmagomedov (20-0)
Dustin "The Diamond" Kimura (11-0) comes out on top over Mitch Gagnon (9-2)
Thanks for reading and supporting. Have a powerful day!